We all know that prices are going through the roof but even so, we need to open this review by mentioning that Fractal Design priced the Meshify C Mini at £79.99 back in 2018 and these days it has risen to £105. In other words, we were aware the new Meshify 2 Mini might be expensive but it still comes as a blow to hear this micro-ATX case lands at close to £120 in the UK. Ouch. Big Hurty Ouch.
Watch video via Vimeo (below) or over on YouTube at 2160p HERE
Time stamps
00:00 Start
00:47 Introduction and teardown
03:02 Fan(s)
03:43 Pricing and UK weirdness
04:16 SSD support
05:11 Cooling support
06:18 Hardware for install
07:34 Cable routing support
08:07 Leo's thoughts on building
08:35 Thermal / Noise Testing
10:20 Airflow discussion / changes
12:05 Leo's Closing thoughts
Main features
Compact yet roomy interior makes the most of mATX with high space efficiency and robust component support
Iconic angular mesh design with a bold, stealth-inspired aesthetic
Open interior layout creates a smooth airflow path from front intake to rear exhaust
Room for GPUs up to 331 mm with a 240 mm radiator in the top, or front radiators up to 240/280 mm with a compact GPU
Seamlessly integrated TG panel with steel frame support and bolt-free top-latching mechanism
Fully removable top panel and a top fan bracket that opens to provide excellent interior access and easy cable routing
Double layered front filter with detachable nylon for increased airflow
Front panel with hinged removable mesh and tether-free bezel for easier access to front fan mounts
Three front USB ports including one USB Type-C with fast charging and speeds up to 10Gbps
Support for two 2.5"/3.5" drives plus up to four SSDs (two SSD brackets included)
Seven fan mounts with two pre-installed Fractal Design Dynamic X2 fans
Bridgeless expansion slots ensure obstruction-free connections
Ventilated PSU shroud with two-part removable cover
Easy-to-clean high airflow nylon filters on the front, top and base with full PSU coverage and convenient front access
Integrated cable guides with cable straps further simplify cable management behind the board
Specification:
Motherboard support: Micro-ATX, Mini-ITX.
Power supply support: ATX.
Expansion slots: 4.
Included fans: 1x 140mm 1,000rpm front intake, 1x 120mm 1,200rpm rear exhaust.
Fan mounts: 3x 120mm/2x 140mm front, 2x 120/140mm roof, 1x 120mm rear, 1x 120mm floor with HDD cage removed.
Radiator mounts: 280mm/240mm front, 240mm roof, 120mm rear.
5.25-inch optical drive bays: None.
Internal drive bays: 2x 3.5-inch/2.5-inch, 4x 2.5-inch (2 included).
Front I/O ports: 2x USB 3.0 Type-A, 1x USB 3.1 Gen 2 Type-C, audio.
Dimensions: 406mm H x 396mm D x 205mm W.
Testing
To put this case through its cooling paces we will be using a test system consisting of an AMD Ryzen 5 5600X, Palit RTX 3080 and an SSD. This system allows us to produce a substantial amount of heat and effectively test the Fractal Design Meshify 2 Mini's cooling capabilities.
Test System:
Processor: AMD Ryzen 5 5600X (6 cores/12 threads)
Motherboard: MSI MAG B550M Mortar
CPU cooler: Noctua NH-U12A chromax.black
Memory: 32GB Corsair Vengeance LPX DDR4-3600
Graphics card: Palit RTX 3080 Gaming Pro 10GB
Power supply: Seasonic Focus PX-850 Platinum
SSD: Sabrent Rocket 4.0 M.2 NVMe
OS: Windows 11
Cooling Performance
Cooling Performance Overview
While the Fractal Design Meshify 2 Mini performs tolerably well, the temperature of our Ryzen moved only a few degrees as we ramped up fan speeds, moved fans around and added extra cooling. The message seems clear that this compact case is best suited to middling hardware and struggles to cope with a power-hungry gaming system
Closing Thoughts
We like the changes that Fractal Design has made as the Meshify C Mini evolves into the Meshify 2 Mini, in particular the way you can whip off the panels and remove the top of the frame in its entirety. If you want maximum access to the innards of your PC the Fractal Design Meshify 2 Mini has plenty to offer.
Balanced against that, a full length graphics card will fill the interior of the case so while you might want to add an AIO cooler in the front, you might find that doesn't work in practice.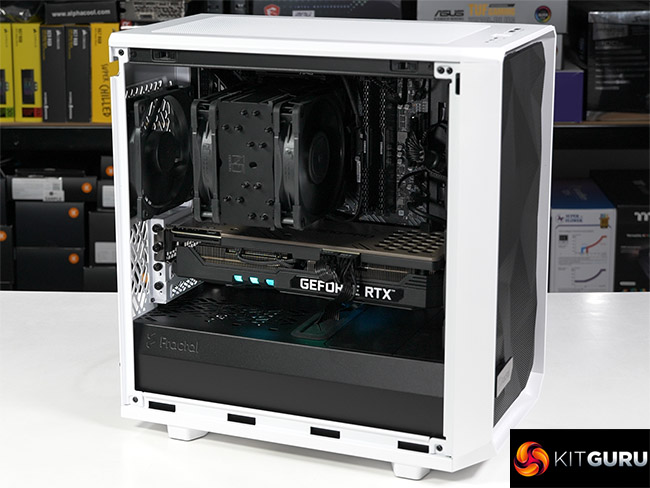 When you look at the bigger picture, you will spot the larger flaw with the Meshify 2 Mini as most of us consider micro-ATX is ideal when you building a PC that is cheap, easy and relatively basic.
That description is a poor fit for Meshify 2 Mini which is expensive, easy and sophisticated so while the case is fine it does not fit the Micro-ATX mantra at all.
Having said that, Fractal Design has expanded their product ranges to a huge extent and we are confident the Meshify 2 Mini will fill a niche, although quite what that niche might be remains something of a puzzle.
We don't yet have a buy link but have been told UK pricing is expected to land at around £116.
Discuss on our Facebook page HERE.
Pros:
Compact Micro-ATX design requires very little space on your desk.
Classic Meshify looks.
USB Type-C is included along with two Type-A ports.
Tool-free panels make the PC build easy.
Decent support for storage drives.
Cons:
Fractal Dynamic X2 fans are voltage controlled and not PWM.
Cable spacing behind right hand panel is tight and requires care.
Price is high.
You don't get ARGB lighting.
KitGuru says: Fractal's Meshify 2 Mini is easy to build in but costs plenty.
Be sure to check out our sponsors store EKWB here