Take a tour along the shelves of KitGuru's testing hardware and we are quite sure the enthusiast gamer would happily select Core i9-9900K running on a high end Z390 motherboard. Performance is excellent and the addition of two cores is welcome.
We begged Intel to follow in AMD's footsteps by increasing core count whilst maintaining clocking speeds around the 5.0GHz mark and to kindly solder the heat spreader and help the thermals. They have delivered on every one of those points with Core i9-9900K and in addition have maintained socket compatibility with 300 series motherboards.
Bravo, Intel. We salute you.

Should you buy Core i9-9900K? Well, the price tag of £599.99 here in the UK is outrageous but Apple, Samsung and Nvidia have demonstrated that customers are insensitive to price. We can carp and moan all we like but Intel has added one third extra cores to the i7-8700K and has jacked up the price by one third, which is even-handed to say the least.
It feels like a similar situation to the time when Core i7-6950X moved the upper limit of HEDT from US$999 to US$1499, essentially because Intel ruled the roost and AMD was nowhere, however the situation has changed dramatically since then.
AMD is offering a serious challenge with Ryzen 7 for gamers and general desktop duties, while workstation users can look towards Threadripper with 12 or 16 cores at reasonable speeds and 24 or 32 cores at somewhat slower clocks. In addition Intel has announced a new wave of Core-X CPUs that run from 8- to 18-cores that will all have soldered heat spreaders.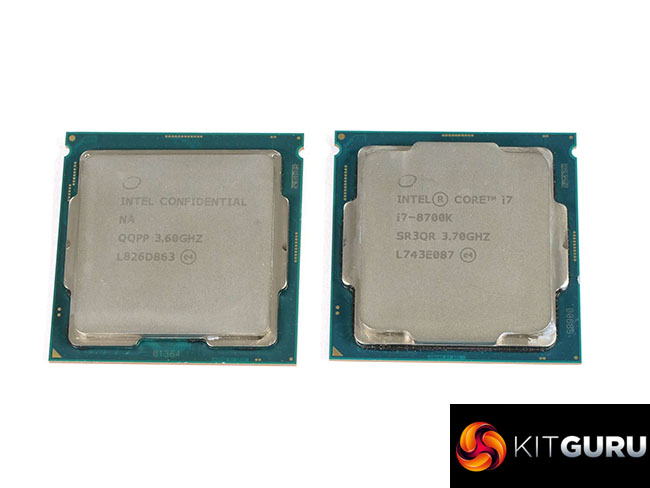 A couple of years ago we were stuck at quad core and now we have a vast range of options, all with soldered heat spreaders, and all with decent DDR4 memory support. Intel Core i9-9900K is somewhere in the middle of the stack and in our chosen selection of CPU tests it does a stunning job.
On the other hand if you try and demonstrate a compelling case for a gamer with a GTX 970 to buy i9-9900K over, say, i5-8600K you will have a tough time. Similarly the video editor or CAD operator will demand more cores and double (or more) the raw performance offered by Core i9-9900K.
If Intel had delivered this CPU last year instead of the i7-8700K we would have been deeply impressed as we would effectively have seen HEDT move down to the desktop. We can think of no technical reason that would have prevented this move and have to assume it was all about Intel protecting their product stack and healthy profit margins.
Part of the reason we applaud AMD Ryzen 7 is that it offers extra CPU cores effectively free of charge. Clearly this is AMD's way to make up for their relatively low clock speeds, however the balance of cores, speed and price works well. By contrast Intel has pushed to the limit with Core i9-9900K and has demonstrated their continuing technical advantage over AMD. It also means they are in a place where they desperately require software developers to get their skates on and make proper use of all those cores.

You can pre-order the i9-9900K from Overclockers UK HERE.
Pros:
Eight cores running close to 5GHz
Soldered heat spreader helps thermals
Compatible with Z370 motherboards
Excellent DDR4 memory support
Cons:
Very high price
Minimal headroom for overclocking
Very few games make use of more than four cores
This refreshed architecture is still not proofed against security problems
KitGuru says: There is a great deal to admire about Core i9-9900K, but damn is it expensive.