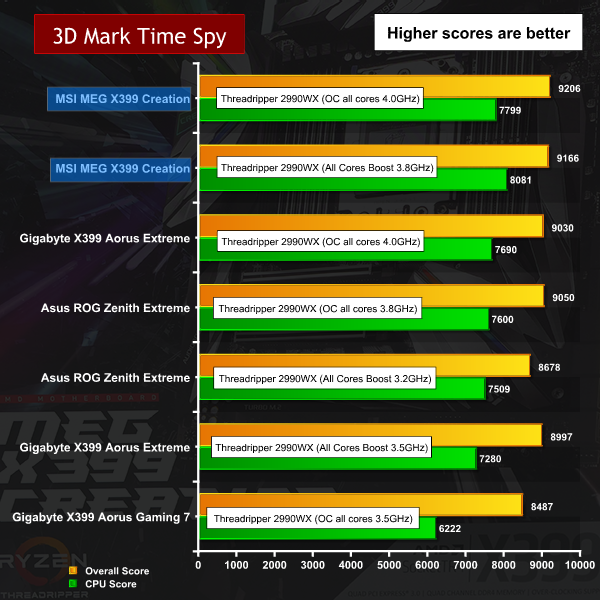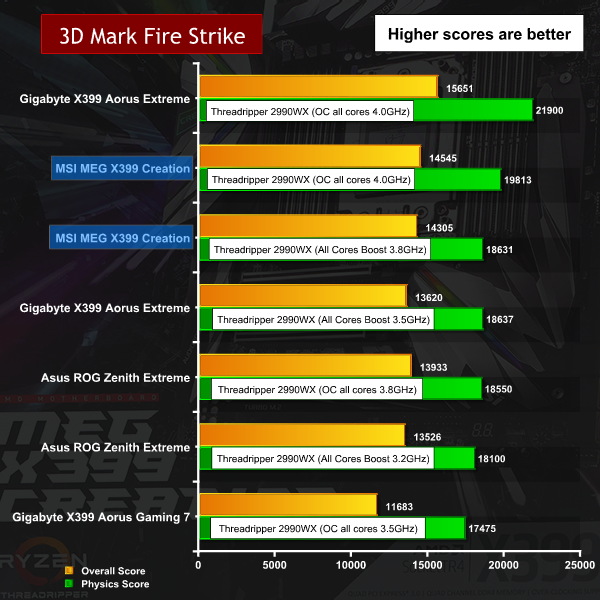 Performance and Overclocking overview
At stock clock speeds with the 250W limit engaged MSI MEG X399 Creation is nothing special as the CPU barely boosts beyond the base speed. This is true of every X399 Threadripper motherboard we have seen where you are lucky to see 3.1GHz sustained on all cores. On the other hand, if you unlock the power limit on the MSI to 500W the performance leaps forward with a typical all-core speed of 3.8GHz which is effectively the same as manually overclocking the CPU.
The difference is that the speed is entirely dynamic so it ramps up when the CPU is under load and then slows down when it is not required. This is the same benefit we saw with 2nd Gen. Ryzen 7 that comes as a result of the new and improved XFR2 and Precision Boost overdrive features. Let us be clear, as soon as you make a change to the power limit (whether in the BIOS or within AMD's Ryzen Master software) you are in the realm of overclocking.
We all know that overclocking voids your CPU warranty and we also know that AMD has no way of knowing that you enabled PBO but frankly we do not consider this to be an issue. If you use PBO the overclocking is intelligent and does all the work for you, responding dynamically to the available levels of power, heat and cooling. It is possible to gain more absolute performance, as we demonstrated by manually overclocking to 4.0GHz using manual settings however this comes at the cost of significantly higher temperatures.
If you simply unlock the power settings of the MSI MEG X399 Creation you will see the Threadripper 2990WX run at very high clock speeds that deliver superb performance, with the absolute minimum of fuss or work. These clock speeds are about 300MHz higher than other X399 motherboard we have seen and we are confident this is thanks to the superior VRM hardware used by MSI on this model.