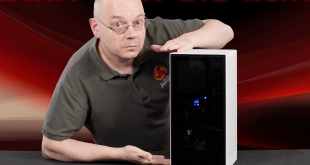 NZXT H1 is a Mini-ITX chassis that comes complete with a 140mm All In One cooler and 650W SFX-L power supply. All that included hardware makes the price fairly steep at £299.99, however you have very few decisions to make about the components and the build time is very short. We were impressed that would could build a tiny PC using Ryzen 9 3900X and RTX 2080 Super yet it looked neat and tidy and had good cooling performance.

Note: if the above images are not displaying properly, you may need to disable Ad Block as it is known to interfere with our display code
Main features
Included components (140mm AIO, PCIe riser card, & PSU) represent $250+ value.
The 13.6-litre size supports almost all GPUs on the market.
Footprint uses just 350 cm² of desk space.
Integrated PSU, PCIe riser card, AIO liquid cooler.
Features tool-less SSD tray, easy-to-install riser card, and pre-routed cables.
Tinted tempered glass front panel.
Dual-chamber layout airflow for GPU, CPU, and PSU.
Specification:
Motherboard support: Mini-ITX.
Expansion slots: 2.
Included fans: 1x 140mm.
Fan mounts: None.
Radiator mounts: 140mm AIO is included.
5.25-inch optical drive bays: None.
Internal drive bays: 2×2.5-inch.
Dimensions: 387mm H x 187.6mm D x 187mm W.
NZXT includes the AIO cooler and SFX-L power supply as part of the package, and these parts are already installed with cables that are neatly routed. This makes assembly of the PC both quick and easy as the motherboard assembly drops in one side and the graphics card goes in the other chamber. It wouldn't be difficult to build the complete PC from start to finish in half an hour but if you want to really take it slow and double check every step, perhaps allow an hour. This is much faster than any other small form factor PC we can recall and we have to applaud NZXT as their investment in design saves the customer time, money and trouble.
Testing and Cooling Performance
To put this chassis through its cooling paces we will be using a test system consisting of an AMD Ryzen 9 3900X CPU, Gigabyte RTX 2080 Super WindForce graphics card and an SSD. This system allows us to produce a substantial amount of heat and effectively test the NZXT H1's cooling capabilities. For stress testing we use AIDA64 and Time Spy to create the maximum amount of load our CPU and GPU are ever likely to see.
Test system:
Processor: AMD Ryzen 9 3900X (12 cores/24 threads)
CPU Cooler: Included NZXT 140mm AIO
Motherboard: Gigabyte B450 I Aorus WiFi
Memory: 16GB G.Skill TridentZ RGB DDR4-3200MHz
Graphics card: Gigabyte RTX 2080 Super WindForce 8GB
Power supply: Included NZXT SFX-L Gold 650W
SSD: 1TB WD Blue M.2 NVMe
OS: Windows 10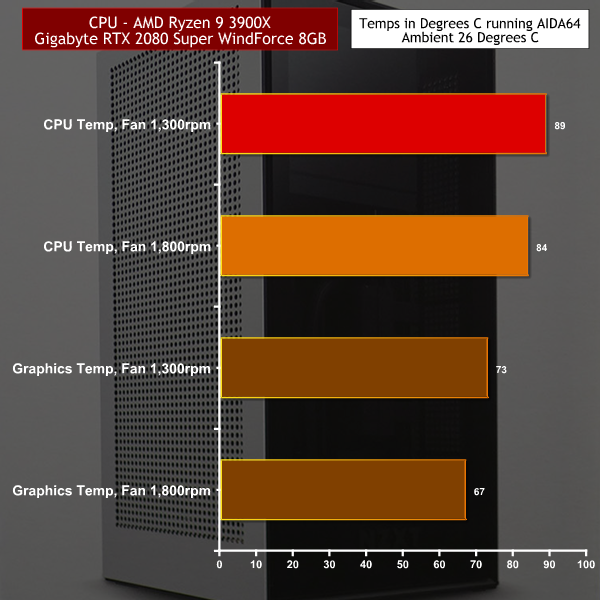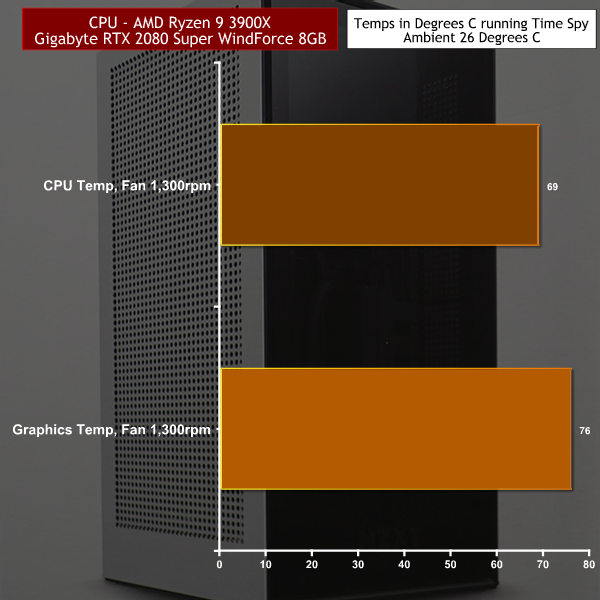 Cooling Performance Overview
Cooling performance for this fully-featured PC is impressively good. AIDA64 took the system close to the limits with the consequence we had to run the fan at full speed and suffer a high level of noise. Time Spy was less stressful and allowed us to slow the fan to 1,300rpm which was fairly quiet and also delivered temperatures that were very acceptable. We are confident that a lower specced PC using, for example, a Ryzen 5 CPU would be both cool and quiet.
Closing Thoughts
NZXT has clearly thought long and hard about the design of the H1. The construction uses steel throughout with a single glass panel and the result is a compact PC that looks understated and stylish while the heavily ventilated panels allow decent levels of cooling. The tool-free design of the panels is good and the fact that most of the components and cables are installed and routed means you have very little work to do. When you position the motherboard assembly you have decent access both from above and from the sides and you have just enough clearance to connect the various cables.
The most obvious limitations of the H1 are the use of the Mini-ITX form factor and the vertical orientation with the rear panel I/O on the bottom of the chassis. You can see why NZXT took this approach, however it either means the H1 makes sense for you or it is unsuitable with very little middle ground. A lesser consideration is the choice of 140mm AIO and the 650W power supply as you are paying for them as part of the hefty price tag. You might grumble about being forced to use NZXT hardware but you cannot buy the H1 as a bare case so on this score you are either in or out.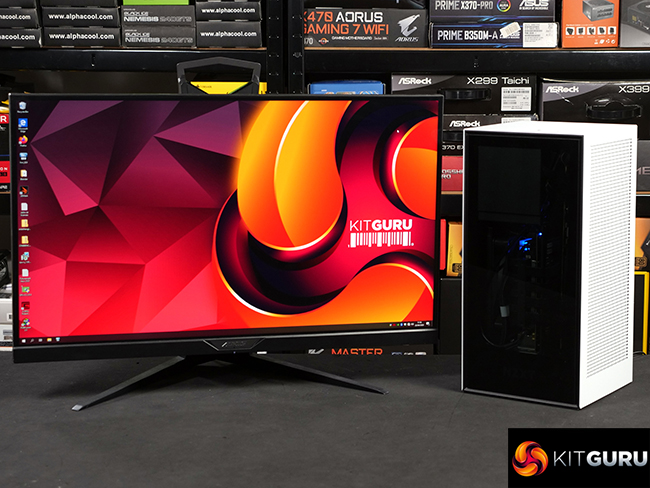 We can understand that many people building a small form factor PC will want to build something unique or personal and the NZXT H1 prevents that as half the decisions about hardware have been taken and every H1 will end up looking like all the rest. On the other hand, if you are in the market for a Mini-ITX chassis and are more interested in the results than the process of building the PC we heartily recommend the NZXT H1 and applaud NZXT for this clever piece of design.

You can buy the NZXT H1 from Overclockers UK for £299.99 HERE.
Discuss on our Facebook page HERE.
Pros:
Cooling system and power supply are installed at the factory.
Good cooling performance.
Neat design, panels are tool-free.
Rapid build time.
Cons:
Motherboard rear I/O is obscured.
Only one Type A USB 3 port on the top of the chassis.
PCIe riser card is Gen 3 and not Gen 4.
Too many stickers on various components!
KitGuru says: NZXT H1 sets a new standard for the PC small form factor chassis.
Be sure to check out our sponsors store EKWB here