When Phanteks released the Eclipse P400 case early in 2016  they set a new standard with a cheap case that looked good, performed well and also had a decent list of features. Since then the P400 has been updated from an acrylic window to tempered glass yet the price is still only £65. So we were impressed to learn at Computex 2017 that Phanteks had plans for an even cheaper case called Eclipse P300. This seemed like a bold move yet Phanteks assured KitGuru they could deliver a budget case that was well constructed and that offers a bunch of features including RGB lighting, all for £55.
Watch the video via our VIMEO Channel (Below) or over on YouTube at 2160p HERE
Specification:
Motherboard support: E-ATX (up to 275mm wide), ATX, Micro-ATX, Mini-ITX.
Expansion slots: 7.
Included fans: 1x 120mm rear exhaust.
Fan mounts: 2x 120/140mm front, 1x 120/140mm roof, 1x 120mm rear.
120mm radiator mounts: 120mm/240mm front, 120mm rear.
140mm radiator mounts: 140mm/280mm front.
5.25″ drive bays: None
Internal drive bays: 2x 3.5"/2.5″, 2x 2.5" (one included).
Dimensions: 450mm H x 400mm D x 230mm W.
While it is true the £55 P300 isn't much cheaper than the £65 P400, once you take VAT, shipping and packaging costs out of the equation, that £10 represents a significant percentage of the cost of manufacture. As we say in our video, part of the explanation is that Phanteks has manufactured the main part of the chassis from a single sheet of steel, instead of adding a power supply cover as a separate part as they did with the P400.
To the best of our knowledge this is the first time a case manufacturer has taken this approach and it makes a good deal of sense. The structure of the core chassis is rigid and doesn't move around when the panels are removed and the bill of materials is reduced, which makes the P300 cheaper. Balanced against that, if you prefer a removable power supply cover you are out of luck.
Phanteks has also cut costs by supplying a case with a sensible minimum level specification, rather than all the bells and whistles. For example you get a single SSD Drop 'n Lock mount and if you want extensive RGB lighting you need to invest in a Phanteks LED strip and perhaps a Halos illuminated fan frame or two.
It is worth mentioning that you get a single rear 120mm fan, which is standard practice in a budget case. If you choose to install an air cooler on your CPU, rather than an All In One which has fans on the radiator then you will probably want to install another fan at the front of the case.
Building our test PC was relatively straightforward however there were a few factors to consider. Our chosen Sea Sonic Prime Titanium 750W uses a modular design that proved a tight fit in the lower compartment of the case. We found it easiest to remove the two drive bays and their supporting brackets to open up the front section of the case. We also found the chunky, high quality cables used by Sea Sonic were a tight fit passing through the cable management holes, despite the fact the holes have no grommets.
Testing
To put this case through its cooling paces we will be using a test system consisting of an AMD Ryzen 7 1700, GTX 980 graphics and an SSD. This system allows us to produce a substantial amount of heat and effectively test the Phanteks Eclipse P300's cooling capabilities.
For stress testing we use AIDA64 to create the maximum amount of load our CPU and GPU are ever likely to see.
Test System:
Processor: AMD Ryzen 7 1700
Motherboard: Asus Prime X370-Pro
CPU cooler: Noctua NH-U12S
Memory: G.Skill FlareX DDR4-3200MHz RAM
Graphics card: GeForce GTX980 4GB
Power supply: Sea Sonic Prime Titanium 750W
Storage drive: Samsung SM961 SSD
OS: Windows 10 Professional.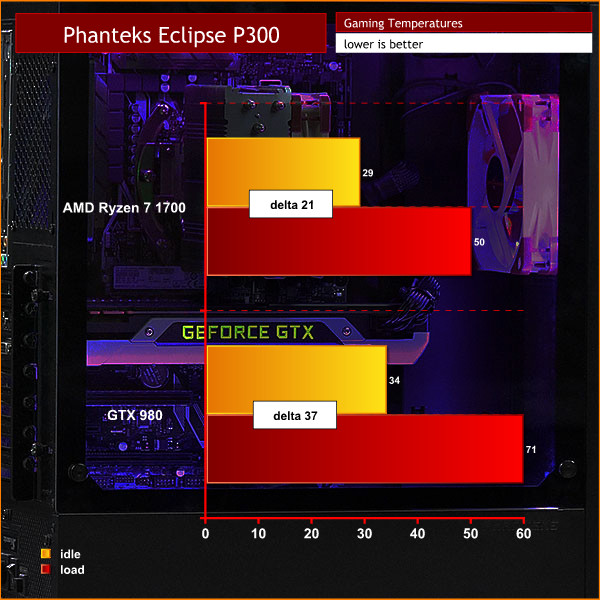 Cooling Performance.
We added a Noctua 120mm fan to the front of the case to ensure the 120mm Noctua tower cooler got a decent supply of air, and the result was a case that worked very nicely indeed. Our Ryzen 7 CPU and GTX 980 graphics card were both operating at very acceptable temperatures with plenty of headroom for overclocking.
Acoustics performance.
The case doesn't have any noise deadening material however the front air intake is baffled, which reduces noise, and the perforated top section of the case is covered by a magnetic dust filter.
In our build we had three 120mm fans; the stock rear fan, one on the CPU cooler and one at the front of the case. All three fans ran at moderate speed and the result was a quiet PC that was utterly inoffensive.
Closing Thoughts.
Phanteks Eclipse P300 is very good indeed and sets new standards for a case at this price point. There are minor annoyances such as the external screws for the PCI Express expansion slots and the tight cable management holes but these are direct consequences of the drive to reduce the materials used and to keep costs to a minimum.
Balanced against that Eclipse P300 looks sleek and stylish with a tempered glass window that shows off the inside of the PC. It is quite easy to build a neat PC as the cable management is good and the power supply cover hides a certain amount of cabling and mess. On the other hand if you use a beefy power supply you might struggle to retain the lower drive bays. This is a small case and there is not much room for the hardware you will surely wish to install so care is required when you choose your components.
If you upgrade the Eclipse P300 with an RGB LED strip or some Phanteks Halos frames it has the potential to look very good indeed.

Buy from Overclockers UK for £54.95 inc vat HERE
Pros:
Very low price.
Good cable management.
Tinted tempered glass panel works well.
Basic lighting is included and can be connected to an RGB motherboard.
Fully filtered.
Cons:
The overall dimensions of the P400 are small for an ATX case.
Lower compartment is tight for space in front of the power supply.
Front panel looks reversible but only mounts one way up.
KitGuru says: Phanteks Eclipse P300 is a winner in the budget case division.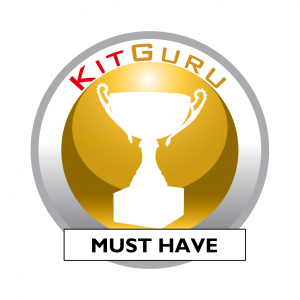 Be sure to check out our sponsors store EKWB here