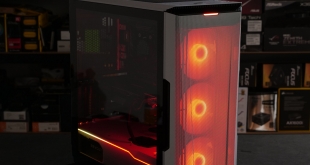 At CES 2020 we admired the Phanteks Eclipse P500A and now it is time for a full review as Phanteks launches this new mid-tower in two forms. This D-RGB version has three RGB fans as well as lighting in the front and along the power supply shroud, while the cheaper base model has no RGB. The killer new feature being pushed by Phanteks is the Ultra-Fine Performance Mesh front panel which means the P500A does not require a front filter!
Watch the video via our VIMEO Channel (Below) or over on YouTube at 2160p HERE
Main features
Ultra-Fine Performance Mesh front panel allows high airflow and filters dust
High quality Digital-RGB integrated lighting with software-free controller
Exceptional cooling with pre-installed 140mm fans (2x black or 3x D-RGB depending on SKU)
Support for up to 7x 120mm fans or up to 6x 140mm fans
Extensive radiator support up to 420mm in the front and up to 360mm in the roof
Supports E-ATX motherboard up to 280mm wide
Modular storage supports up to 10xHDD/SSD (2 included)
3x Dedicated Drop-N-Lock SSD brackets
3-Slot Vertical GPU ready. Riser cable is required and sold separately.
Fast Type-C Gen 2 USB port.
Dual system support (requires accessory and Phanteks Revolt X power supply)
Specification:
Motherboard support: E-ATX up to 280mm wide, ATX, Micro-ATX, Mini-ITX.
Expansion slots: 7.
Included fans: 3x 140mm D-RGB front intakes.
Fan mounts: 3x 120mm/140mm front, 3x 120mm/2x 140mm roof, 1x 120mm/140mm rear.
120mm radiator mounts: 360mm front, 360mm roof, 120mm rear.
140mm radiator mounts: 420mm front, 280mm roof, 1x 140mm rear.
5.25-inch optical drive bays: None.
Internal drive bays: 10x 3.5-inch/2.5-inch (2 included), 3x 2.5-inch.
Dimensions: 510mm H x 5056mm D x 240mm W.
Last year we admired the Phanteks Eclipse P600S so when we first saw the Phanteks Eclipse P500A at CES 2020 and noted that it was based on the P600S, we got decidedly excited. Having spent some time with P500A we can confirm most of the features are directly carried over from P600S, including the huge capacity for HDD/SSD storage, the ability to install a secondary Mini-ITX system and the numerous options for cooling fans and radiators. P500A ditches the innovative front and top panels used in P600S so you can forget about sections that open up to increase air flow or close down to reduce noise. Also, that nifty P600S fabric air filter is absent.
Instead with P500A we see a brand new front panel that is made from a single piece of sheet steel that is perforated with a huge number of 1mm holes. Phanteks assures us these holes allow the Performance Mesh front panel to flow air whilst also catching dust and as a result there is no separate air filter at the front of the case. Another benefit of this approach is that you can see the RGB lighting through the perforated panel so Phanteks has effectively created a Tempered Glass panel that flows air.
Building our test system was mildly problematic as we noted that one of the case fans had a damaged cable. This prompted us to remove the three SK140 DRGB 3-pin Case Edition fans that comes with P500A and to replace them with a set of Phanteks SK140 PWM RGB fans which are essentially identical but with the addition of PWM control.
Cooling Performance
To put this case through its cooling paces we will be using a test system consisting of an AMD Ryzen 9 3900X, RTX 2080 Founders Edition and an SSD. This system allows us to produce a substantial amount of heat and effectively test the Phanteks Eclipse P500A's cooling capabilities. For stress testing we use AIDA64 to create the maximum amount of load our CPU and GPU are ever likely to see.
Test System:
CPU: AMD Ryzen 9 3900X
Cooler: Fractal Design Celsius S36
Motherboard: MSI B450 Gaming Plus Max
Memory: Corsair Vengeance LPX DDR4-3200MHz
Graphics: Nvidia RTX 2080 8GB GDDR5
SSD: Samsung 970 Evo M.2 NVMe
Power Supply: Phanteks Revolt X 1000W Platinum
Three Phanteks 140mm Fans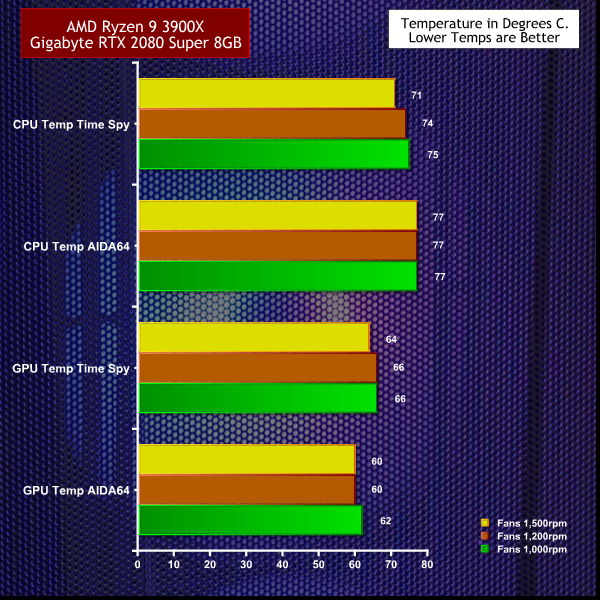 As we explain in our video, we ran the three 140mm fans at the front of the case, in the same way the P500A is supplied, with the Fractal Design Celsius S36 in the roof of the case. The Fractal fans were set to 1,000rpm and we started the Phanteks fans at 1,500rpm which is full speed. This was, to be frank, blooming noisy and measured 47.3dBA at a distance of 1 metre from the front of the case.
We haven't included noise figures in a separate graph because these aren't the stock fan,s however we illustrate this point in our video. After that we reduced the Phanteks fan speed to 1,200rpm and then to 1,000rpm. The noise levels dropped to 45.3dBA and then to 45dBA however temperatures inside the case barely changed.
Four Phanteks 140mm Fans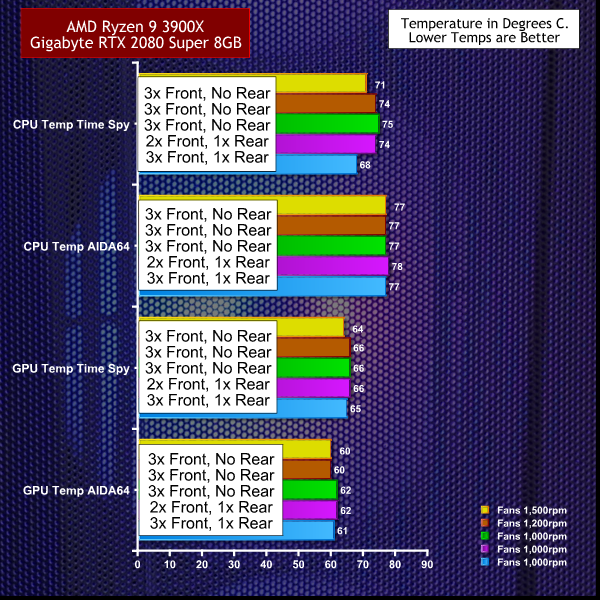 With the three front fans set to 1,000rpm we added a fourth 140mm fan at the rear of the case also set to 1,000rpm. We only observed one noticeable benefit as the CPU temperature was reduced in the Time Spy Stress test. Noise levels were unaffected. One other effect is that the extra fan gave the RGB light show a bit of a boost. The combination of a 360mm AIO cooler in the roof and either three or four 140mm fans in the case delivers superb air flow and cooling.
Closing Thoughts
P500A is a decent case but it is fair to say we have pretty much seen it all before, apart from the 1mm Ultra-Fine Performance Mesh front panel.
The formula for building P500A is to take the P600S, remove the top and front panels with their Quiet panels and that nifty fabric filtration and then strip out a few accessories such as the PWM fan hub and two of the drive caddies. For the base model you simply install two black 140mm 3-pin fans and you are finished. For the D-RGB version you have to upgrade the power supply shroud, sprinkle on some RGB and then install three RGB 140mm fans which are sadly still 3-pin items. This D-RGB version of the P500A is somewhat confused as it looks bright, brash and bling yet gives you the option of installing a huge number of hard drives or a secondary PC.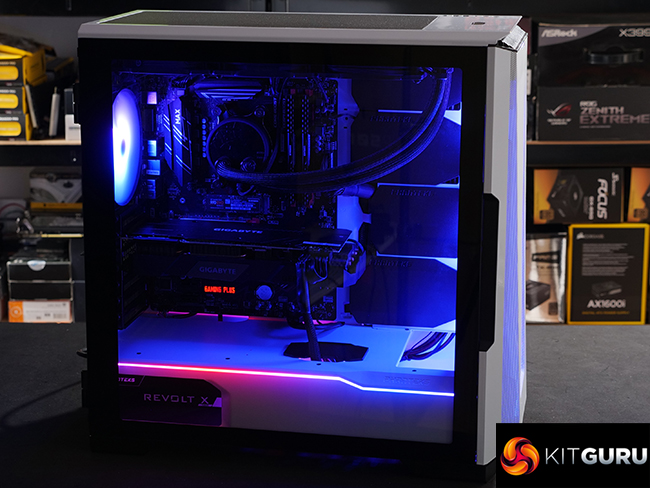 If you instead focus on the Mesh front panel you should be impressed by the air flow and excellent cooling. Balanced against that the noise levels are wearing, and this is where Phanteks has dropped the ball as they have removed the fan hub and specified 3-pin fans. They know the answer is to include the hub and/or a set of their own PWM fans, however this is purely a matter of cutting the Bill Of Materials so they can set the price at their chosen level. We strongly advise you budget an extra £20 for the hub which means this is effectively a £135 case and not a £118 buy.
We have very few criticisms of the Eclipse P500A, but despite that we advise you to approach this case with a degree of caution. Phanteks Eclipse is a range of excellent budget cases that are designed to reduce costs and have been met with huge enthusiasm. The original Pro-M is an excellent mid-tower case that we know well and have recommended for years. Evolv X is a superb high end case and P600S is a cut-down version of Evolv X, and we have admired both those cases.
Our dilemma is that we are not clear whether P500A is a jacked-up version of Eclipse with the addition of the fascinating metal mesh front panel, or whether it is a variant of P600S that majors on the RGB lighting whilst also delivering high airflow in a simple and direct manner. The Eclipse P500A model name tells us one thing while our eyes tell us something different and the end result is that we are slightly confused. Having said that, if you are going to be distracted by D-RGB lighting we cannot think of a company that is better able to do the job than Phanteks as their light show is absolutely excellent.

You can buy the Phanteks Eclipse P500A D-RGB from Overclockers UK for £117.95 HERE.
Discuss on our Facebook page HERE.
Pros:
Impressive air flow and cooling.
You can install huge amounts of storage or cooling.
1mm Ultra-Fine Performance Mesh front panel looks great.
Excellent user manual and accessory pack.
Cons:
Eclipse P500A makes no efforts to deaden noise.
Case versions of SK fans are 3-pin and not PWM.
Phanteks is keen to sell you a great many accessories.
KitGuru says: Phanteks has done a good job with P500A. The simple addition of a fan hub would make us happy.
Be sure to check out our sponsors store EKWB here