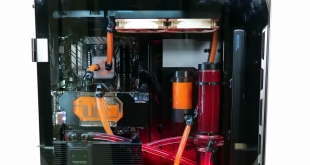 In our video we suggest the Phanteks Enthoo Elite might be the most expensive PC case in the world, completely forgetting the In-Win H-Tower costs £1,999. Well OK, fair enough, if we discount cases that have motorised panels the Elite is the most expensive case in the world. The price is significant but the main point is that Phanteks Enthoo Elite is a huge case with aluminium panels and a massive glass door that offers the longest list of features we have ever seen.
And we have checked that point. And it is correct.
Watch the video via our VIMEO Channel (Below) or over on YouTube at 2160p HERE
If you can't see the picture gallery then you need to disable your ad blocker!
Specification:
Form Factor: Extreme Full Tower
Materials: Anodised aluminium panels, powder coated steel chassis, tempered glass side panel
Colour: Gunmetal Grey
Motherboard Support: E-ATX, EEB, ATX, Micro-ATX, Mini ITX
Front I/O: 4x USB 3.0, 2x Mic, 2x Headphone, 2x Reset button, RGB control wheel, HDMI 2.0, USB 3.1 Type-C
Side Window: Tempered glass
PCI slots: 10
Internal 3.5-inch bays: 13x (6 included)
Internal 2.5-inch bays: 6x (4 included)
Fan Support:
Front – Up to 4x 140mm/120mm (3x 140mm installed)
Top – Up to 3x 140mm/4x 120mm (1x 140mm installed)
Bottom – Up to 3x 140mm/4x 120mm
Mid plate – Up to 3x 140mm/120mm
Side – Up to 2x 140mm/3x 120mm
Rear – Up to 2x 140mm/120mm (1x 140mm installed)
Radiator Support:
Front – up to 560mm/480mm
Top – up to 480mm/420mm
Bottom – up to 480mm/420mm
Mid plate – up to 480mm/420mm
Side – up to 360mm/280mm
Rear – 140mm/120mm
Clearance: 210mm CPU Coolers, 554mm VGA Cards, 291mm PSUs, 65mm Top Radiator
Net Weight: 33kg
Warranty: 5 Years
Dimensions: 270mm (W) x 750mm (H) x 615mm (D)
Phanteks offers a broad range of cases for the enthusiast PC builder that currently starts below £60 for the Eclipse P400 and will soon be joined by the even cheaper Eclipse P300. At the high end you can spend just over £200 for the Enthoo Primo which is a tall tower that offers massive support for extensive liquid cooling, so you may wonder what the heck is Phanteks thinking by offering the Elite for one penny under £800.
Even if we allow, say, £100 for the flight case used to package the Elite along with freight and handling of this 33kg (bare)/47kg (packaged) case, there is no denying the Phanteks Elite costs a huge amount of money.
In return you get a case that supports a massive range of cooling and drive bays, along with a great many accessories that are packaged in two separate boxes. You get 2x SSD caddies (to add to the two inside the case), 6x drive caddies, the side mounted 5.25-inch cage, a vertical GPU bracket, an 8-pin cable extension and a box of fasteners. The second package contains a Mini-ITX tray, side radiator mount and silent top panel.
The headline features are support for dual E-ATX and Mini-ITX systems using either one or two power supplies. When it comes to cooling you can install a 480mm/560mm radiator in the front and 480mm/420mm radiators in the top, bottom and on the mid plate. You can also add a 360mm/280mm radiator on the side panel and a 120mm/140mm radiator in the rear. Broadly speaking the message here is that Phanteks Enthoo Elite will support any liquid cooling you care to use although you will find that one large radiator is likely to overlap with the space required for another large radiator if they meet in a corner of the case. This clash is more likely if you use radiators thicker than 30mm.
Phanteks supplies 5x 140mm fans that are divided between the two PWM fan hubs so by default the front three fans operate with one system and the upper and rear fans operate with the secondary system. In total you can install 20x 120mm fans or 17x 140mm fans, which is pretty remarkable, although the two hubs can only control 12 fans between them.
To test the Phanteks Enthoo Elite we built two systems inside the case.
The main system with orange coolant uses:
CPU AMD Ryzen 7 1700X
Memory G.Skill FlareX DDR4
Motherboard Asus Prime X370-Pro
SSD Samsung M.2
CPU block Alphacool Eisblock XPX frosted
Radiator Alphacool NexXxoS ST30 copper 280mm
Fans 2x 140mm Noctua NFA14-ULN
Graphics card GTX 1080 with Phanteks Glacier block
G1/4 fittings Phanteks Glacier
Pump EKWB D5
Reservoir EKWB 150mm x 60mm
Power supply Sea Sonic Prime Titanium 850W
Coolant Mayhems Pastel Orange
The secondary system with red coolant uses:
CPU Intel Core i7-5820K
Memory G.Skill TridentZ RGB DDR4
Motherboard ASRock X99E-ITX/ac
SSD SanDisk Extreme II
CPU block EKWB EK-Supremacy EVO with ILM plate
Radiator Alphacool NexXxoS ST30 copper 420mm
Graphics card GTX 1080 with Alphacool NexXxoS GPX block
G1/4 fittings Alphacool
Reservoir unit Singularity Computers Protium pump top, 200mm x 60mm reservoir and pump cover
Pump Alphacool VPP755
Power supply Sea Sonic Prime Titanium 750W
Coolant Mix of Mayhems Pastel Red and Aurora Red
Building the PCs (plural) takes a while but isn't especially difficult as there is so much space inside the case. You have to make some major decisions about which components you use and where they go and as we discuss in the video it was probably a mistake to locate the main system D5 pump in the lower compartment. It would have been considerably more tidy if we had installed the pump in the main upper compartment in a combined pump/reservoir unit, however that would have left a huge amount of unused space in the lower compartment that cried out for another radiator, a bunch of hard drives or some other feature.
We also have to hold our hands up and say that soft tubing doesn't cut the mustard with the Elite. It needs hard tubing to get the look and feel of a build inside the Elite just right.
In terms of noise, cooling and performance, there are so many variables that it seems pointless to produce graphs or to talk about temperatures. The Phanteks Elite flows air like a champ and has so much space inside you should have no problems with cooling. If you should happen to hit a problem you can simply add more fans or another radiator. With our chosen set-up of the five stock 140mm fans plus two Noctua 140mm fans the 420mm and 280mm radiators did a superb job and the PC was whisper-quiet.
Closing Thoughts.
Phanteks Enthoo Elite is a 750mm tower case that employs a steel core with aluminium panels and a glass door. It is an extreme case that offers an heroic list of features, options and extras. In particular we applaud the combination of excellent design, high quality construction and top notch cosmetics.
It will be apparent from our video that we are deeply impressed by the Elite however it is not perfect. Clearly it is very expensive and it is also very heavy however the biggest annoyance is that it is also very tall at 750mm. It is tempting to suggest that Phanteks should produce a model called Enthoo eLite with the lower compartment removed, which would reduce the height to about 550mm. The snag is that idea would reduce the number of options on offer from 'huge' to 'many', reducing the number of drives you can install and limiting the front radiator to 420mm instead of 560mm.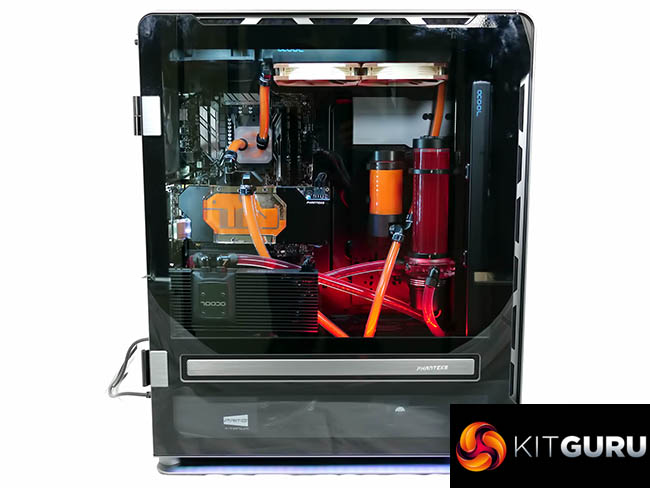 If we accept that Elite has to be huge then our list of complaints becomes vanishingly small; it would help if the hinge pins made it easier to install the heavy glass door and anyone who decides to use those drive bays will beg for some cable management channels.
We would be satisfied if Phanteks simply paid more attention to the mid-plate area as it looks a bit messy when you install a secondary Mini-ITX system. Once you accept the Phanteks Enthoo Elite is necessarily big and tall you can admire the craftsmanship and enjoy the classy touches such as the integrated RGB lighting that can be connected to Aura, or the way the power button is dual press – left for system 1, right for system 2.
It is worth pointing out that our dual system build didn't require a single cable tie as the integrated cable straps did all the work. That may sound like a tiny detail but it is unusual when you build a small, basic PC and in our experience is unheard of for a complex build. That is pretty darned impressive going by Phanteks and sums up our Enthoo Elite experience to a T.
Good job Phanteks.
Buy from Overclockers UK for £799.99 inc vat HERE.
Pros:
Stunning looks, fabulous aluminium and glass construction.
Plenty of space to install any cooling system that you can imagine.
Supports dual systems; E-ATX plus Mini-ITX.
Vertical GPU mount looks superb.
Excellent integrated lighting system.
Cosmetic aluminium plates cover the main water pump/reservoir mounts.
Cons:
Phanteks Enthoo Elite weighs as much as a small planet.
This 750mm tall case is unlikely to fit under your desk.
Phanteks does not include their power supply splitter accessory in the package.
The mid-plate area looks untidy when you install a secondary Mini-ITX system.
Very expensive.
KitGuru says: Phanteks Enthoo Elite is an epic case that offers a unique set of features.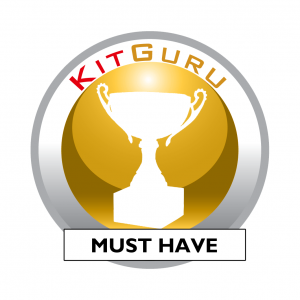 Be sure to check out our sponsors store EKWB here