Raijintek Scylla Elite CA360 is a custom loop cooling kit for your CPU that will help you step up from a regular AIO to high end liquid cooling. The kit includes a copper radiator, DDC pump/reservoir and a CPU block and can later be expanded to include your graphics card. Today, we're putting it through its paces to find out whether or not you should buy one.
Watch the video via our VIMEO Channel (Below) or over on YouTube at 2160p HERE
The Raijintek Scylla Elite CA360 at a glance:
Complete set of components for CPU water cooling
High quality materials such as copper and nickel
Integrated RGB
RGB easily controllable via bundled remote control
Modular design for easy upgrades
The key components included in the Raijintek Scylla Elite CA360 kit are the Antila DDC Evo RBW pump/reservoir, the Forkis Elite RBW CPU block Raijintek Forkis Elite RBW and the 360mm Calore CA360 radiator. It took us a while to figure out that RBW is Raijintek's take on RainBoW lighting and is another way of saying 5V ARGB.
We decided to use the Fractal Design Torrent case to house the Raijintek cooling hardware as Fractal supplies some accessory brackets that allow you to replace the stock 180mm fans with 120mm or 140mm units. This allowed us to install the Calore CA360 radiator at the front of the case which in turn meant the Raijintek Scylla Elite had superb air flow.
As you will see in our video we had a couple of gripes about details of the installation however the end result looked good and the Fractal Design Torrent showed off the ARGB lighting to good effect.
Testing and Performance

To put the cooling setup through its paces we will be using a test system consisting of an AMD Ryzen 9 3900X, AMD RX 6800 XT and an SSD. This system allows us to produce a substantial amount of heat and effectively test the Raijintek Scylla Elite CA360's cooling capabilities.
Test System:
Processor: AMD Ryzen 9 3900X (12 cores/24 threads, 4.0GHz all cores)
Thermal compound: Arctic MX-5
Motherboard: Asus TUF Gaming X570-Plus
Memory: 32GB G.Skill TridentZ Neo DDR4-3600
Graphics card: Sapphire RX 6800 XT 16GB
Case: Fractal Design Torrent
Power supply: Fractal Design Ion+ 2 Platinum 860W
SSD: 500GB Sabrent Rocket 4.0 M.2 NVMe
OS: Windows 10
Custom Loop Cooling
Pump/Reservoir: Raijintek Antila DDC Evo RBW
CPU Block: Raijintek Forkis Elite RBW
Radiator: Raijintek Calore CA360 360mm radiator 27mm thick
Radiator fans: Triple pack Raijintek EOS 12 PWM fans with RGB controller
Fittings: 6x Raijintek
Soft Tube: Raijintek Raitubo soft tubing
Coolant: Raijintek Raiaqua-T1 Clear
Cooling Performance
Cooling Performance Overview
Swapping out the Noctua NH-D15 cooler and stock 180mm fans for the Raijintek Scylla Elite CA360 kit yielded impressive results. CPU temperature remained the same at 77 degrees C however our graphics card temperature dropped by an impressive six degrees C, thanks to improved air flow.
Closing Thoughts
The fundamentals of the Raijintek Scylla Elite CA360 are sound, although there are annoying details. We don't much like the names of the various parts – Antila, Forkis, Calore and Raitubo – however that is a minor complaint brought on by saying the names out loud many times while making the video.
We also have an issue with this kit being called Scylla Elite when it is clear the Scylla Pro lives further up the product tree. Generally speaking we prefer a D5 pump for heavy lifting but the DDC in this Elite kit did a fine job and blasted the air from the system in moments.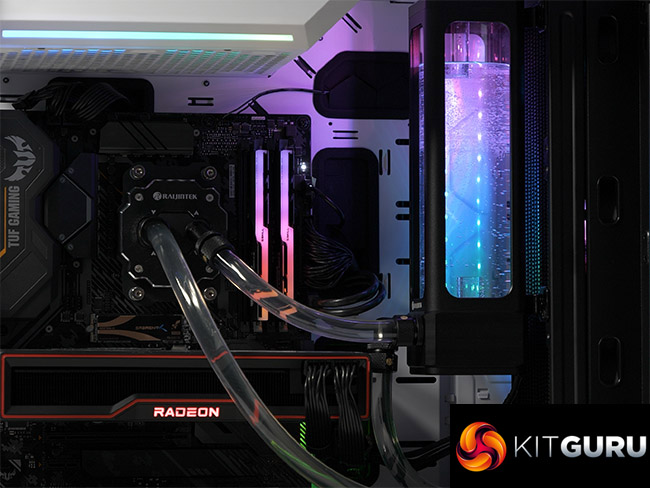 Once we had installed the pump/reservoir on the radiator we found the rest of the build fell into place. The cabling for the three fans and the RGB lighting was slightly messy, however the Raijintek hub which is mounted on a magnetic plate helped the cause and kept everything under control.
When we started up the test PC we had the usual moments of sound and fury as the air rushed out of the system but it settled down very quickly and after that it behaved perfectly. The fans and pump were quiet, the coolant circulated swiftly but without cavitation, the ARGB lighting looked good and the cooling worked very well.

It is currently out of stock, but the Scylla Elite kit should cost £279.95 from Overclockers UK HERE.
Discuss on our Facebook page HERE.
Pros:
Effective CPU cooling.
Decent quality CPU block and pump/reservoir.
ARGB lighting works well.
Low noise levels.
Cons:
You don't get any angled fittings.
Pump/reservoir mounts are restrictive.
Power supply jumper is not included.
Price looks steep.
KitGuru says: Raijintek Scylla Elite CA360 is decent but doesn't quite live up to the name Elite.
Be sure to check out our sponsors store EKWB here