Over the years we have seen a number of unusual PC cases in pretty much every shape and size however the Riotoro GPX-100 Morpheus is batting on a completely different level as it claims to be 'The World's First Convertible PC Case.' The fact it is a dual chamber design with an inverted motherboard is unusual, however we are familiar with the Corsair Carbide Air series and know what that is all about.
Morpheus is certainly unusual as the upper half of the case can be adjusted vertically, either upwards to accommodate a full E-ATX system or downwards if you only want to install a Micro-ATX motherboard. In Compact mode the Morpheus shrinks by 60mm in height and thus requires less space on your desk.
Watch the video via our VIMEO Channel (Below) or over on YouTube at 2160p HERE
While we have seen something similar with the be quiet! Dark Base Pro 900 the approach taken by the Riotoro design is completely different, and the fact you can swap out the expansion card section of the back panel (8 slots or 5 slots) is a novel approach.
We have saved the best until last as Morpheus is delivered in flat pack form so you have to assemble it yourself. As you will see in our video this process took us an hour and that pretty much guarantees that System Integrators will ignore Morpheus for pre-built PCs.
There is no doubt in our mind that Riotoro Morpheus will cause some heated debate. Is it a genius idea or an oddball looking for a reason to exist?
Main Features
Resizable from mid-to-mini tower configuration
High-density perforated mesh on all sides for superior cooling
2x USB-C and 2x USB 3.0 ports
Dual compartments to isolate heat and streamline airflow
Supports EATX, ATX, microATX and mini-ITX motherboards
Dual 120 mm fans with mounts for additional fans and 240mm water coolers
Tool-less pc component assembly with optimized cable routes and mount points
2x 3.5-inch HDD plus up to 4x 2.5-inch SSD
Package Contents
1x Morpheus Convertible Case
2x 120 mm Red LED Fan
1x 80 mm Exhaust Fan
Manual, Accessories/Spare Parts Box
Note: if the above images are not displaying properly, you may need to disable Ad Block as it is known to interfere with our display code
Specification:
Motherboard support: E-ATX, ATX, Micro-ATX, Mini-ITX.
Expansion slots: 8.
Included fans: 2x 120mm front intake, 1x 80mm rear exhaust.
Fan mounts: 2x 120mm/140mm or 1x 200mm front, 2x 120/140mm roof, 1x 80mm rear, 2x 120mm/140mm floor.
120mm radiator mounts: 120mm/240mm front, 120mm/240mm roof, 120mm/240mm floor.
5.25-inch optical drive bays: None.
Internal drive bays: 2x 3.5-inch, 4x 2.5-inch.
Front I/O panel: 2x USB Type-C, 2x USB 3.0, 2x audio jacks.
Dimensions:
MID: 465mm D x 445mm H x 276mm W.
MINI: 465mm D x 385mm H x 276mm W.
The name of the Morpheus gives us a clue about the nature of this unusual case and the confusion that appears to come as part of the deal. Morpheus is the Greek God of sleep or dreams, although most people will likely think of the character in the Matrix movies played by Laurence Fishburne. Neither of these has an obvious connection with a PC case, however the word metamorphosis describes change, and that seems appropriate. It is clear the GPX-100 changes states from big to small or (Extended to Mid) but in fairness to Riotoro it may have been a bit of a mouthful to to call the case Metamorphosis.
Drilling down to the more important points, we do not understand why Riotoro has put the emphasis on the vertical height of the case when the obvious point is that the footprint of a dual chamber is very large. Squishing the case down vertically is all well and good but what we really want is a case that occupies less floor space.
While we were assembling the Morpheus we noted a few odd points in the specification. The dual chamber design can accommodate an E-ATX motherboard however there is not much space inside the main compartment. We are happy with the 300mm maximum GPU length and the 220mm PSU in the second compartment, however the 122mm maximum CPU cooler height is quite restrictive. The obvious answer is to use a liquid cooler, such as the Corsair H115i in our built PC, rather than an air tower cooler – but you need to proceed with caution.
The problem is that Riotoro is happy for you to install 120mm or 140mm fans in the front, roof or floor of the case but only recommends radiators with a 120mm unit. We had no difficulty installing the 280m Corsair H115i but you may well find some 280mm radiators will not fit. While we're on the subject of cooling, it seems daft you cannot install a 360mm or 420mm radiator anywhere in such a large case. Also, that 80mm fan at the rear of the case looks ridiculous in this day and age and should be either 120mm or 140mm in size.
Testing
To put this case through its cooling paces we will be using a test system consisting of an Intel Core i9-7920X, Nvidia RTX 2080 8GB FE and an SSD. This system allows us to produce a substantial amount of heat and effectively test the Riotoro GPX-100 Morpheus's cooling capabilities.
For stress testing we use AIDA64 to create the maximum amount of load our CPU and GPU are ever likely to see.
Test System:
Processor: Intel Core i9-7920X 12-core/24-threads, 2.9GHz all cores
Motherboard: Gigabyte X299 Aorus Master
CPU cooler: Corsair H115i 280mm AIO
Memory: 64GB G.Skill TridentZ DDR4-3200MHz
Graphics card: Nvidia RTX 2080 8GB FE
Power supply: Seasonic Focus 1000FX
Storage drive: Samsung 970 EVO M.2 SSD
OS: Windows 10
Cooling Performance.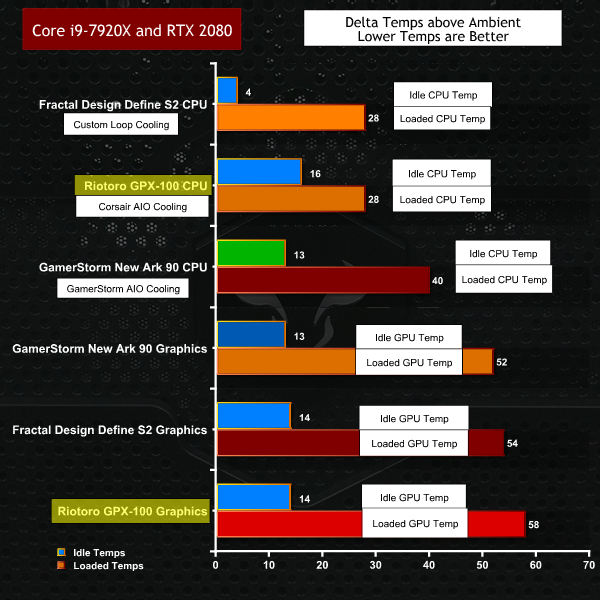 Cooling Performance Overview
This case flows air impressively well, although we would expect nothing less as it is very heavily perforated. Temperatures for the CPU and GPU are both good and removing the main side panel only lowers temperatures by one or two degrees.
Acoustics performance.
This case can get very, very noisy if you run your fans at high speed or full speed. On the plus side, increasing fan speeds from silent mode to high performance has a minimal effect on temperatures so our advice is to run them low and slow.
Closing Thoughts.
The design of the Riotoro Morpheus is certainly unusual – with their creation of a case that can be adjusted in size. The problem is that this approach requires a series of compromises that deliver a case that is unsatisfactory and also rather expensive. The obvious alternative to this approach is to create a family of two or three cases that have a clear lineage and identity in a variety of sizes. There is a reason why Corsair, Fractal Design, NZXT, Phanteks and Thermaltake sell Mini-ITX, Micro-ATX, ATX and E-ATX models and do not attempt to deliver a single case that will suit all markets. It is not because these companies are lazy but rather that the traditional approach works effectively.
Unfortunately, we feel the Morpheus misses the mark as it is a physically large case with a restricted main chamber that imposes significant limits on the cooling you can install. That's slightly disappointing but we were also mystified that we were obliged to assemble a case that comes with such a high price tag.
There is no doubt the Morpheus has a certain amount of merit, however it also suffers from a number of problems and that conclusion leaves us wondering exactly who might buy the Morpheus. Clearly it would need to be an enthusiast as the amount of work required for the assembly and the PC build precludes the casual PC enthusiast. The snag is that most enthusiasts are aware you can buy some very good cases for £120 and if you have a budget of £170 – the price of Morpheus – you have a great many options that include Tempered Glass, RGB without the need to assemble the case in the first place.
Buy from CCL Online for Price £169.99 inc VAT HERE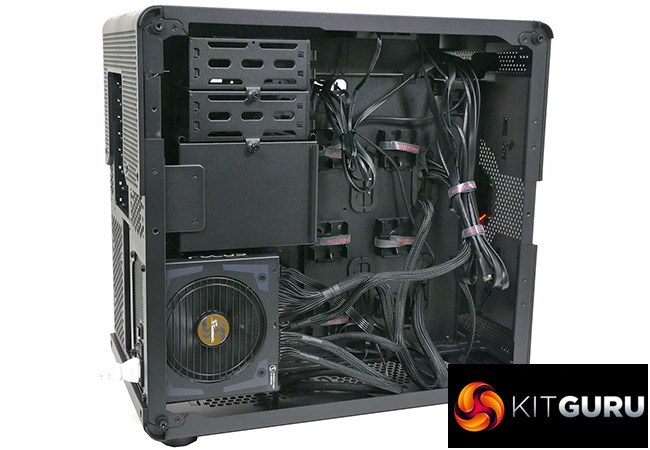 Pros:
Modders will love the way Morpheus can be fully dismantled.
Perforated panels give huge potential for air flow.
Every panel is filtered.
Plenty of space inside the case.
Included build mat is a neat extra.
Cons:
Morpheus is delivered in kit form and takes an hour to assemble.
The open design means there is little noise deadening.
The price is very steep.
No support for large radiators.
KitGuru says: This is a novel case design that misses the mark.
Be sure to check out our sponsors store EKWB here