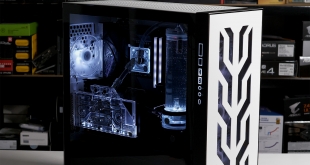 Your very first glance at the Sharkoon Elite Shark CA300T will doubtless deliver one of those flashes of recognition as you spot the points of familiarity. 'Isn't that the Cougar DarkBlader-G?' you might ask, 'or perhaps it is the Cougar DarkBlader-S?'… and you would be correct, up to a point, as the core chassis is the same in all three instances. Sharkoon has improved the specification and includes four ARGB fans, an ARGB hub and the ability to install a 420mm radiator in the front. Game on!
Specification:
Motherboard support: E-ATX, ATX, Micro-ATX, Mini-ITX.
Expansion slots: 8+2.
Included fans: Sharkoon TC1225L9RGB 1,050rpm
3x 120mm ARGB front intake, 1x 120mm ARGB rear exhaust.
Fan mounts: 3x 120mm/140mm front, 3x 120/2x 140mm roof, 1x 120mm rear.
Radiator mounts: 420mm/360mm front, 360mm/280mm roof, 120mm rear.
5.25-inch optical drive bays: None.
Internal drive bays: 4x 3.5-inch/2.5-inch, 3x 2.5-inch.
Dimensions: 520mm H x 505mm D x 235mm W.
Testing
To put this case through its cooling paces we will be using a test system consisting of an Intel Core i9-10900KF, Palit RTX 3080 and an SSD. This system allows us to produce a substantial amount of heat and effectively test the Sharkoon Elite Shark CA300T's cooling capabilities. For stress testing we use Time Spy Stress Test to create a load on the CPU and GPU that is equivalent to a serious gaming session.
Test System:
CPU: Intel Core i9-10900KF
Motherboard: Gigabyte Z490 Aorus Master BIOS F7
Memory: 32GB Gigabyte Aorus RGB DDR4-4400MHz
Graphics: Palit RTX 3080 10GB GDDR5
Graphics mount: Sharkoon Vertical Graphics Card Kit
Case fans: 2x be quiet! Shadow Wings 2 1,150rpm
SSD: 1TB WD Blue M.2 NVMe
Power Supply: Seasonic Prime Titanium 850W
Custom Loop Cooling:
Pump/Reservoir: EK Quantum Kinetic TBE 300mm D5 PWM
CPU Block: EK Quantum Velocity
GPU Block: Alphacool Eisblock Aurora
Radiator: 360mm Alphacool NexXxos ST30
Fittings: Alphacool 10mm/13mm
Coolant: Alphacool Ocool Tec Protect Ultra Clear
Cooling Performance
Cooling Performance Overview
Cooling performance in the CA300T is perfectly OK but nothing special. As we point out in our video, the supplied fans are not optimised for air pressure and consequently are not the best choice for a liquid cooled system. We are confident that using an air cooler on your CPU would work well but if you fancy the idea of liquid cooling then you either need to move the fans around or to locate the radiator in the roof of the case.
Closing Thoughts
While the Sharkoon Elite Shark CA300T is closely related to the Cougar DarkBlader it is fair to say there have been significant changes. The installation of four RGB fans along with an ARGB control hub is a simple matter of money as you could clearly do the job yourself, however it helps the value proposition for Sharkoon and that is clearly a good thing.
More importantly, Sharkoon has installed a front panel with large ventilation holes that gives the case a chance to breath and has also updated the front I/O to include a USB Type-C port. On the downside the design of the case means the front panel is secured with a hidden screw and is tethered by a bunch of cables so while it looks fairly radical it actually feels like an old school piece of hardware that dates back a few years.
Another detail change that Sharkoon has made is the black strip across the glass panel on the right hand side that coves the cable clutter. Glass is clearly used to show the interior to full effect while the problem is that PCs have plenty of mess to hide away. While this approach by Sharkoon works well, we wonder if it would make more sense to ditch the second glass panel altogether.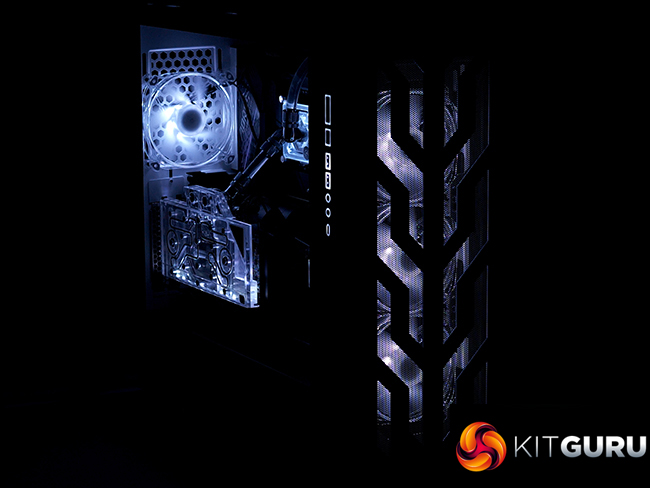 Perhaps our biggest gripe with the CA300T is the way the specification dwells on liquid cooling and the massive support for radiators. After all, if you plan on using the £50 accessory Sharkoon graphics riser you had better hope you are using a full custom loop or the likelihood is that your graphics card will be choked by the main glass panel.
We demonstrated the front support for a 420mm radiator is technically accurate but in practice rather complicated and ultimately came to the conclusion that mounting a radiator in the front may not be the best idea. On the other hand mounting a radiator in the roof is also complicated as the magnetic dust filter will be distorted by the mounting screws and the top cover may prove tricky to slide into place.
In other words, Sharkoon has sorted out most of the major features but still has some details to finish.
You can buy the Sharkoon Elite Shark CA300T for £145.90 from Alternate HERE.
Discuss on our Facebook page HERE.
Pros:
Supplied with four 120mm ARGB fans.
Front I/O has USB Type-C
The finished build should be eye catching and impressive.
The case flows air sufficiently well.
Cons:
The opening in the fixed power supply shroud has minimal space for radiators.
Front panel is tethered by cables and is awkward to remove.
There is no PWM fan hub to match the RGB hub.
The brackets for the pump and drive bays feel rather old school and clunky.
KitGuru says: The Sharkoon Elite Shark CA300T improves on the overall package compared to the Cougar DarkBlader, but there is still room for further improvement.
Be sure to check out our sponsors store EKWB here