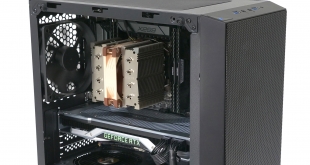 SilverStone Precision PS15 is all about the money and a low price that comes in under £40. The Precision Series of 'High-value tower chassis' covers the range from microATX through ATX to Full Tower ATX, however each model is quite distinct from the others with no obvious connection between, say, the PS13, PS14 and PS15. This meant we had very little idea what to expect as we unboxed the PS15 and truth be told, we were very happy with our first impressions. It is a smart and under-stated case with a full tinted glass window and a front panel that is mesh from top to bottom. It was crystal clear from the first moment that PS15 was designed to breathe.
Watch the video via our VIMEO Channel (Below) or over on YouTube at 2160p HERE
It is a mystery that some case manufacturers think it a good idea to ignore airflow and to instead focus on RGB and other fripperies. With the PS15 is is clear that SilverStone has taken a close look at the essentials, kept the design as simple as possible and has ended up with a really cheap Micro-ATX case.
It would have been nice to see USB Type-C on the front I/O panel in addition to the pair of USB 3.0 Type-A ports and we would have appreciated a fan or two at the front to match the single 120mm fan at the rear. We can see why SilverStone sent us the basic PS15 as any type of upgrade would add significant cost. Indeed, SilverStone offers a PS15-RGB variant with two RGB fans at the front that drives the price up by around 50 percent. That's still cheap but there are quite a few cases on the market priced around £65 whereas the basic PS15 is in a very select field at £39.98.
Note: if the above images are not displaying properly, you may need to disable Ad Block as it is known to interfere with our display code
Key Features:
Mesh front panel & optimized layout for outstanding cooling potential
Motherboard back plate opening for quick CPU cooler assembly
All black painted interior for stylish look
Supports expansion cards up to 12.3-inch (314mm)
Chic and simple tempered glass side panel
Specification:
Motherboard support: Micro-ATX, Mini-ITX.
Expansion slots: 4.
Included fans: 1x 120mm rear exhaust.
Fan mounts: 2x 120mm/140mm front, 2x 120/1x 140mm roof, 1x 120mm rear.
120mm radiator mounts: 120mm/240mm front, 120mm rear.
140mm radiator mounts: None.
5.25-inch optical drive bays: None.
Internal drive bays: 1x 3.5-inch/2.5-inch, 3x 2.5-inch.
Dimensions: 381mm H x 351mm D x 192mm W.
Building our test system was straightforward once we had selected a suitable microATX motherboard, however there is a notable point when it comes to the CPU cooler as it is limited to a maximum height of 154mm. If the cooler is any taller it simply will not fit inside the case and you cannot install the glass panel. This means you are unlikely to be able to choose a cooler with a vertical 120mm fan such as the Arctic 33 TR. Clearly there are other options such as a down draft cooler or something like the Noctua NH-D9L we selected which has a 92mm fan.
The obvious alternative is a 240mm All-In-One liquid cooler in the front of the case, however the question of whether it will fit very much depends on the length of your graphics card. It may well be possible to install an AIO cooler with the fans outside the chassis, behind the front panel, however the clearances are small and you need to check your specific hardware.
With the system assembled we found there was very little space for cable management and in an ongoing theme we wished there were another few millimetres clearance behind the rear panel. The problem is that if PS15 was 5mm or 10mm wider, taller and longer it would gain a surprising ten percent in volume and would inevitably cost more in the process. Installing the rear panel took a certain amount of care but once it was in place the two thumbscrews locked it down without any trouble.
Testing
To put this case through its cooling paces we will be using a test system consisting of an Intel Core i7-7820X and an Nvidia RTX 2080 graphics card. This system allows us to produce a substantial amount of heat and effectively test the SilverStone Precision PS15's cooling capabilities.
For stress testing we use AIDA64 to create the maximum amount of load our CPU and GPU are ever likely to see.
Test System:
Processor: Intel Core i7-7820X 8 cores/16 threads, 3.5GHz all cores.
Motherboard: ASRock X299M Extreme-4
CPU cooler: Noctua NH-D9L
Memory: 16GB Corsair Vengeance LPX DDR4-3200MHz
Graphics: Nvidia RTX 2080 8GB Founders Edition
Power supply: Seasonic Focus Plus 1000W Gold
Storage drive: Intel P760 M.2 SSD
OS: Windows 10
Cooling Performance.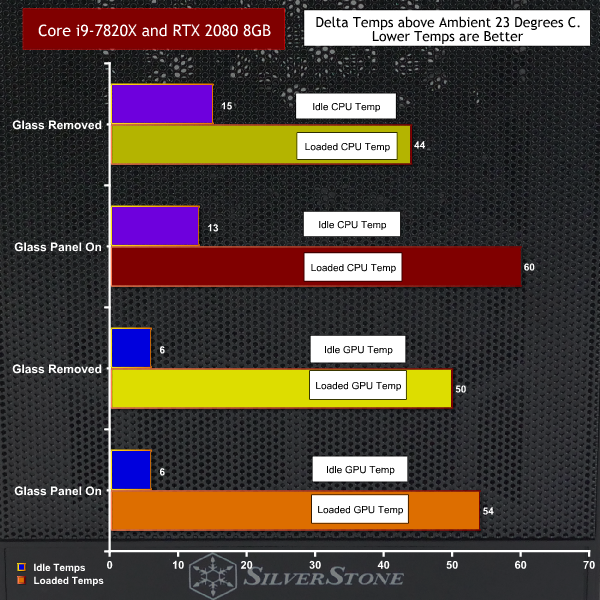 Cooling Performance Overview.
We loaded the SilverStone Precision PS15 with high end hardware and despite this stern test it performed well with temperatures that avoided thermal throttling. It was notable that when we removed the glass panel the CPU temperature dropped by a sizeable 16 degrees Celsius and it is worth remembering this case is supplied without any intake fans.
Acoustics Performance Overview.
SilverStone Precision PS15 is supplied with a single 120mm fan and is very quiet in operation. A more generous description would be 'near silent.' If you install extra fans in the front or roof of the case it would certainly cool more effectively and would potentially become more noisy, however in the default configuration it is very quiet indeed.
Closing Thoughts
We like what SilverStone has done with the Precision PS15 and admire the combination of understated looks, full panel glass and mesh front panel. To our eyes the PS15 has a touch of the Fractal Design look about it, and in case you have any doubt we mean that in a positive way. This is, in our opinion, the best looking case in the SilverStone Precision range. If SilverStone brings out a larger version that accommodates ATX we would very much like to see that as well.
Accepting that PS15 is microATX means that we also go along with the compact nature. Nonetheless this case would be improved if it was slightly larger, especially behind the rear panel for an improved cable-management experience.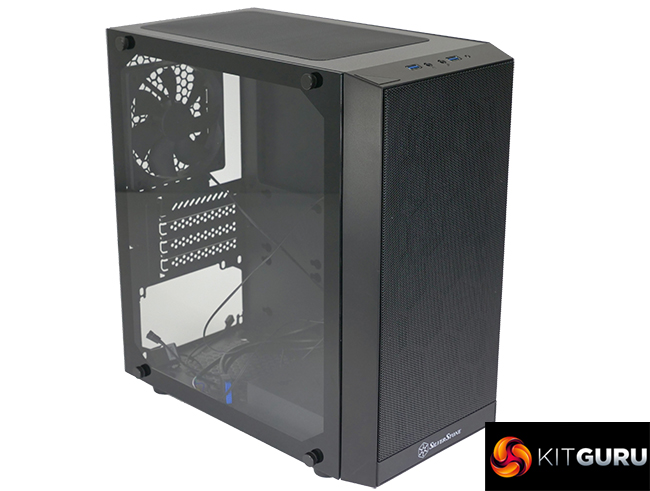 Alternatively, it might be an idea if the small drive tower was screwed in place, instead of being riveted, and could be removed to free up some space in the main compartment. We built our test PC with an M.2 SSD and installed three SSDs and one HDD. If the drive tower was removed we would have still had the M.2 and two SSDs behind the back panel which gives plenty of options for storage.
In our video you will have seen we also did a build with an AMD APU that did not use a graphics card. Clearly that is not a system that is likely to appeal to the enthusiast, however it is a very good use for this budget case. The next time a member of your family asks for help building a mainstream PC we strongly suggest you put the SilverStone Precision PS15 on their shopping list along with suitably modest hardware and are confident you will be impressed by the results.
You can buy SilverStone PS15 for £39.98 at Scan HERE
Pros:
Very low price.
Good air flow.
Supports one HDD and three SSDs.
Main tinted glass panel lends a stylish look.
Cons:
The chassis is tight for space.
Very little space for cable management.
Front panel is tethered by I/O cables.
KitGuru says: SilverStone, please send an ATX version of PS15 as soon as possible.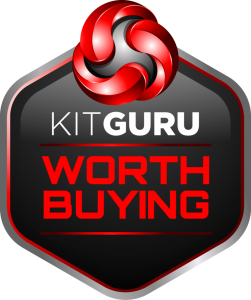 Be sure to check out our sponsors store EKWB here