Thermaltake first showed us their Mini-ITX The Tower 100 case during a virtual Expo that replaced Computex in 2020 and we were intrigued, especially when we learned the price was around the £90/$90 mark. Fast forward six months and as we prepared for a virtual CES, and the delayed launch of The Tower 100, we were truly surprised when Thermaltake offered KitGuru a world exclusive review of this intriguing case. Naturally enough we accepted with almost indecent haste.
Watch the video via our VIMEO Channel (Below) or over on YouTube at 4K HERE
Main features
Minimise the iconic The Tower 900 to support Mini-ITX
Tool-free tempered glass panel x3
Pre-installed 120mm standard fan x2
Supports the latest PC hardware
Front I/O ports with 2x USB 3.0 and 1x Type-C
Specification:
Motherboard support: Mini-ITX.
Expansion slots: 2.
Included fans: 1x 120mm top exhaust, 1x 120mm rear exhaust.
Fan mounts: 1x 120mm/140mm on PSU cover, 1x 120mm/140mm roof, 1x 120mm/140mm rear.
Radiator mounts: 120mm roof.
5.25-inch optical drive bays: None.
Internal drive bays: 2x 3.5-inch/4x 2.5-inch, 2x 2.5-inch.
Dimensions: 463mm H x 266mm D x 266mm W.
Once you have removed the glass panels you will find that building a PC inside The Tower 100 is relatively easy as you have good access to the Mini-ITX motherboard. On the other hand, it is questionable to claim the glass panels are tool-free as you first have to unscrew the top cover of the case before you can remove the glass. Our video shows you chapter and verse on the subject, including the bizarre cable routing we used for our Seasonic Focus PX-850.
The other reason we state it is easy to build a PC inside The Tower 100 is that you have very few options. You might install a 120mm AIO cooler on your CPU or you might go for an air tower, and that is pretty much the end of the matter. We were slightly surprised that Thermaltake does not include any RGB with the Tower 100 as the glass would show lighting to good effect however this clearly keeps costs low and certainly reduces complexity.
While The Tower 100 is rated as a Mini-ITX chassis we calculate the volume at 31 litres so it is fairly large. On the plus side you have plenty of space for the power supply, CPU cooler and graphics card. You have a great many options with your build and should have no difficulty arriving at a combination of parts that deliver decent performance.
Testing
To put this case through its cooling paces we will be using a test system consisting of an AMD Ryzen 5 5600X, Sapphire Radeon RX 6800 XT and an SSD. This system allows us to produce a substantial amount of heat and effectively test the Thermaltake The Tower 100's cooling capabilities.
Processor: AMD Ryzen 5 5600X (6 cores/12 threads, 4.1GHz all cores)
CPU cooler: Noctua NH-U12S
Motherboard: Gigabyte B450I Aorus Pro WiFi
Memory: 32GB G.Skill TridentZ Neo DDR4-3600MHz
Graphics card: Sapphire Radeon RX 6800 XT 16GB
Power supply: Seasonic Focus PX-850 Platinum 850W
SSD: 500GB Sabrent Rocket M.2 NVMe 4.0
OS: Windows 10
Cooling Performance
Cooling Performance Overview
The ambient temperature during our testing was a mere 15 degrees Celsius so you should add five or six degrees to our figures to get representative temperatures however the takeaway is that The Tower 100 is absolutely fine. Our Sapphire RX 6800 XT was effectively breathing fresh air and was completely happy, and it was clear the Noctua NH-U12S had no difficulty cooling our Ryzen 5 5600X.
The downside is that The Tower 100 has pretty much zero noise reduction and when you crank up the fans it gets pretty darned noisy. If you were keen to improve cooling while keeping the fans speeds low, it might be interesting to experiment with a fan installed on the power supply shroud.
Closing Thoughts
Here at KitGuru we love a decent Mini-ITX chassis such as the Cooler Master NR200P, however we acknowledge the expense of an SFX power supply and the hassle of cramming your hardware into a tiny space.
Thermaltake has gone down a different route with The Tower 100 which is relatively large for an ITX build but still small enough that you can place it on your desk without it looking ridiculous. The major design choice is an ATX power supply which is necessarily quite large with long cables. The good news is that while it seems you should be able to see all the hardware through the three glass panels, in fact the mess is contained in the lower compartment and behind the back panel.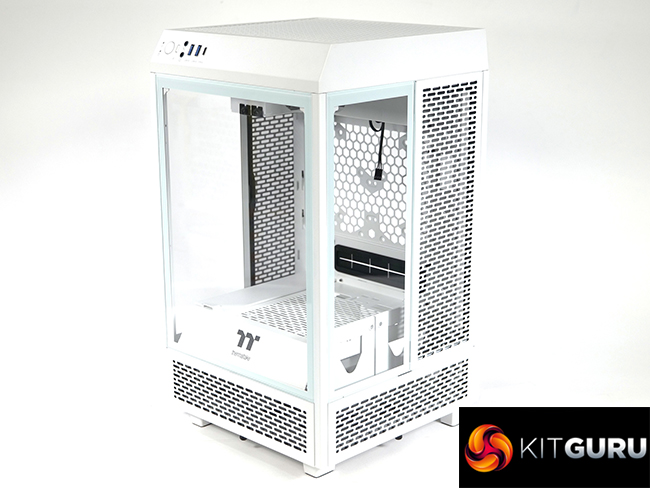 Where we applaud Thermaltake is in their decision to go for mesh on every panel and also to employ a huge number of dust filters to ensure your PC can breathe while also keeping the innards clear. We are so used to seeing Thermaltake cases with huge slabs of glass and arrays of RGB fans that The Tower 100 comes as a welcome relief.
Our major complaint about The Tower 100 is that it is rather noisy, and we hope there is scope to work on fan locations to improve air flow at low fan speeds. We are treating The Tower 100 as Thermaltake's first serious bid to build a small chassis and we hope we can expect more of the same in the future.
We don't yet have a retail link, but you will be able to buy The Tower 100 for approximately £92.49 in Snow White and £83.24 in Black, converted from USD MSRPs.
Discuss on our Facebook page HERE.
Pros:
The Tower 100 is more mesh than glass and has decent air flow.
Air filters on every panel.
Interesting looks and quirky style.
Good access to the components and a relatively easy build.
Cons:
Supplied 1,200rpm fans are quite noisy
The user manual is fairly basic.
Relatively large for an ITX chassis.
Cable routing requires some thought.
KitGuru says: Thermaltake's The Tower 100 is novel and interesting, but above all it breathes well and does a decent job.
Be sure to check out our sponsors store EKWB here