G.Skill revealed its ultimate DDR4 memory kits at the Computex trade-show this week. The upcoming DDR4 kits from the renowned maker of advanced DRAM for enthusiasts, will be able to operate at clock-rates up to 3.80GHz in quad-channel mode. Besides, the company showcased the world's first and only 128GB DDR4 memory kit rated to work at whopping 3.0GHz.
G.Skill has been offering DDR4 memory kits with rather extreme clock-rates for about a year now. At Computex, the company revealed its new Ripjaws 4 16GB (4*4GB) sets of memory modules rated to run at 3800MHz with 1.35V voltage in quad-channel mode. Precise specifications of the memory solutions are still unclear, but the company is already showcasing them in action at Computex, reports Leo Waldock, a KitGuru editor, from Taipei, Taiwan.
The two DDR4-3800 live demo systems are based on Intel's Core i7-5960X processors as well as Gigabyte GA-X99-SOC-Champion and Asrock Fatal1ty X99M Killer motherboards. The Gigabyte motherboard can run G.Skill's new DDR4 memory at 3.80GHz with CL19 28-28 timings, whereas the Asrock platform can run similar DDR4 modules at 3.80GHz with CL19 25-25 latency settings. The quad-channel kits require active cooling to work at extreme frequencies.
G.Skill is expected to release its new 3.80GHz DDR4 memory modules later this year, when it finalizes specifications. Pricing of such extreme DRAM solutions is unknown, but leading-edge performance always comes at a premium price.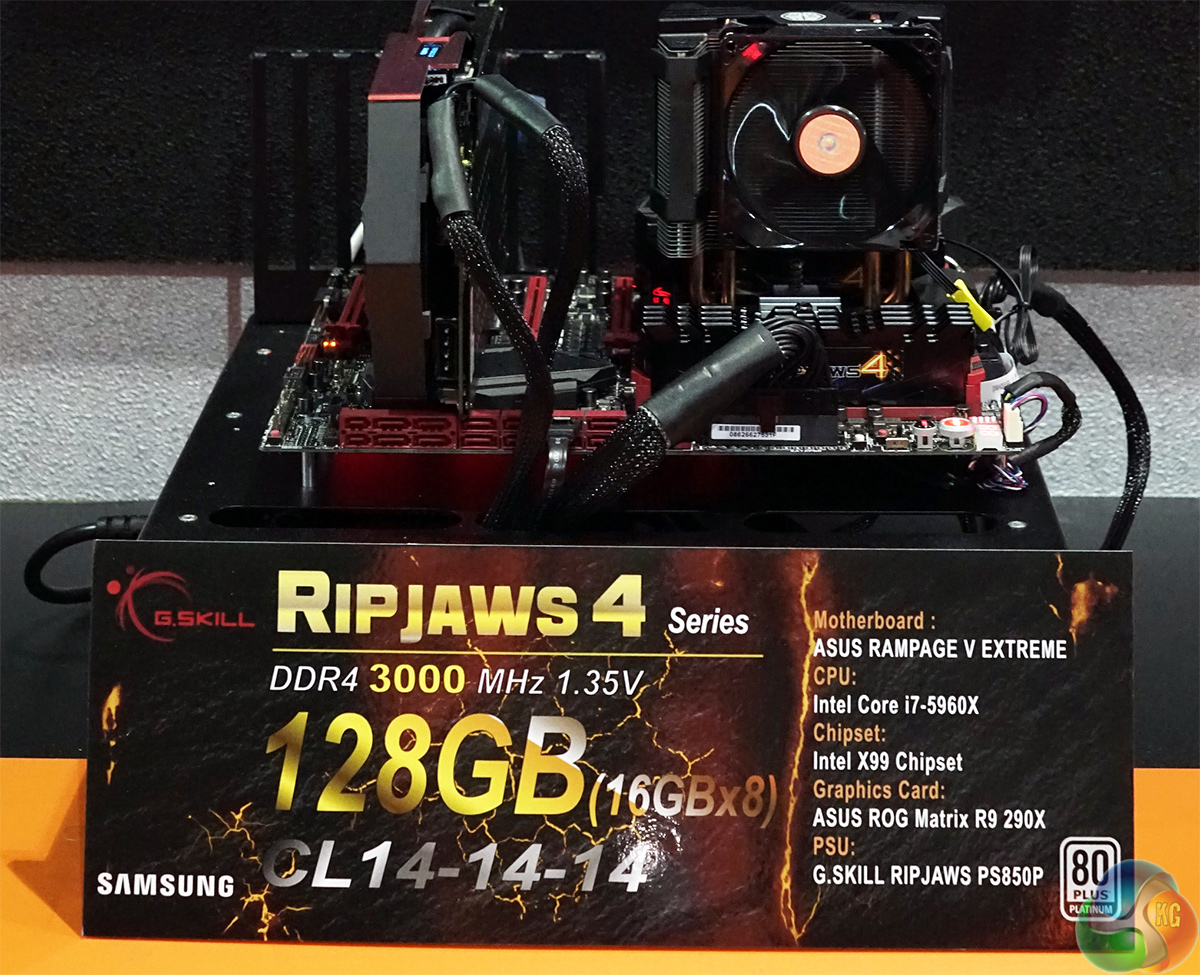 The manufacturer of advanced memory modules is also working on a new no-compromise quad-channel Ripjaws 4 DDR4 kit for ultra-high-end desktops and workstations. The new 128GB kit comprised of eight 16GB DDR4 modules based on Samsung's 8Gb memory ICs [integrated circuits] will be rated to run at whopping 3.0GHz with CL14 14-14. For those, who want higher clock-rates, but still demand a lot of memory, G.Skill plans to offer a 64GB kit that runs at 3333MHz with CL15 15-15 timings. The set uses the same memory sticks as the 128GB one.
The price of the 128GB DDR4 3.0GHz memory kit is unknown, but expect it to cost north from $2000. The 64GB kit will also not be affordable.
Discuss on our Facebook page, HERE.
KitGuru Says: In the recent years G.Skill has truly become the producer of the most advanced and highest-performing memory modules for personal computers. What DRAM brand do you prefer? Share your thoughts in the comments below or on our Facebook page.