Bungie has been working on expansions for Destiny ever since the base game released. So far, we've seen two, The Dark Below and House of Wolves, however, the third expansion is due to be the largest and judging by a previously leaked roadmap, the most exciting.
Now it looks like we already know what the third, so far unannounced, expansion will be called thanks to US cans of Red Bull energy drink. These cans of Red Bull were branded with 'Destiny: The Taken King, which we can assume will be the next expansion to the game.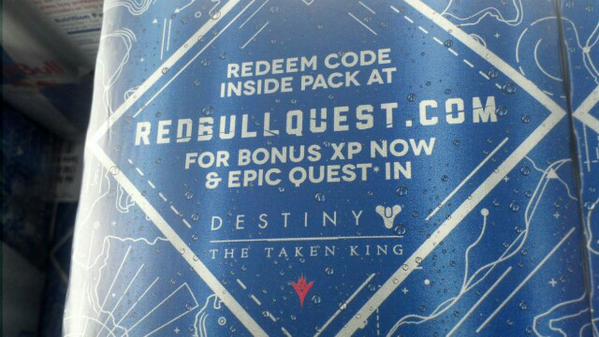 Image Source: @ArgiosEndemdros Twitter
The Taken King has popped up before in a previously filed trademark. So far, Destiny: The Taken King is expected to launch in September this year, bringing more depth to the story that so many people criticized upon the base game's original release.
Destiny: The Taken King will launch in time for Destiny's one year anniversary, according to previous leaks, there will be two more expansions before a Destiny 2 sequel is released, although nothing is confirmed yet.
Discuss on our Facebook page, HERE.
KitGuru Says: I played quite a bit of Destiny earlier this year, clocking in around 100 hours. Unfortunately, it doesn't look like there is a PC version on the way, which is quite frustrating as it is a pretty good game and the PC is the superior platform for shooters. Have any of you played Destiny at all on the consoles?