Nowadays datacentres use solid-state drives to store frequently used data, but continue to rely on hard disk drives to store occasionally accessed files. Intel Corp. believes that in five years' time everything will change and SSDs will be used more broadly in datacentres. The chip giant forecasts that increasing capacities and decreasing costs of solid-state drives as well as emergence of storage-class memory will help to expand usage of non-volatile memory.
Today the lion's share of data in datacentres is stored on hard disk drives: they offer very low-cost per gigabyte, provide more or less decent performance for today's needs and use existing infrastructure. Going forward, datacentres will have to deal with increased requirements for performance due to new workloads. As a result, operators of hyperscale datacentres and cloud services will have to expand utilization of solid-state storage technologies.
Thanks to emergence of storage-class memory (such as 3D XPoint) and ultra-high-performance solid-state drives, in many cases it will be possible to use them for workloads like in-memory databases or business analytics instead of more expensive dynamic random access memory, the chip giant revealed at the Intel Developer Forum earlier this month.
Meanwhile, stacked three-dimensional (3D) NAND flash memory will help to dramatically decrease per-gigabyte costs of solid-state drives. Once per-gigabyte costs of SSDs and high-performance hard disk drives get similar, the latter become irrelevant, especially keeping in mind that high-end SSDs usually provide larger capacities than 10K and 15K hard disk drives.
Moreover, 3D NAND will help to create SSDs with storage capacities not even imaginable today. Intel believes that leading-edge solid-state drives will feature over 100TB capacity sometimes in 2019.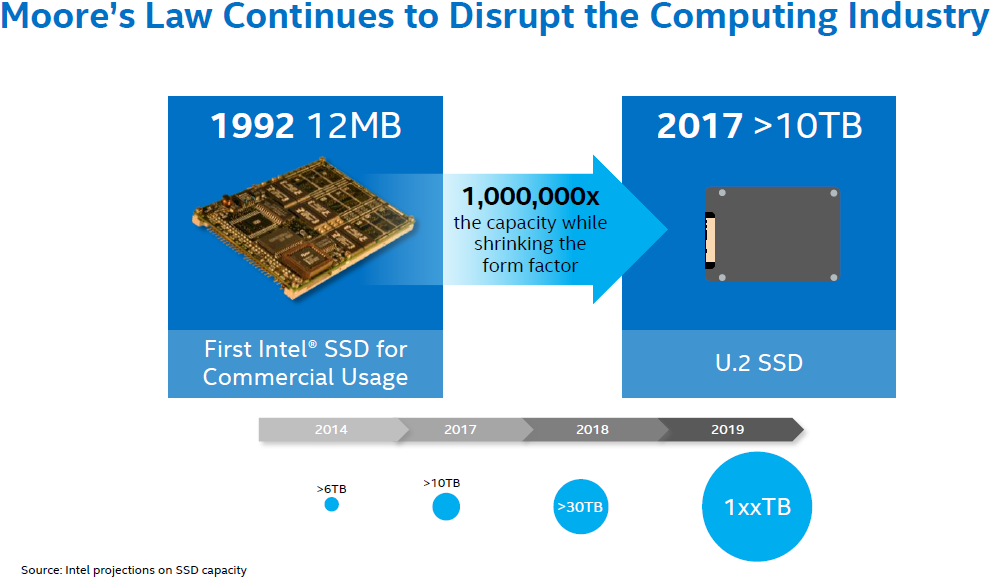 Ultra-fast SSDs based on storage-class 3D XPoint memory, high-performance 3D NAND-based SSDs and extreme-capacity solid-state drives will all increase usage of non-volatile memory for storage purposes the coming years. Nevertheless, hard disk drives will remain in datacentres, they will continue to be important as they will still have to store massive amounts of data.
Intel is not alone in its optimistic predictions regarding quick expansion of SSD capacities in the coming years. Toshiba Corp. also projects 128TB SSDs to emerge towards the end of the decade.
Discuss on our Facebook page, HERE.
KitGuru Says: While Intel and Toshiba draw very favourable pictures for non-volatile memory in datacentres going forward, neither of the company's reveal actual amount of NAND flash bits they plan to produce by 2020. Demands for storage are rising fast and it is unclear whether it will be possible to fulfil that demand using NAND memory. Toshiba and SanDisk are very cautious in terms of capacity expansion (which is understandable since they own the world's largest NAND production facility). But Intel does not seem to plan any expansion of NAND flash production at all. As a result, even if usage of SSDs in datacentres skyrockets in the coming years, it does not look like Intel will be the maker of those drives.