Although 3D XPoint – a new type of non-volatile memory jointly developed by Intel Corp. and Micron Technology – promises to significantly improve performance of solid-state drives over time, do not expect it to revolutionize SSD landscape overnight. According to performance estimates released by Intel, performance of the first-gen 3D Xpoint-based storage devices will be limited by modern interfaces.
The first Intel Optane solid-state drives powered by 3D XPoint memory will be used for storing "hot" frequently used data, which is why they will have to offer very high bandwidth, low latencies and high IOPS [input/output operations per second] throughput. Intel's first Optane solid-state drives featuring 3D XPoint memory will use PCI Express 3.0 or DDR4 interfaces and will come in PCIe card or DIMM [dual in-line memory module] form-factors.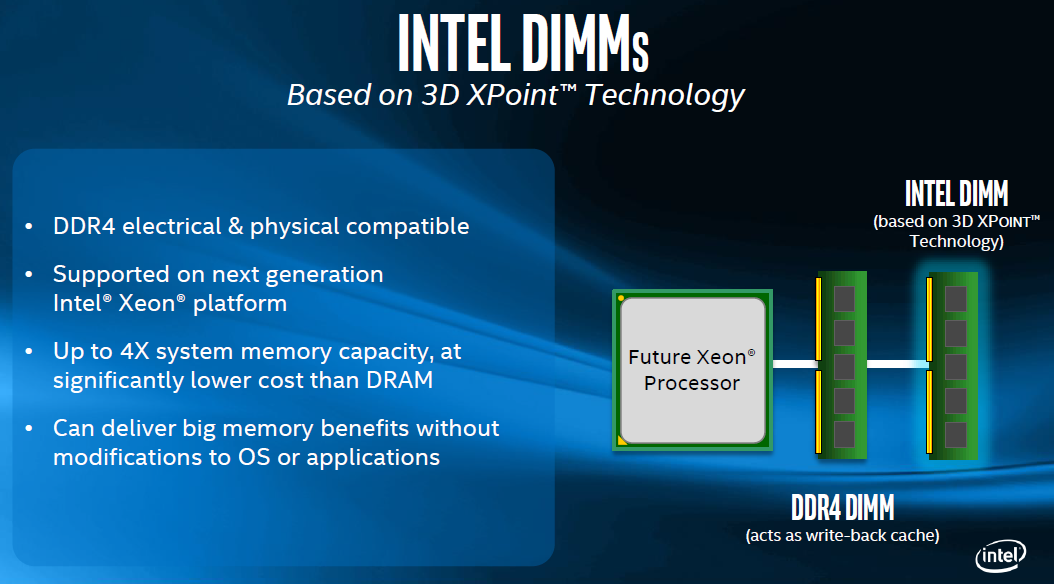 PCI Express 3.0 x4 cards are compatible with all existing servers and can offer bandwidth of up to 4GB/s. By contrast, NVDIMMs [non-volatile DIMMs] can potentially ensure even higher bandwidth and ultra-low latency.
Intel's upcoming Xeon E5 v4 "Broadwell-EP" processors with up to 22 cores will officially support PC4-19200 (DDR4 2400MHz) memory, thus offering up to 19.2GB/s of bandwidth per channel (or 76.8GB/s per socket). Theoretically, NVDIMMs with 3D XPoint memory could provide similar bandwidth, but Intel just does not want to confirm that. According to a slide the company demonstrated at the Intel Developer Forum trade-show earlier this month, 3D XPoint NVDIMMs will only offer around 6GB/s of bandwidth, which is a lot, but can hardly be considered as a breakthrough. Still, keeping in mind that 3D XPoint can significantly shrink latencies and increase the number of IOPS [input/output operations per second], the new Intel DIMMs based on 3D XPoint will significantly improve performance of server-class storage sub-systems.
At the IDF last week the world's largest maker of central processing units confirmed that before it releases NVDIMMs with 3D XPoint, it will have to work with JEDEC over amendments to the appropriate standard in order to ensure compatibility between SSDs and platforms. Keeping in mind that the DDR4 interface can handle extremely high data-rates, it is possible that by the time commercial 3D XPoint NVDIMMs hit the market, their expected bandwidth will be significantly higher than that revealed today.
Both Intel and Micron believe that unique advantages of 3D XPoint – extreme read and write speeds as well as increased reliability compared to NAND flash and massively higher density compared to DRAM – will put the new type of memory into a special place in the storage hierarchy of datacentres. Eventually, storage-class memory will fill the gap between dynamic random access memory and NAND flash-based solid-state drives.
Discuss on our Facebook page, HERE.
KitGuru Says: It is noteworthy that Intel and Micron are rather conservative when it comes to making projections regarding performance of actual devices based 3D XPoint memory. The reason for that is not exactly clear. If 3D XPoint is as fast as the two companies describe it, performance of appropriate devices will be limited only by interfaces, not by capabilities of chips.