When Patriot Memory was founded in 1985 – some 30 years ago – its main goal was to provide high-performance random access memory solutions for PCs. When I first met with Patriot Memory reps in person about a decade ago, the company was all about offering advanced memory modules, but rapidly expanded into the space of NAND flash-based storage solutions. When Leo Waldock, a KitGuru editor, visited Patriot Memory at Computex 2015, he found out that the company is not just a memory company anymore.
The official name of the business entity – Patriot Memory – remains the same as 30 years ago. Moreover, the company continues to offer leading-edge memory modules. At Computex 2015 it unveiled its 64GB and 128GB DDR4 quad-channel Viper 4-series memory kits (consisting of 16GB modules) based on Samsung's 8Gb DRAM ICs [integrated circuits] rated to run at 2.40GHz – 3.00GHz clock-rates with CL14 16-16-31 timings [lowest latency settings for 2.4GHz frequency] at 1.2V voltage, just several weeks after G.Skill, Kingston and Corsair. Moreover, Patriot offers 16GB and 32GB quad-channel DDR4 kits with up to 3GHz frequency for PC enthusiasts. There are also a lot of other advanced DRAM solutions in Patriot's portfolio. However, it just does not seem that memory modules are the company's primary focus when it comes to business development.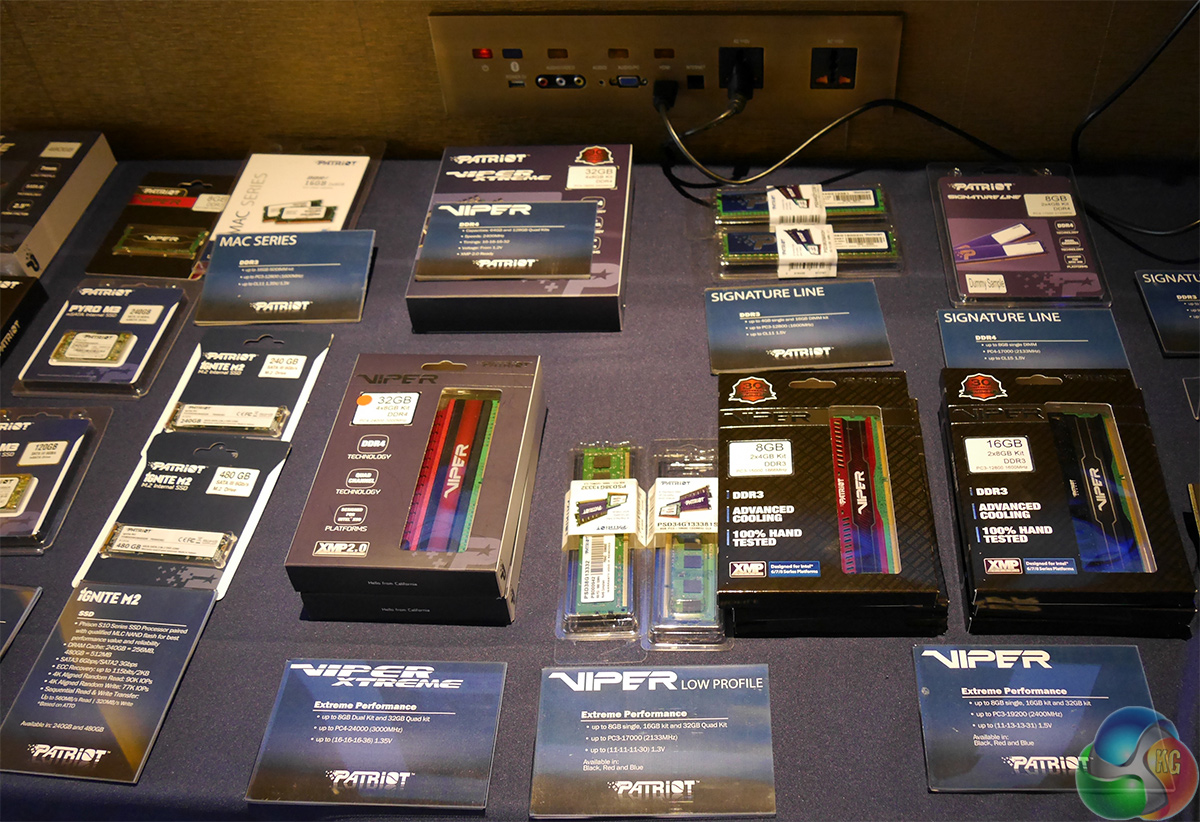 At present Patriot has established positions in the markets of memory modules, NAND flash USB drives, solid-state drives and some other products. Still, in order to grow, the company just needs to offer something else in addition to its existing products. Apparently, Viper-series peripherals for gamers and mobile gadgets are the products that Patriot pins its hopes on.
At Computex, the company demonstrated its V760 keyboard (RGB LED, aluminium chassis and MX brown switches), which is expected to be a slice of cash more affordable than a comparable product from well-known makers of gaming peripherals. Patriot also plans to offer its V530 and V560 mice with interchangeable grips and weights as well as 5000dpi and 8200dpi sensor resolutions respectively. In addition, the company demonstrated its V360 7.1-channel headset with USB interface and red LED illumination.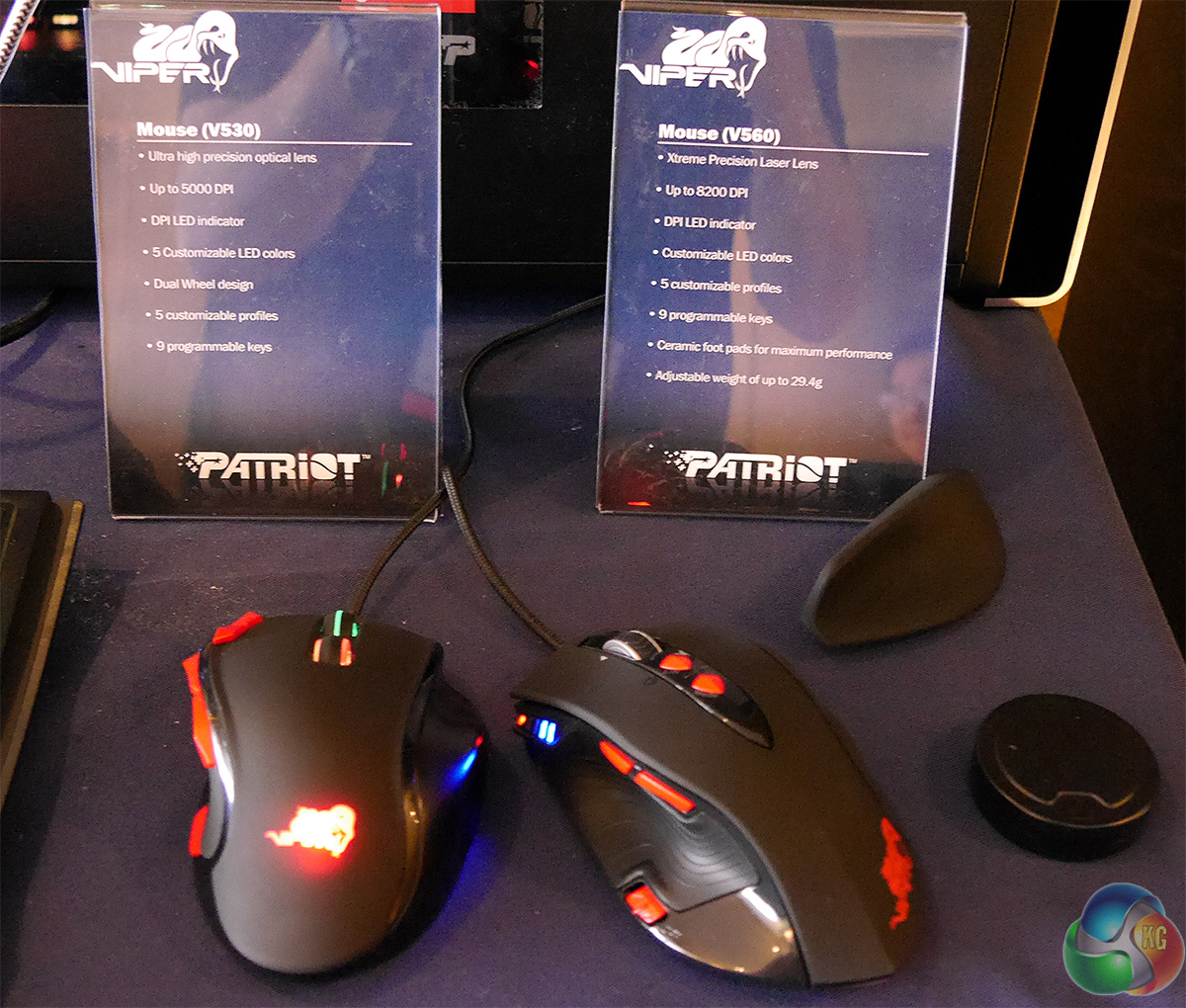 Various innovative mobile devices (e.g., the Gauntlet Node, the world's first kit to build a wireless storage device for a smartphone or tablet) have been offered by Patriot for about a couple of years now. At Computex, the company showcased its new mobile products, such as Fuel Ion protective case that provides wireless magnetic charging when it is put on its dock. The enclosure for popular Apple and Samsung handsets, as well as appropriate docks, are already available for sale. In addition, Patriot offers cases for smartphones along with chargers and additional batteries.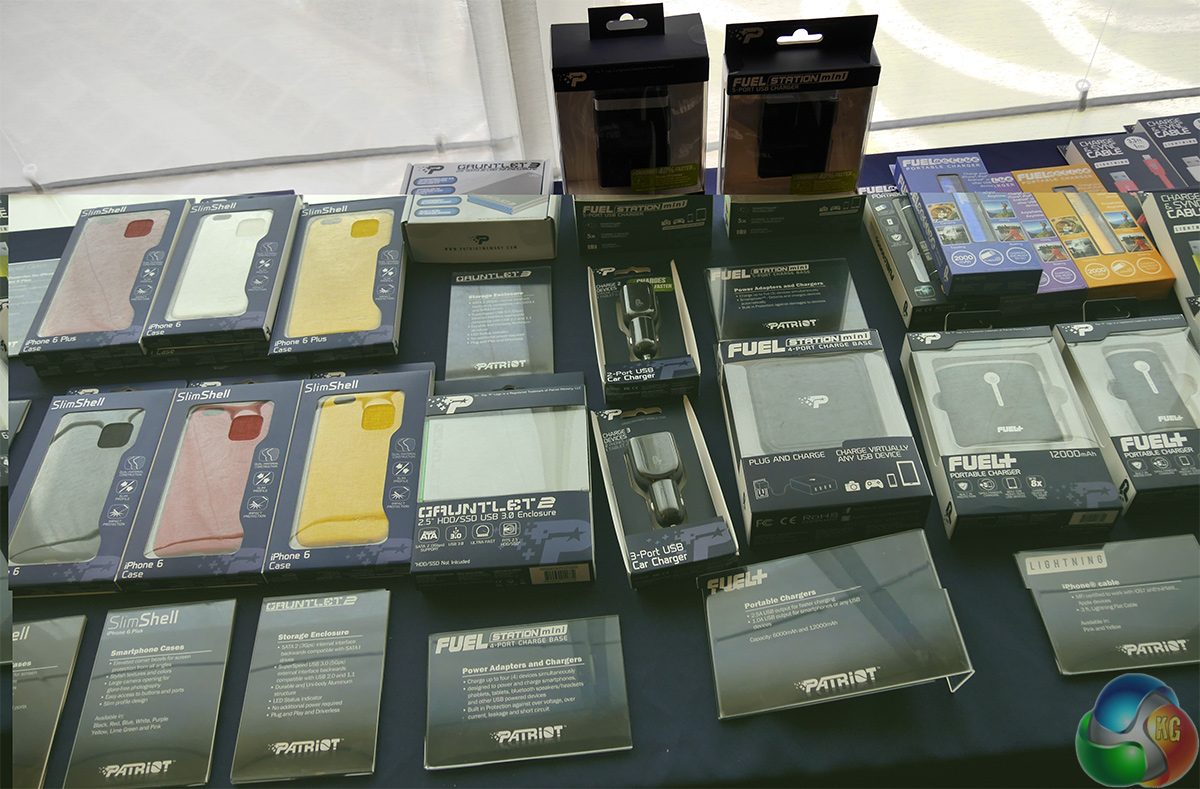 Even though Patriot brand is associated with memory and storage, the company has definitely outgrown its name. It has become something, which much more interesting than just pure DRAM.
Discuss on our Facebook page, HERE.
KitGuru Says: Since DRAM bandwidth no longer has crucial effect on PC performance and user experience, it makes a great sense for Patriot (and many other companies) to expand beyond memory modules. While gaming gear and advanced mobile gadgets make a lot of sense for Patriot, things like smartphone cases and car chargers – which are obviously made by contract manufacturers in China – may be somewhat controversial for this brand. Then again, Patriot has been around for 30 years because of good products. Perhaps, it can make even simple and unattractive things a little better?