Toshiba Corp. on Thursday introduced the world's first NAND flash memory packages, which stack eight or 16 dies of NAND flash memory devices and feature 128GB or 256GB capacities. The NAND flash memory chips are designed for various applications that require high density of NAND flash storage, including mobile products and enterprise-class solid-state drives with extreme capacities.
Toshiba's new stacked NAND flash packages integrate 16 128Gb NAND memory devices connected together using through silicon vias and electrodes, which results in great performance amid moderate power consumption. According to Toshiba, the new chips are ideal for low latency, high bandwidth and high IOPS/watt flash storage applications, including high-end enterprise SSD.
The multi-layer chips by Toshiba feature 1Gb/s data rate, 1.8V core voltage and 1.2V I/O voltage. The new packages use 50 per cent less energy on write operations, read operations, and I/O data transfers than Toshiba's current products.
The 16-die NAND flash chips with 256GB capacity can enable solid-state drives with extreme capacities. For example, SanDisk's Optimus Max 4TB SSD uses 64 64GB memory chips. 64 256GB multi-layer chips would provide 16TB of NAND flash storage in a 3.5" package, but in order to build such a drive a special controller and a lot of other things are needed.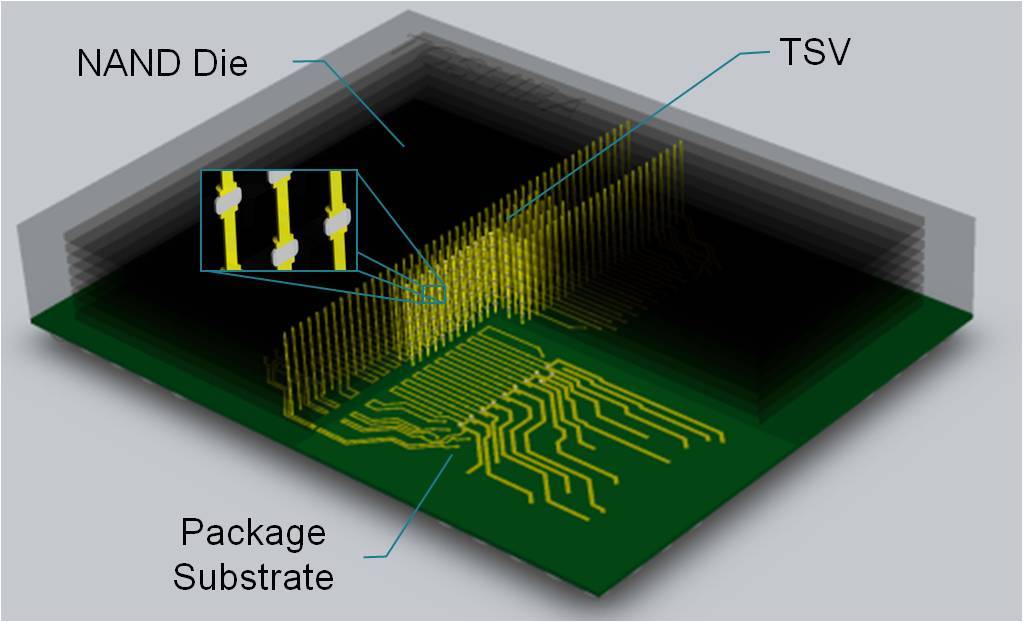 At present, the new multi-layer NAND flash packages are prototypes. Toshiba did not say when it plans to release its new TSV-based NAND flash memory devices commercially.
Discuss on our Facebook page, HERE.
KitGuru Says: It would be very interesting to know, how much does one 128GB or 256GB multi-die NAND flash package costs. One tested and packaged 128Gb MLC NAND flash chip costs around $7.5 on the spot market. Keeping in mind all the complexities with TSV technology, testing and packaging of a multipart die, it is clear that the 256GB multi-layer device costs considerably more than around $110 (the cost of 16 128Gb MLC NAND chips). Until that cost comes down, do not expect the chips to become really widespread.