The price of DRAM has been rising since early this year due to supply falling short of demand, and while we have been prepared for this continue on until 2018, we now have a better look into just how much. Unfortunately for PC buyers, this could range as high as 20 percent as we progress in this year's fourth quarter.
The research comes from DRAMeXchange, in which research director Avril Wu predicts that the price increase will average around 10 percent that of the third quarter, which was similarly up by 5 percent itself. This could continue to rise "depending on the capacity specifications" up to 20 percent total.
Despite these constant price increases and shortages of supply, producers such as Samsung and SK Hynix have been able to continuously sell their entire stock, resulting in a total revenue of DRAM skyrocketing by 16.2 percent as it hit the third quarter.
Samsung is currently leading the pack with 45.8 percent market share, which is actually down by 0.4 percent from the second quarter. SK Hynix comes in second, having increased its market share by 1.4 percent, totalling 28.7 for the time being, while the Micron Group, better known for its Crucial brand, is expected to increase its share from its current 21 percent as it moves forward.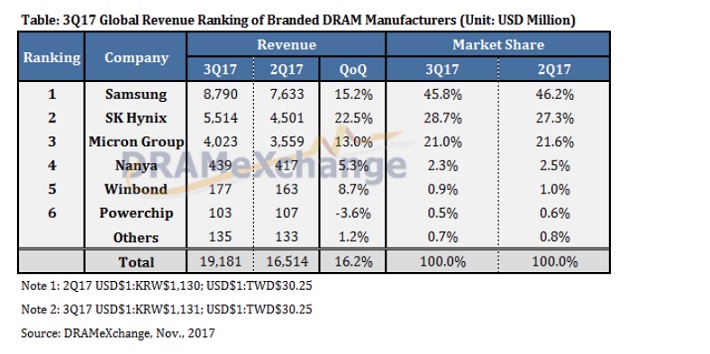 The demand for DRAM is higher than ever based on more devices requiring its use, primarily flagship smartphones that are cramming more in year-by-year. While we know the primary cause is silicon shortage ensuring demand has consistently outweighed supply, Wu also attributed blame to the holiday season, adding that this year has already been one of the biggest in terms of DRAM growth.
"Contracts with first-tier DRAM suppliers show that the prices of PC DRAM modules have now risen above US$30 and maintained around US$30.5 on average, amounting to a seven per cent hike from the third quarter," notes Wu.
"This price increase is mainly attributed to the influence of the booming mobile DRAM market, which is in turn fueled by the limited product supply and the releases of flagship smartphones during the traditional busy season of this year's second half."
KitGuru Says: This is another reason that we are seeing an all-time-high pricing of flagship smartphones too. It's difficult to tell if this trend will ever buck as devices are cramming in more and more hardware, alongside the expected price hikes from the silicon shortage being passed onto consumers. Have you been affected by this exuberant pricing?