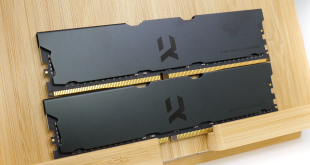 In this review, we are taking a look at a 32GB set of memory from a vendor that you perhaps have not heard of, or have little experience with. According to the company's own information, Goodram and IRDM are brands of memory and storage products manufactured by Polish company Wilk Elektronik. With its factory currently located in Poland, Wilk Elektronik actually started as a distributor in 1991. They then started produced memory products in 2003, before diverging into the gaming market with its Goodram/IRDM brands.
Watch via our Vimeo Channel (Below) or over on YouTube at 2160p HERE
Video Timestamps
00:00 Start
00:15 Some information
01:43 Goodram memory kit details
02:42 Styling, design and appearance
03:55 Warranty and pricing
04:35 Coverage and supply
04:53 Test System and results
08:22 Overclocking
09:03 Luke's Thoughts and Competitors
Fundamentally, IRDM Pro by Goodram represents a set of memory targeting value gaming applications. And to those interested in buying local, this denotes one of the few consumer memory vendors that can highlight stages of production in Europe as one of their unique selling points.
With the company background introduced, let's take a closer look at the memory that we are testing today.
The specific memory kit that we are looking at is the IRDM Pro by Goodram in Deep Black colour. The rated speed is 3600MHz supporting XMP, timings are 18-22-22-42 at 1.35V, and the 32GB set is 2x16GB using dual-rank modules.
Looking at Thaiphoon Burner, we get an indication of the underlying ICs used by Goodram. These are highlighted as Hynix-based in Thaiphoon Burner, but without an accurate indication of the exact Hynix IC line used.
Given the push for competitive pricing and strong value, it comes as no surprise that a DIMM temperature sensor is not included. This is probably not a significant issue to most buyers of reasonably priced memory modules.
In terms of styling, the IRDM Pro modules in their Deep Black colour are very basic. Other colour combinations including 'Hollow White' are also available.
You get a sub-1mm thin metal heatspreader that wraps around the black PCB. At least we do indeed get an 8-layer black PCB – that's a significant improvement over the green alternative.
Module height is around 33-34mm tall. These sticks are basically a couple of millimetres taller than a bare DIMM PCB. That is absolutely superb for mitigating CPU cooler interference, and thermal problems should not be a worry with the 1.35V XMP voltage.
Clearly, there is no room for an extended RGB light diffuser or any form of illumination. RGB RAM certainly seems to be a very polarising topic within the community; there will certainly be many users who appreciate a clean black appearance of these IRDM Pro modules – especially without the oversized heatspreaders that often cause more hassle than they solve on competing memory modules.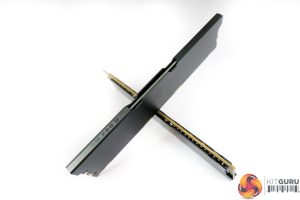 Goodram includes a lifetime warranty, as we have come to expect from RAM.
UK pricing is meant to be around £135 for our specific test kit, but current availability is around £143 at Amazon at the time of writing.
We spoke to our contact at Goodram who confirmed that there is strong coverage in Europe, but they do not currently have official distribution in the US.
Model Number: IRP-K3600D4V64L18/32GDC
Capacity: 32GB (2x 16GB)
Rated Frequency: DDR4-3600MHz
Rated Timings: 18-22-22-42
Voltage: 1.35V
Format: Non-ECC Unbuffered 288-pin DIMM
Be sure to check out our sponsors store EKWB here