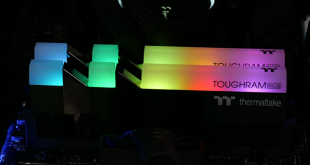 In this review, we are taking a look at a 16GB set of Thermaltake's Toughram RGB DDR4 memory in the new Racing Green colour scheme. Can this uniquely styled kit prove worthy of its premium price point?
Watch via our Vimeo Channel (Below) or over on YouTube at 2160p HERE
Video Timestamps:
00:00 Start
00:15 Introduction – Racing Green Kit
01:23 Specifications and pricing
02:49 Styling and RGB quality
04:20 Software control
04:59 Test configuration
06:17 Test results
07:25 Luke's Thoughts
09:25 Availability and pricing concerns
0:31 Worth it? closing thoughts
We have previously looked at Toughram RGB in a variety of capacities and speeds, but this time we will be examining the performance on our Intel Core i9-12900K-based test system.
The key point with this kit of Toughram RGB is its Racing Green colour scheme. I'm not quite sure what Thermaltake DDR4 memory has to do with a shade of green from the old British Racing days, but OK… This is a new addition alongside the conventional colours that we have seen previously. Those are: Black, Metallic Gold, Turquoise, White, and Racing Red.
Perhaps you have a green-themed Nvidia build that would suit this RAM perfectly? Or maybe the old British Racing Green colour scheme gives you nostalgia of car racing.
In terms of styling, Thermaltake is using the company's long-term Toughram RGB design for the glossy Racing Green coated modules. This means we get a 1.8mm-thick aluminium heatspreader in the chosen colour scheme. And then two strips of almost mirror-finish silver aluminium segregate the larger heatspreader.
Module height is 49mm, so beware of cooler interference. As far as cooling from the heatspreader goes, I would say that Thermaltake looks to have produced a competent design.
The rated speed is 3600MHz supporting XMP, timings are 18-19-19-39 at 1.35V, and the 16GB set is 2x8GB using single-rank modules. Thermaltake also includes an OnSemi-based thermal sensor on the modules, which I like to see.
UK availability looks to be limited at present, which is absolutely no surprise for a piece of computer hardware in 2021! We have found an option to purchase for £137 through Amazon UK from the Amazon US seller. This roughly ties in with the availability pricing of around $149.99 in the US.
Those price points are very expensive for a 2x8GB set of 3600MHz C18 memory, even if it does offer RGB lighting that Thermaltake advertises as premium. By comparison, the likes of Crucial, Klevv or Patriot have 4GHz+ 16GB RGB kits for somewhere between £105-120 after just a quick search on Amazon. In fact, Corsair's Vengeance RGB Pro SL 3600C18 32GB kit is around £136 currently.
With that price point, speed, and capacity, Thermaltake really must deliver with a high quality design and RGB lighting setup.
Atop the module's heatspreader is the RGB lighting diffuser bar. This plastic piece handles diffusion of the module's five RGB LED zones.
I will let you form your own opinion on what Thermaltake calls 'stunning' RGB lighting.
What I, personally, see is not 'stunning' but is instead limited peak brightness and poor transitions between the five RGB zones. Objectively speaking, compared to cheaper Corsair Vengeance RGB Pro SL, Thermaltake's Toughram RGB granularity, smoothness, and brightness are not as good. I would make the same comparison with another competitor kit such as the Klevv Cras XR RGB.
Thermaltake's RGB configuration is more comparable to a far cheaper budget set such as the PNY XLR8 Gaming EPIC-X RGB. And that's absolutely fine, but not at a significant price premium versus kits such as that budget PNY one. But of course, if you disagree then let us know in the comments section below.
Control abilities for the RGB LED lighting through Thermaltake's dedicated Toughram software are reasonably good. You get a host of options, useful information and the interface is generally straightforward to use. I like the ability to give temperature based warnings and colour settings.
TT RGB Plus can also be used to sync with other Thermaltake components. Though I had no luck running just the RAM through this software alongside the Toughram software. They seemed to have some form of interference which shouldn't be the case for software from the same vendor.
Thermaltake includes a lifetime warranty, as we have come to expect from RAM
Looking at Thaiphoon Burner, we see that Hynix CJR ICs are used. These are generally well respected for their frequency capability and general performance output.
Model Number: RG28D408GX2-3600C18A
Capacity: 16GB (2x 8GB)
Rated Frequency: DDR4-3600MHz
Rated Timings: 18-19-19-39
Voltage: 1.35V XMP
Format: 288-pin DIMM
Be sure to check out our sponsors store EKWB here