It is clear that Thermaltake's goal with the Toughram RGB DDR4 in Racing Green colour form is to create a uniquely styled module that will appease those who like the unusual module colour scheme. And in that sense, we have to credit to Thermaltake for being bold enough to release a kit with this type of unique colour scheme. The heatspreader design is solid and the quality and smoothness of the Racing Green coating on the aluminium sheet is impressive.
There are some issues, though. In the past year or so, competing vendors such as Corsair and Kingston and Klevv have come to market with improved RGB lighting systems for their budget and mainstream kits. It is disappointing to see that Thermaltake has not really changed the design since at least 2019. We still get poor transitions between the lighting zones and limited peak brightness.
Of course, you may have differing opinions on the quality and style of Thermaltake's RGB lighting, so I would be keen to hear those in the comment section below. However, as far as I am concerned, this system is now clearly sub-par for a mid-range kit in late 2021.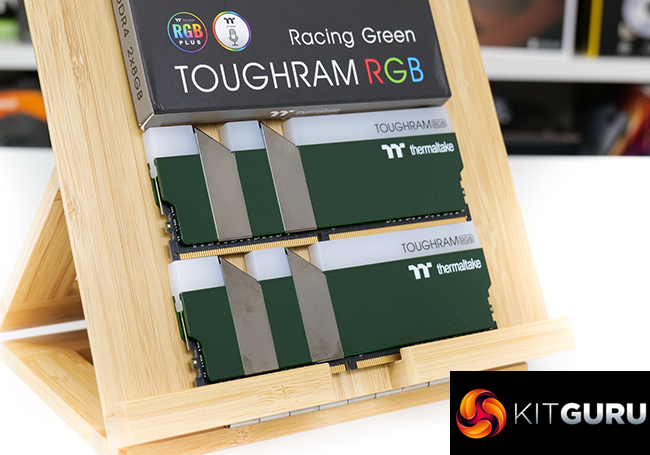 We will give Thermaltake credit for its Toughram software though. I quite like the standalone tool from a usability perspective. And the colour control and smart features such as temperature warnings are good. Performance from the kit is also reasonable enough, as is what we would expect from a 2x8GB 3600MHz C18 set.
Availability is currently limited, but this is hardly a surprise in 2021. Pricing seems to be around £135 UK or around $150 USD based on the scant availability that we can see. If £135 does prove to be the going rate in the UK, that is far too expensive. Thermaltake's 16GB kit is competing with similarly specced 32GB kits from the likes of Corsair. Or higher-frequency 4GHz+ 16GB kits from the likes of Crucial and Klevv and Patriot – which are also cheaper.
Discuss on our Facebook page HERE.
Pros:
3600C18 continues to be a smart performance choice
Heatspreader manufacturing and Racing Green coating is good quality
Toughram software works fine and has some decent functionality
Temperature sensor is a good inclusion
Unique design deserves credit
Cons:
RGB lighting system is in need of an upgrade to a 2021 standard
Current ~£137 or ~$150 USD pricing is very uncompetitive
Module height and width increase CPU cooler interference likelihood
KitGuru says: Thermaltake has created a unique set of memory with a distinctive colour scheme that will certainly appeal to some people. However, the sub-par quality of the RGB LED lighting system is out of touch with the current price point and market positioning of this kit. 
Be sure to check out our sponsors store EKWB here