Over the last couple of weeks, G.Skill has been unveiling its DDR5 memory kits, just in time for Intel's 12th Gen CPU launch. The first Trident Z5 DDR5 kits were supposed to top out at 6400MHz speeds, but G.Skill has already managed to up that by achieving a 6800Mhz overclock. 
Immediately following Intel's 12th Gen Core CPU and Z690 chipset launch last night, G.Skill revealed that it will have even higher speed Trident Z5 DDR5 memory kits available for the platform. Joining the previously announced kits is the Trident Z5 DDR5-6800 32GB kit, offering 6800MHz speeds at CL42 latency.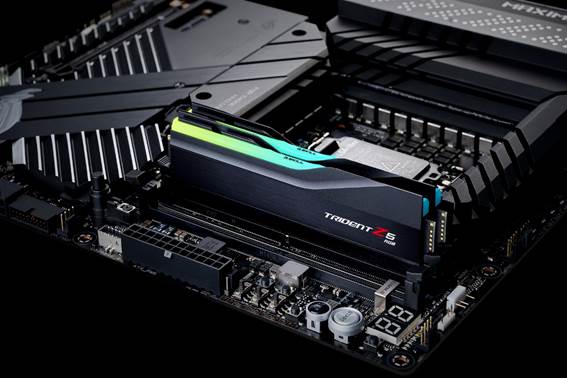 The G.Skill Trident Z5 series will be available in RGB and non-RGB form, so system builders have options. The top-end DDR5 kit offers 6800MHz speeds with CL42 timings, constructed using high-performance Samsung DDR5 memory ICs. Each DDR5 IC is implemented with twice the amount of banks and bank groups, as well as a doubled burst length.
The module layout is comprised of two 32-bit sub-channels, making DDR5 capable of delivering more data than DDR4. Strides have also been made in efficiency, with each DDR5 memory module using an on-board power management integrated circuit chip, paving the way for more reliable power delivery and better signal integrity at high frequencies.
Other kits in the Trident Z5 launch line-up offer up to 32GB of memory across two 16GB DIMMs, with speeds starting at 4800MHz with CL40 timings. You will also find DDR5-5600 CL40 and CL36, DDR5-6000 CL40 and CL36, and DDR5-6400 CL36 kits.
Pricing has yet to be announced, but G.Skill's DDR5 memory will be available worldwide starting in November 2021, so we should have more details on pricing soon.
KitGuru Says: DDR5 is still in its infancy, so over the next few years, we should expect to see even faster kits coming to market, with lower latencies. Are any of you planning on upgrading to DDR5 early?