While initially Ryzen processors had trouble maintaining super fast DDR4 RAM speeds, AMD has taken strides in this area with 2nd Gen and now 3rd Gen chips. To accompany the launch of 3rd Gen Ryzen 'Zen 2' processors, G.Skill is launching all new RGB memory kits optimised for the X570 platform.
The G.Skill Trident Z Neo is designed to achieve optimal performance with the latest series of Ryzen processors, to the point where extreme Overclockers can achieve higher-than-ever speeds on an AMD platform. One example would be a Trident Z Neo kit clocked to 5774MHz using an MSI MEG X570 GODLIKE motherboard using LN2.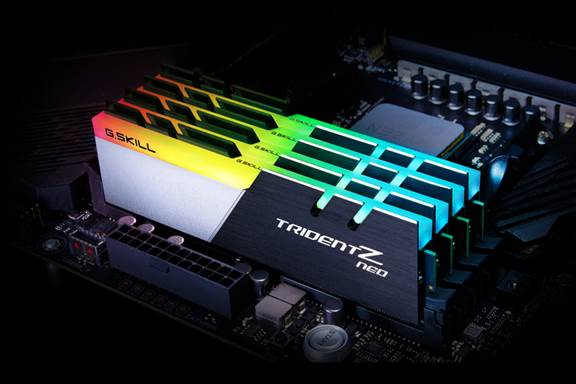 Most of our readers are unlikely to be doing any extreme overclocking. Out of the box, G.Skill will be selling Trident Z kits with speeds of up to 3600MHz in kits up to 64GB. Each Trident Z Neo kit comes with the Tri-Fin heat sink design used on the popular Trident Z series, in addition to RGB lighting. Beyond that, each memory stick uses a 10-layer PCB and binned ICs to ensure performance.
Depending on your choice of motherboard and 3rd Gen Ryzen processor, you may well be able to get even higher DDR4 speeds by playing around with the BIOS settings a little bit. We'll be seeing these kits hit retailers shortly and will hopefully see some testing results in the coming months.
KitGuru Says: G.Skill always makes quality RAM and its nice to see AMD getting its own optimised kits. Are many of you planning on building a new Ryzen system this year? Will you be looking to pick up some Trident Z Neo memory to go along with it?