Even though the vast majority of enthusiast-class mainboards for Intel Corp.'s upcoming code-named "Skylake" processors will rely mostly on DDR4 memory, lower-end solutions may support DDR3L as well. Moreover, for maximum flexibility, Biostar is readying two LGA1151 motherboards with both DDR3L and DDR4 memory slots.
Biostar plans to release two rather unique mainboards for Intel "Skylake" processors that will wed retro and modern technologies. The Biostar Hi-Fi H170Z3 (mATX) and the Biostar Hi-Fi B150Z5 (ATX) motherboards are based on Intel's H170 and B150 core-logic sets, respectively. The chipsets do not support overclocking of microprocessors, but still provide rather compelling feature-set. Both motherboards feature 7-phase voltage regulator modules, hence, will support all upcoming "Skylake-S" central processing units, including those with high thermal design power.
The two mainboards will support Intel's upcoming chips in LGA1151 packaging as well as two 288-pin DDR4 modules, PCIe x16 graphics cards, SATA Express storage devices, solid-state drives in M.2 form-factor (Hi-Fi H170Z3 only) as well as regular things like USB 3.0, Gigabit Ethernet, HDMI, DVI and so on. The mainboards will also feature 8-channel audio shielded from EMI for improved quality.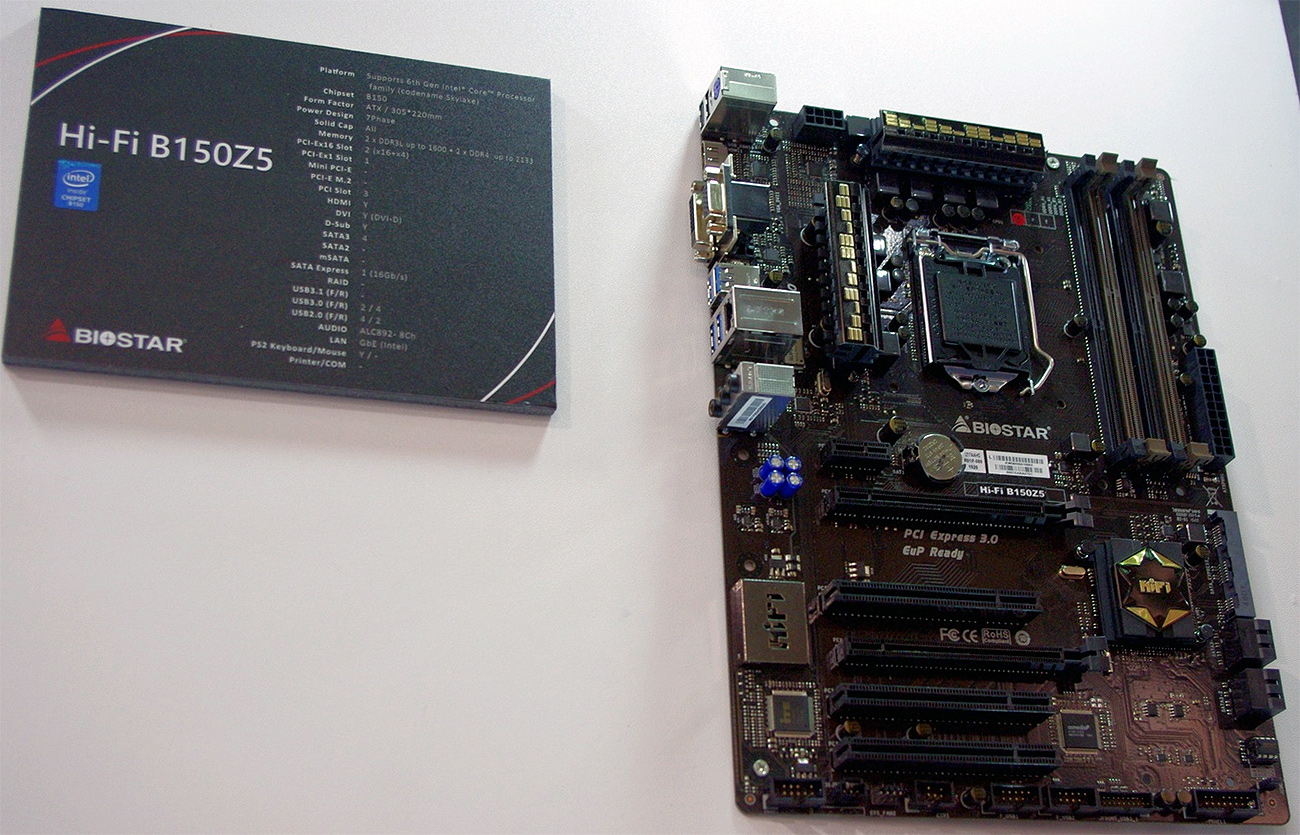 In addition to modern features, the motherboards will also support numerous retro technologies, including two 240-pin DDR3 memory slots, two or three PCI (32-bit/33MHz) slots, a header for a parallel port (which can be used to connect to an LPT printer or any other device with such interface), a D-sub display output as well as a PS/2 port for a mouse, according to a report from AnandTech.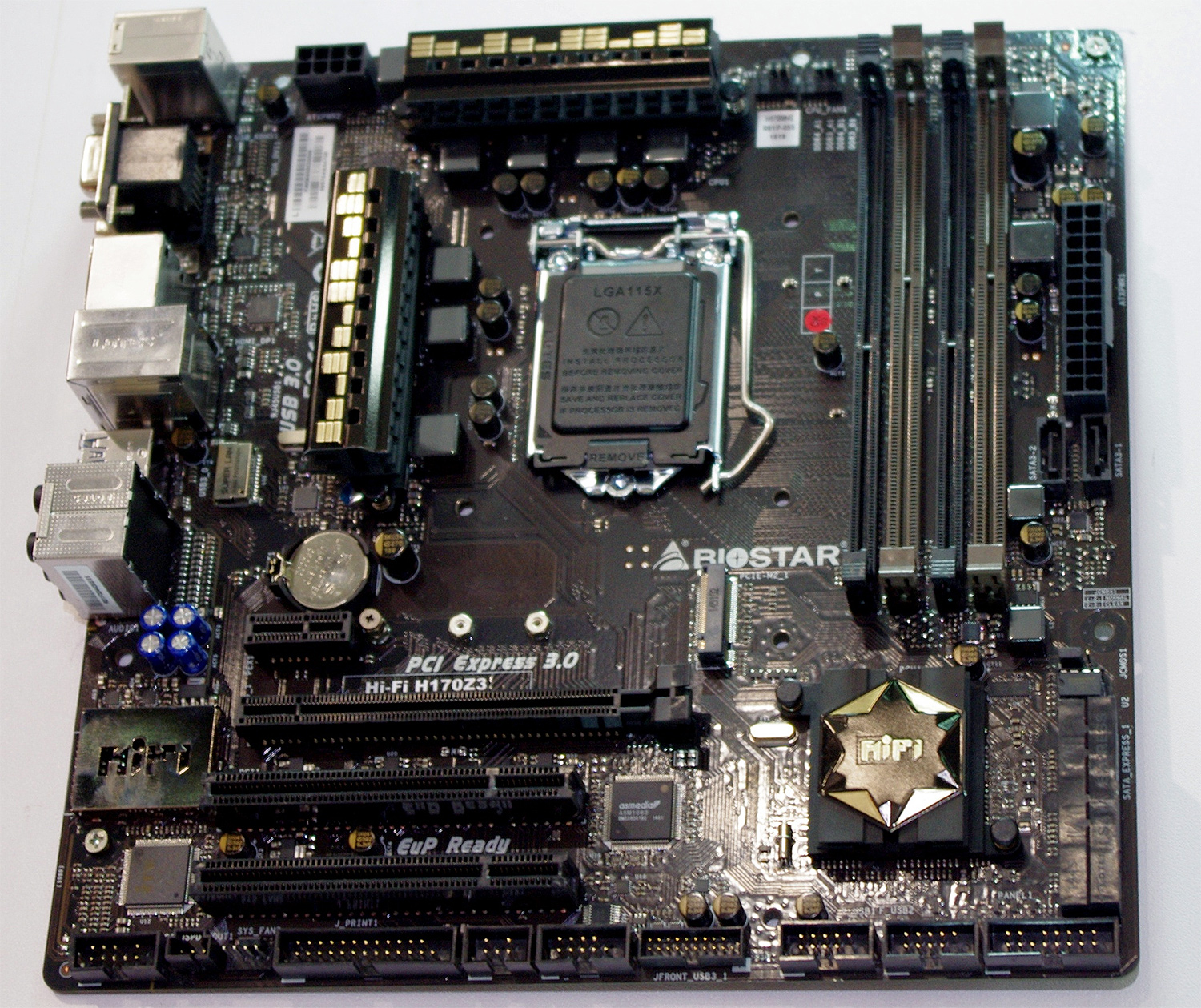 Not a lot of manufacturers prep Intel LGA1151 mainboards with both DDR3 and DDR4 memory slots. Nobody (except Biostar) plans to offer "Skylake-S" motherboards with PCI slots, parallel LPT port and PS/2 ports. D-Sub outputs are also no longer found on mainstream solutions.
Biostar plans to address price-conscious market segments with its and Hi-Fi H170Z3 and Hi-Fi B150Z5 mainboards. Given rather unique feature-set of the platforms, it is logical to expect the company to charge a small premium, but in general the motherboards are not going to be too expensive.
Disclaimer: It is impossible to use DDR4 and DDR3 at the same time because of technological limitations and different voltages. Moreover, not all DDR3 memory modules will work on LGA1151 motherboards as officially only DDR3L memory with 1.35V voltage is supported.
Discuss on our Facebook page, HERE.
KitGuru Says: While it seems to be technically possible to install both DDR3 and DDR4 memory slots on the same mainboard, the question is whether it makes a lot of sense in general. Enthusiasts use four DDR3 modules and will not throw away two of them to keep another pair. On the other hand, if you want a new Intel processor, do not plan to overclock it and have a couple of DDR3 modules, several rare PCI add-in-cards as well as a PS/2 mouse, then the new LGA1151 mainboards from Bistoar may be just what you need.