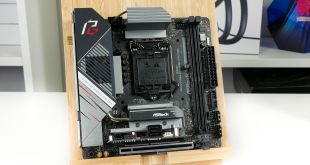 With Intel's 10th Gen processors becoming increasingly competitive thanks to price and availability improvements, there's still plenty of life left in the LGA 1200 mainstream platform. That point is especially true with BIOS updates likely to permit for support of Intel's upcoming 11th Gen CPUs. As such, the ASRock Z490 Phantom Gaming-ITX/TB3 remains an interesting choice for SFF gamers, especially as it sits atop ASRock's hierarchy of LGA 1200 Mini-ITX offerings.
But is there more to this £290 motherboard than meets the eye? And has ASRock made some questionable design choices? Spoiler alert: yes!
Specifications (taken from ASRock's webpage):
Supports 10th Gen and future generation Intel® Core™ Processors (Socket 1200)
Supports DDR4 4666MHz+ (OC)
1 PCIe 3.0 x16
Graphics Output Options: HDMI, DisplayPort, Intel® Thunderbolt™ 3
7.1 CH HD Audio (Realtek ALC1220 Audio Codec), Nahimic Audio
4 SATA3, 2 Ultra M.2 (PCIe Gen3 x4 & SATA3)
1 Intel® Thunderbolt™ 3 Type-C
3 USB 3.2 Gen2 10Gb/s (Rear)
4 USB 3.2 Gen1 5Gb/s (2 Front, 2 Rear)
Intel® Wi-Fi 6 802.11ax (2.4Gbps) + BT 5.1
Phantom Gaming 2.5 Gigabit LAN
Polychrome SYNC
Starting with a general overview, the ASRock Z490 Phantom Gaming-ITX/TB3 is a good looking motherboard with a solid feel of quality. There are some RGB LEDs at the bottom near the PCIe slot which give a subtle under-glow. And we like the positioning for power connectors, the two RGB connectors, and the three 4-pin fan headers. Two outwards facing SATA ports are found on the board edge – a good location for avoiding chassis interference.
The lack of a USB Type-C internal header is disappointing and will leave users with an unused front panel chassis port. This is especially true with only one USB 3.0 and one USB 2.0 header for an ITX motherboard. The main competing motherboards from MSI, ASUS, and Gigabyte have the Type-C header.
Star of the rear IO show is the Titan Ridge-powered Thunderbolt 3 Type-C port. This is excellent to see as I love the TB3 ecosystem and it is useful on a mini-ITX motherboard. This also qualifies as the USB Type-C connection as ASRock does not deploy any other Type-C ports, instead opting for 3x 10Gbps USB A and 2x 5Gbps USB A.
2.5GbE is another strong positive, especially as it is the Realtek RTL8125BG controller rather than the (previously) troublesome Intel I225V alternative. Display outputs are also good with DP1.4, HDMI 2.0, and TB3. All ports can do 4K60 and ASRock highlights triple monitor capability.
Now the rear IO starts to get a bit confusing. The inclusion of a clear CMOS button is excellent, and good audio options are powered by the Realtek codec.
But a complete lack of USB BIOS flash (without a CPU installed) capability is a real concern, especially with this motherboard's likely support for Intel 11th Gen CPUs just around the corner. We could understand BIOS flash capabilities being omitted from a cheap motherboard as we see from competing vendors time to time, but on an almost £300 motherboard it is not good. Why is PS/2 considered more valuable than USB BIOS flash?
In reality, a user wanting this motherboard with an 11th Gen CPU will either have to hope it comes with the latest BIOS (unlikely) or will have to buy a 10th Gen CPU, build their system, flash to the latest BIOS, dismantle their system, install the 11th Gen CPU, and then sell the 10th Gen CPU that was used just for flashing. This is not a good approach and ASRock is – disappointingly – behind the curve here.
Another two SATA ports are found on the removable riser card. There is also a speaker header and USB 2.0 header. This looks like a good solution initially; you free up valuable PCB space for things like headers. Plus, you can install an M.2 SSD with a heatsink thanks to clearance and easy removal even inside your system build (provided you use an AIO – large tower air coolers will likely inhibit access).
But then you realise the shortcomings – which are pretty significant – of this riser card.
First, it sits around 2cm above all other components on the motherboard and this is very concerning for compact SFF chassis. Cases often stick to nominal mITX height of rear IO or VRM heatsink and DDR4 modules. So, interference inside a compact case or with certain CPU coolers is evidently possible.
Worse still is that the headers all face vertically, so you need even more clearance to connect a USB 2.0 header or SATA drives. And if you do have the clearance, you will be trailing ugly cables across the back of your premium graphics card backplate; sleek cable management will be impossible. At least the riser card has four POST debug LEDs which are clearly visible and that's a good feature.
I would summarise the riser card by saying this it is a good idea in theory and on paper, but with less-than-ideal real world implementation.
CPU cooler interference is highly likely given the constricted nature of the CPU socket zone. The large top, side, and bottom heatsinks – coupled with the oversized riser card – make this a CPU cooler nightmare.
We spoke with James who has done a few builds with this board and he actually ran into a handful of popular coolers that will not fit including the likes of be quiet! tower coolers and even some popular AIOs due to block mounting designs. This seems to be an issue that we rarely see with other ITX boards, so it is disappointing to see here and not really one where we would point the finger at anybody other than ASRock.
If you buy this board, be careful with your CPU cooler choice. Our Fractal Celsius+ S28 Prisma AIO worked as the rear mounting bracket barely avoided the rear M.2 SSD mount.
The VRM cooling system is not particularly well designed in our opinion.
You get a small top-side heatsink tasked with cooling four power stages in total, and another small-to-moderate sized rear IO side heatsink tasked with cooling the other five power stages. The rear IO side heatsink is heatpipe branched to the chipset heatsink.
Quite frankly, this is not ideal when the top side VRM heatsink is a small block of metal left to cool the power shifting MOSFETs on its own.
Both heatsinks use tiny 30mm diameter fans. These spin up to around 11000 RPM in our testing and are driven by one header / sensor in the UEFI so do not have individual control. Plus, these fans take up so much space from the now small heatsink metal mass, they're possibly doing more negative than positive given how little airflow they will provide at tolerable noise levels.
Even worse – the top-side fan is flowing air from top-to-bottom which specifically opposes a much larger and more powerful AIO flow path often mounted directly above. Why would ASRock go against the conventional bottom-to-top airflow path rather than simply mirror the heatsink to have the fan on the other side?
Thankfully, the core VRM components are excellent.
ASRock deploys a nine phase total system. Six phases of Intersil ISL99390 90A power stages are used for the CPU VCore. And 2+1 phases of Intersil ISL99227 60A power stages are used for the other voltage systems. Management is handled by an Intersil ISL69269 PWM controller which is high-end and can perform without the need for doublers.
Two of the VCore power stages are mounted below the smaller – top – heatsink and four are below the bigger – rear IO – heatsink. This is good from a split perspective as the bigger heatsink is tasked with handled more heat.
Rear-side, surface-mounted 470uF capacitors and front side FP12K capacitors are good to see from a quality perspective. But the front capacitors are tall and close to the CPU socket so could cause cooler interference with certain brackets or base plate designs. The same interference potential exists for the rear surface capacitors with a cooler backplate.
Testing and Performance
Test System Specifications:
Processor: Intel Core i9-10900K
Memory: 32GB (2x16GB) Corsair Vengeance LPX 3600MHz 16-18-18-36 DDR4 @ 1.35V
Graphics Card: Gigabyte RTX 3080 Eagle OC
CPU Cooler: Fractal Celsius+ S28 Prisma 280mm AIO at full pump and fan speed
OS SSD: WD_Black SN750 PCIe Gen 3 NVMe M.2 SSD
Test SSD: WD_Black SN850 PCIe Gen 4 NVMe M.2 SSD
Power Supply: Seasonic Prime TX-1000
Chassis: Lian Li T60 Open Air Test Bench
Operating System: Windows 10 Pro 64-bit
BIOS Version: 1.50 (latest at the time of testing)
Comparison Motherboard: MSI MEG Z490 ACE
We test the motherboard in its stock state by simply installing the hardware, applying the default XMP setting, and setting AIO CPU cooler fan speeds to 100%. All other settings are left at the motherboard 'default' or 'Auto' values.
Performance numbers from the likes of Cinebench are fine and are competitive against alternative Z490 offerings with our Core i9-10900K at stock settings. The same can be said for memory performance, which is perfectly good with the Corsair Vengeance LPX 3600MHz kit.
And we were happy with the 2.8GBps speeds of the Thunderbolt 3 port when using our external SSD. ASRock's front-side cooling solution on the riser card also proved solid for our WD Black SN850 test SSD when constricted to PCIe Gen 3 x4 speeds of around 3.5GBps.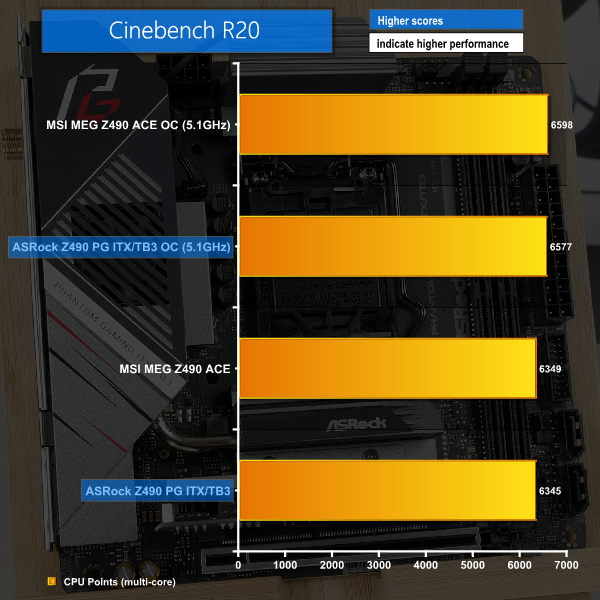 Overclocking the CPU to 5.1GHz delivers a solid boost in heavily computational performance for the likes of Cinebench.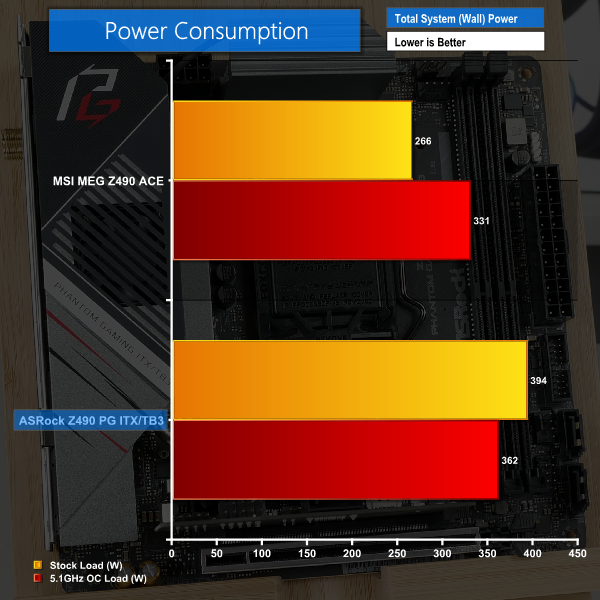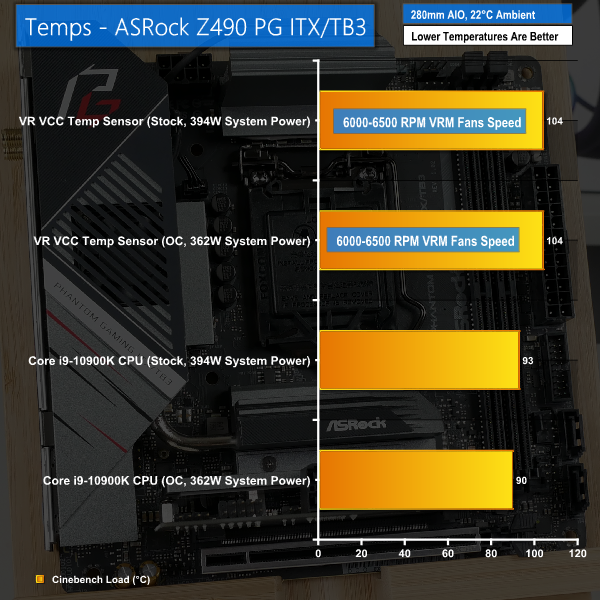 Focussing on temperatures from the motherboard hardware highlights some notable concerns. ASRock's stock voltage and power settings for the motherboard with the 10900K and latest BIOS are very aggressive. We registered a wall system power draw of close to 400W under Cinebench and Blender workloads at stock XMP settings.
This is somewhere in the region of 100W higher than what we have seen from other Z490 boards from ASUS, MSI, and Gigabyte in mine and Leo's testing. Package power was also excessive for stock 4.9GHz settings at north of 250W under load.
ASRock's 'stock' power settings are – put simply – terrible.
Many users will simply apply XMP and run at stock thanks to the 10900K's excellent clock boosting options with lightly threaded workloads. This makes the CPU cooler-busting voltage and power levels even more concerning. Our 280mm Asetek-based Fractal AIO was struggling to stay below 99C CPU temperature… at stock!
More concerning is the effect that shifting such high power levels through motherboard has on the VRM.
Despite using quality Intersil components, the sub-par heatsinks cause very high temperature readings from the onboard sensors. While there are a few different sensor readings to look at for temperature levels, anything displaying 100C is concerning. ASRock hit 104C before starting to throttle and then ramp back up.
And we are confident that this VRM-induced throttle is accurate, as backed up by HWINFO, XTU, and HWMonitor software indications as well as wall power meter readings. Of course, PCB and surface temperature readings are lower but this does not detract from the fact that we have observed VRM-induced throttling occur.
A sub-par VRM heatsink design coupled with bad out-of-the-box voltage settings makes for a disappointing concoction that results in CPU throttling… at stock frequencies!
Our overclocking test actually managed to reduce the temperatures thanks to better voltage selection despite the higher operating frequency. Hitting 5.1GHz at 1.325V with Level 1 LLC resulted in lower system power draw than ASRock's stock setting. 200MHz higher for less power draw and heat output highlights just how bad the important out-of-box settings are.
Even with this reduced thermal load, though, the VRM still showed very high temperature readings in addition to signs of throttling clock drops, albeit less frequently.
We wondered whether these issues were simply tied to the VRM fan not spinning up fast enough to cool effectively – though it was registering just over 6000 RPM loaded. Even setting that fan speed at 11,000 RPM maximum still results in the high temperature readings and VR power throttling.
The cooling design is inefficient to the point where dealing with the obnoxious VRM fan noise at high speeds is simply not worth it given the barely useful change in cooling performance.
Closing Thoughts
Basically, ASRock has taken what looks to be a solid selection of hardware and put together what looks to be a solid motherboard. But when you dig deeper and start using the board in real ITX situations and with a high-end CPU, the weaknesses of ASRock's design choices are glaringly obvious.
A technically excellent VRM with high-end Intersil power delivery components is let down by poor heatsink design and 30mm fans that look to be barely worthwhile other than to emit a whiny, annoying sound.
The riser card is a great idea in theory that causes interference headaches and cable management challenges in practise. And the lack of an internal USB Type-C header is even more unforgivable on a mini-ITX motherboard than ASRock's continued omission of BIOS Flashback functionality on high-end, expensive offerings.
Of course, if you can look past the questionable header choice, limited VRM cooling, and physically awkward riser card, your concerns are not simply alleviated. You then have to plan wisely the CPU cooler that you use with this motherboard given the proximity of tall, interfering hardware close to the LGA 1200 CPU socket.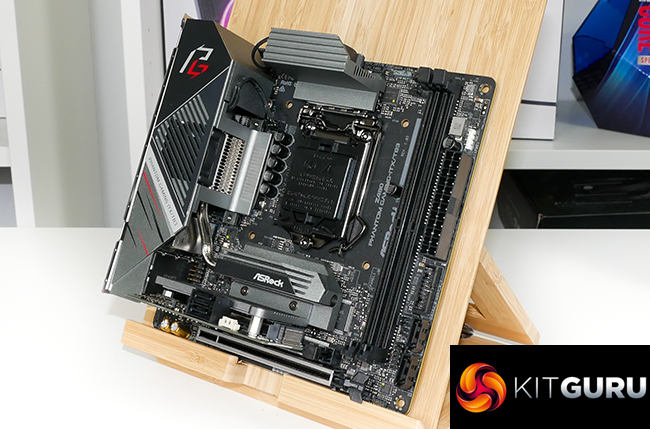 It is perfectly reasonable to highlight that these concerns may not affect you. Maybe you have a roomy ITX chassis, moderately overclocked Intel CPU, and a cooler that fits fine. Maybe you do not care about BIOS flash functionality without a CPU installed as you're simply buying a supported 10th Gen chip. And maybe you don't need to use the headers on the riser card that will trail cables across the back of your graphics card.
They're all perfectly fine points which may make this board suitable for you, especially with the inclusion of Thunderbolt 3 connectivity, the strong rear IO port selection, and the straightforward UEFI overclocking.
But, there are clear weaknesses with the ASRock Z490 Phantom Gaming-ITX/TB3 motherboard in our analysis and testing, and we would recommend choosing a superior Z490 or Z590 alternative with fewer glaring shortfalls if you are planning to build a high-end system.

The ASRock Z490 is priced at £289.99 at Overclockers UK. We feel that there are better options available at this price point and below.
Discuss on our Facebook page HERE.
Pros:
Thunderbolt 3 Type-C connectivity.
Good rear IO ports.
Technically competent VRM components.
Straightforward and reasonable UEFI.
Cons:
Poor stock settings with Core i9-10900K.
Limitations with the VRM cooling.
30mm fans get very loud with not great effect.
No BIOS update without CPU functionality.
No USB Type-C header.
Expensive.
KitGuru says: The ASRock Z490 Phantom Gaming-ITX/TB3 takes a strong set of electronic hardware but fails to deliver thanks to some poor design choices, overly aggressive stock settings, and questionable hardware omissions. There are better options available given the £290 price tag.
Be sure to check out our sponsors store EKWB here