KitGuru was recently invited to Gigabyte's Aorus press event at Dreamhack Leipzig where new hardware and features were being showcased. We took a look at Gigabyte's new Aorus offerings and got some time to speak to the Gigabyte team to see how they created the product features and what improvements are in store for the future.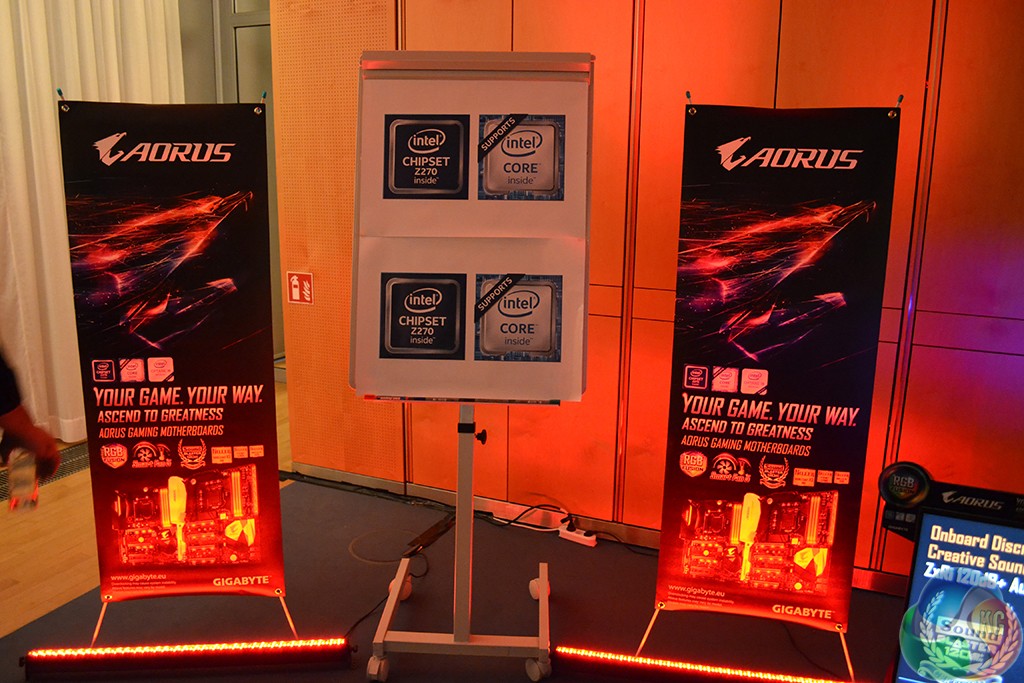 Aorus was described as a 'new story of Gigabyte' which is fitting given the product line-up's growth from the laptop division into computer components via the launch of six Aorus motherboards for the Z270 chipset.
It won't be long until Aorus' eagle logo (jokingly described as the 'bottle opener' by one member of the press) will extend to further components in Gigabyte's arsenal, such as peripherals and graphics cards (there has been a sneak peek of the Aorus GTX 1080 Ti HERE).
Main talking points for Gigabyte's new Aorus motherboards were: RGB Fusion, Smart Fan 5, liquid cooling support (on higher end models), and other features.
RGB Fusion
Focussing first on RGB Fusion, as 2016 was the year of RGB-everything and it looks like 2017 will follow that trend, Gigabyte gives its current line-up of Aorus Gaming motherboards the full colour treatment.
We looked at RGB Fusion in our review of the Aorus Z270X-Gaming 7 HERE and found it to be a comprehensive LED system which has superb control with unique – Intelligent – modes that allow for unusual operating characteristics (different LED colours based on LAN speed, for example).
Speaking to Gigabyte's motherboard product manager, there is scope for further improvements to be made on the RGB LED control functions. For example, segregating different LED zones to work on a temperature scale for hardware in that region is an idea, and so is the ability to change the lighting scale rather than use a typical green-to-red system for low-to-high.
Another cool feature for RGB Fusion is the ability for a user to control the LED lighting colours and modes using an iOS and Android smart phone app. Yes, this may seem a little gimmicky but it's certainly better than alt-tabbing out of a game screen if you want to change your LED lighting operating mode mid-session.
Gigabyte's use of 5-pin RGBW headers, with the fifth pin supporting a true white colour, is unique and will soon be of use thanks to upcoming RGBW LED kits from the likes of Cable Mod (or other vendors thanks to Gigabyte's reconfigurable pin headers improving compatibility with LED strips). A pure white pin is different to the way that competing vendors achieve white light by mixing the RGB spectrum. Gigabyte's RGB Fusion also gives users the ability to sync their graphics card's LED colours with those used on the motherboard. And this synchronisation will likely extend to further RGB Aorus products such as gaming peripherals.
Put into perspective by Managing Director Timmy Huang, RGB Fusion allows gamers to build a beautiful PC that can be put on their desk as a piece of furniture rather than hidden on the floor. A swappable acrylic overlay found on the motherboards certainly aids customisation – you could 3D print your own plastic design to go on the board. Based on my own testing with the Aorus Z270X-Gaming 7, RGB Fusion does indeed offer a level of customisability that can allow for such an appearance to be created.
Smart Fan 5 and Liquid Cooling Support
Gigabyte's new fan system for the Aorus Z270 motherboards – Smart Fan 5 – was another of the main talking points. Gigabyte's design logic for Smart Fan 5 was to put an emphasis on silence. The example scenario was that a user can load up a game with ample cooling capacity and then get back to working quietly when the game is closed, all without having to reboot the system or manually adjust fan settings.
Critical to the Smart Fan 5 system are the 'Hybrid' fan headers. The 4-pin headers allow for PWM and DC control of fans while also being capable of powering liquid cooling pumps thanks to a 2A current output rating. Given that PWM and DC fan headers can tend to use different pin configurations (DC may use an adjustable output voltage pin whereas PWM can use a +12V pin and a PWM adjustment pin), the ability of Gigabyte's Hybrid fan headers to work in both modes is thanks to the SuperIO controller used.
Motherboard Product Manager Kiner told us that the ITE chipset is able to detect whether or not a PWM fan is connected and alter its operation accordingly. It would seem that the voltage pin is physically adjustable and simply gets pinned at +12V when a PWM-capable fan is connected to the header and detected by the ITE chipset.
The other aspect to Smart Fan 5 is its control through the UEFI and OS software. As we have tested, the controllability of fans through the UEFI is very good and through the OS software it is excellent. Multiple points can be selected on a fan speed curve and modes as low as 0% operation are also supported (allowing the fan to stop spinning, if it is capable of doing so).
Impressively, the fans can read and react to multiple temperature sensors on the motherboard or through external thermistors. There are around 8 or 9 temperature reading points for some of the Aorus boards, which is important for tweaking system cooling to a user's preference. For example, if you have particularly strong CPU cooling that keeps its temperature low, speeds of fans elsewhere in your chassis are unlikely to ramp up to a particularly high level. That may be a problem if you have a hot-running graphics card or want to ensure ample HDD cooling for your video editing machine. Smart Fan 5 allows the relevant fans to read from different temperature sensors, such as a PCIe slot or a thermistor connected to the HDD array, and adjust the speed of the relevant fans accordingly. Such control not only aids cooling performance but also noise output.
Sticking with the cooling topic, the Gaming 8 and Gaming 9 are fitted with waterblocks for VRM cooling. An EK-designed G-Frost Hybrid waterblock on the Gaming 9 uses copper tubing, an aluminium outer casing, and G1/4" thread fittings to cool the MOSFETs and PLX PCIe bridge chip. The Gaming 8 uses a Bitspower-designed G-Chill Hybrid waterblock which again features copper for the water channel and G1/4" fittings but this time features a composite outer casing for aesthetic reasons.
Other Aorus Features
The other gaming and productivity features used on Aorus motherboards are more generic in nature. These features include reference to the audio system, USB 3.1 and Thunderbolt 3 (on higher end models) through Type-C, and Killer networking.
Creative-based audio solutions are used for the higher-end SKUs (Gaming 7 and above) whereas the lower-end Aorus boards use a Realtek codec. There are SKUs that feature support for upgradable op-amps (up to 3 on the Gaming 9) and Nichicon audio capacitors are used throughout. Another feature is USB DAC-UP 2 which allows voltage to be adjusted based on the device that is connected. This can be useful for delivering cleaner power that is better tailored to a USB audio solution, VR headset, or a games controller.
Killer NICs are used throughout the Aorus line-up largely thanks to the network control software that the solution provides. There's also an ability to use the Killer DoubleShot-X3 Pro feature on the Gaming 9 thanks to its inclusion of dual Killer GbE NICs and Wireless-AC 1535 adapter. Speaking to Kiner regarding higher-than-GbE networking solutions, it is clear that the cost currently remains a negative point against greater adoption.
Gigabyte was keen to point out its support for both M.2 and U.2 on the Aorus motherboards. This is a positive point as U.2 support without the use of an adapter could be convenient with the launch of future SSDs. SATA-Express is also supported simply because it's built into the chipset and, more-or-less, free to implement.
Steel-plated Ultra Durable Armor slots are used for all PCIe x16 and DDR4 slots across the Aorus line-up. Durability is the key benefit here. With regards to DDR4, Gigabyte has also validated over 1000 sets of memory in addition to 4000MHz+ XMP operation on select kits.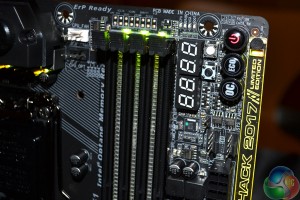 The 4-digit LED display seen on the Gaming 9 was another interesting feature. As well as displaying general troubleshooting codes during system POST, the display is able to show information such as temperatures and voltages when the system is in operation. I think this is a smart way of displaying temperature or voltage readings without software interference and without the requirement for an overlay during gaming (just look through your chassis side panel window).
Additional Gigabyte Products
In addition to Gigabyte's newly-released Aorus motherboard line-up, the vendor was showing off some of its other products at the press event.
There was a presentation relating to offerings that have been associated with the Aorus brand since its inception in 2014 – notebooks. Three main models currently exist – the 14″-class X3, 15″-class X5, 17″-class and X7. Aorus' Gordon outlined how the models are designed to be slim and light because 'mobility is important for notebooks'. The 1.8kg X3 and 2.5kg X5 fit GTX 1060 and GTX 1070, respectively, into chassis that are just 0.9″-thick. The former supports a QHD+ (3K) IGZO screen while the X5 has more gamer-centric FHD/120Hz/G-Sync options.
At around 1″-thick, the 3.2kg X7 is still slim for a GTX 1080-powered laptop with a 17.3″ screen. All models are able to be configured with up to a Core i7-7820HK CPU.
Gigabyte's BRIX systems were on display. There was a 'conventional' small BRIX featuring Intel's Apollo Lake platform. The low-end BRIX models have proven popular with buyers thanks to their ability to run basic office and HTPC tasks with a very small footprint.
The BRIX Gaming Mini PC was also on display in its new GTX 1060 form. Updated to support Intel's 7th generation Kaby Lake CPUs and Nvidia's Pascal GTX 1060 6GB GPU, the new BRIX Gaming could be a vastly improved successor to the original GTX 950-equipped model that we reviewed HERE.
A BRIX that resembles the design of many games consoles was also on display. The BRIX Gaming GT is outfitted with a GTX 1070 G1 Gaming GPU and Core i7 processor (the model we saw was a Skylake CPU but there's no reason an updated Kaby Lake version will not come to market). A sizeable amount of 4K-capable power is squeezed into the chassis that, at around 10-or-so litres, isn't much larger than an Xbox One.
Discuss on our Facebook page, over HERE.
KitGuru says: Gigabyte will be pushing the Aorus product line hard in 2017. It is interesting to see the features that have already been deployed on the Z270 Aorus motherboards. Expect similar features on the Aorus AM4 motherboards, when they launch.