For years, ASUS has had an excellent track record when it comes to workstation motherboards and that won't be changing now with the X299 generation. This week, Asus has announced three new Intel X299 WS boards, each with a focus on providing maximum performance for complex workloads.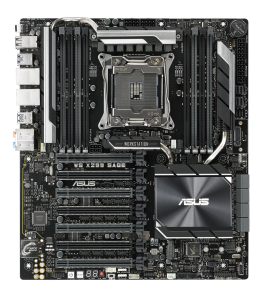 The WS X299 SAGE is the first on the roster, which is built to support maximum GPU density with seven full-sized expansion slots. It supports four-way GPU configurations and can support up to four double-width cards. This way, users can make the most of their hardware when it comes to scalable compute loads. It is a larger motherboard though, with an E-ATX form factor, so you'll need a case to match.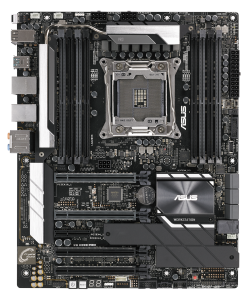 The WS X299 PRO is the next on the list. This particular board is a standard sized ATX board, so space in a standard case won't be an issue. This does mean that it comes with fewer expansion slots though, with four full-sized PCIe 16x slots and support for three-way GPU configurations.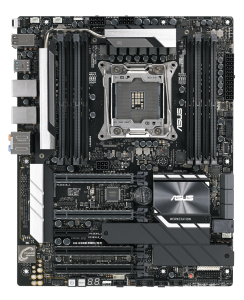 Finally, the WS X299 PRO/SE is next on the list. It has all of the same features as the PRO but adds extensive remote management capabilities. It supports in-band communication via the ASUS Control Center but also comes with an ASMB9-iKVM module for out-of-band management. This allows the board to receive keyboard and mouse input remotely while also sending a live video feed without the need for additional client software. This is the only board in this lineup to have this particular feature.
All three new WS boards come with two M.2 slots and Intel 1210-AT x2 Gigabit Ethernet. Aura Sync RGB lighting is included if you're into that sort of thing and each board is watercooling ready.
The WS X299 SAGE has a couple of extras over the PRO and the PRO/SE. Aside from the additional expansion slots, it also has Intel 1219-LM Gigabit Ethernet support, and two extra USB 3.1 ports. The PRO and PRO/SE come with six 3.1 ports while the SAGE has eight.
All three WS boards begin shipping this month worldwide. We'll have to check back on pricing when retail availability lands.
KitGuru Says: Do many of you look primarily for 'workstation' gear when shopping around for a PC? Have you had much experience with the ASUS WS boards?