Packaging
At the front of the box there is a photo of the power supply along with the model number and the capacity. We also notice a German flag in the top-left corner, since be quiet! is a German brand.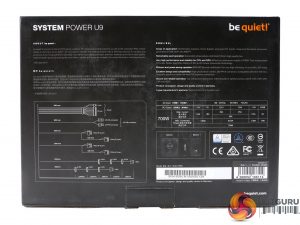 At the rear there is a diagram showing the cable length and the number of available connectors. You will also find the power specifications table along with the unit's dimensions and a number of badges, depicting the various certifications that this product meets.
Contents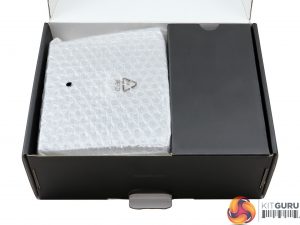 Only a bubble-wrap protects the unit inside the box. It would be far better if packing foam sheets were also used.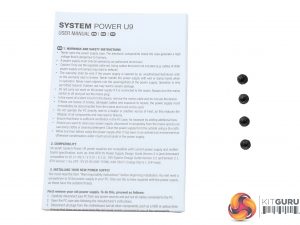 You will only find a user's manual and four fixing bolts, besides the power supply, in the box. be quiet! tried to keep the cost as low as possible, and this means no zip ties or Velcro straps in the bundle.
Exterior
At the front side the power switch is installed right next to the AC receptacle. The typical honeycomb-style exhaust grille is used here.
The be quiet! logo is stamped onto one of the sides, while on the other is a large power specifications label.
There is a plastic grommet around the cable exit hole, protecting the cables from the cases edges. Speaking of the cables, the main ATX is fully sleeved back into the housing while the rest are flat.
The dimensions are small and the cooling fan is not installed in the exact center – which looks odd. Most likely it provides better airflow to the areas of interest as it is.
The external design is plain, as expected in a budget-oriented product – and the finish is semi-matte so it doesn't attract fingerprints like flies. Usually matte coatings are also more scratch-resistant compared with a glossy finish.