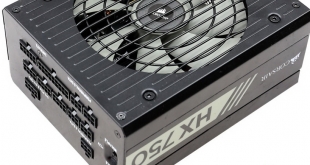 The Corsair HX750 supply is a performance unit, featuring ultra silent operation under all conditions. It belongs to Corsair's high-end PSU category and although it lacks the digital interface of the HXi series, it has similar performance (if not better) and it costs less – so it is ideal for users wanting a reliable power supply who don't care about controlling or monitoring it through software.
Corsair's HX line consists of four supplies with capacities ranging from 750W to 1200W. In today's review we will take a look at the smallest member of the family, the HX750.
This unit features a fully modular cable design and it is also 80 PLUS Platinum certified. In the Cybenetics scale it is ETA-A and LAMBDA-A certified, for efficiency and noise respectively.

Its external design might look boring nowadays, but don't let that fool you. The HX750 offers exceptional performance in all areas and it is among the top picks in the 750W category, giving a hard time even to the supposedly higher-end HX750i that features a digital interface.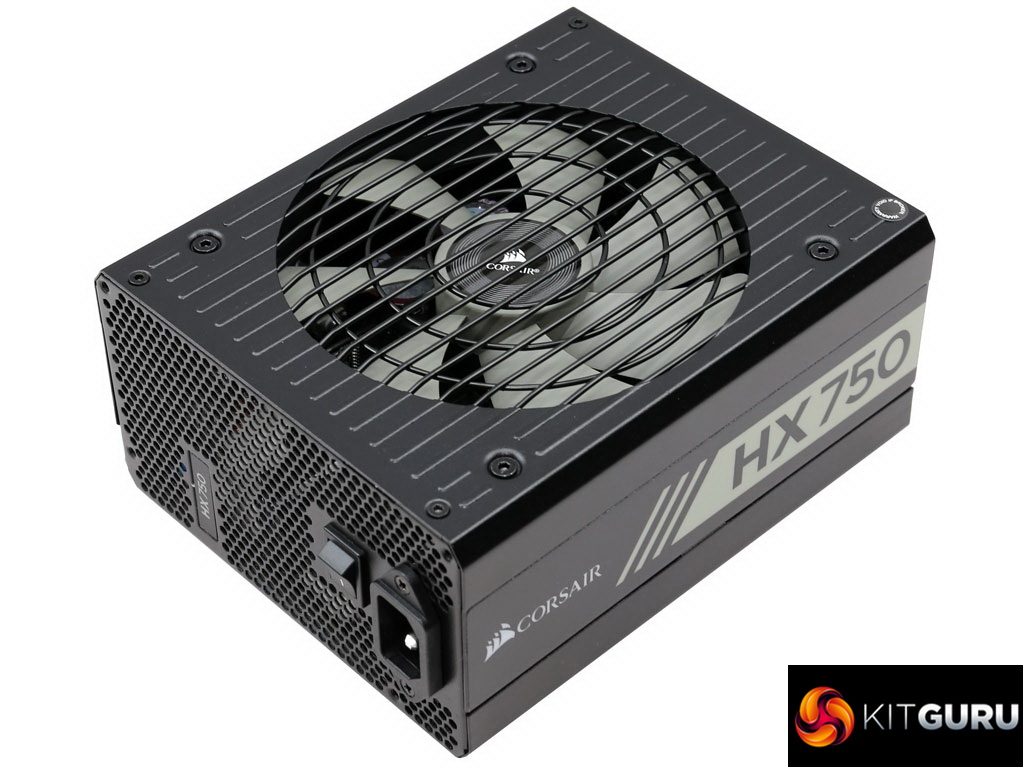 The truth is that the majority of users don't care about PSU monitoring and control, so naturally they don't want to pay extra money for those features. This is why models like the RMx and HX are more popular than their digital counterparts, RMi and HXi.
Besides the increased price tags, we believe that the added steps required to install a PSU featuring a digital interface and the complexity of the provided software (although Corsair's Link software in its latest version is pretty easy to use), are two of the reasons behind the low popularity of power supplies featuring a digital interface.
You should take this under consideration though: in fully digital units the digital interface is just an added bonus since the hardware to offer it is already there. This is not the case though with analogue platforms, which just use some digital parts to offer monitoring and a restricted set of control features.
In other words, in fully digital PSUs there is no extra cost for the digital interface, something that doesn't apply of course to modified analogue platforms.
Read our How We Test Power Supplies HERE
Specifications
Manufacturer (OEM)

Channel Well Technology

Max. DC Output

750W

Efficiency
80 PLUS Platinum, ETA-A (88-91%)
Noise
LAMBDA-A (20-25 dB[A])
Modular

✓

(Fully)
Intel C6/C7 Power State Support

✓

Operating Temperature (Continuous Full Load)
0 – 50°C
Over Voltage Protection

✓

Under Voltage Protection

✓

Over Power Protection

✓

Over Current (+12V) Protection

✓

Over Temperature Protection

✓

Short Circuit Protection

✓

Surge Protection

✓

Inrush Current Protection

✓

Fan Failure Protection

✗

No Load Operation

✓

Cooling
135mm Fluid Dynamic Bearing Fan (NR135P)
Semi-Passive Operation

✓

Dimensions (

W x H x D

)
150 x 87 x 180mm
Weight
1.95kg (4.3

lb

)
Form Factor
ATX12V v2.4, EPS 2.92
Warranty
10 Years
The original manufacturer (OEM) of the entire HX (and HXi) line is Channel Well Technology or CWT as it is widely known. This is a very good OEM with strong ties to Corsair. The HX750 is highly efficient and silent as well and this is shown by the 80 PLUS Platinum, ETA-A and LAMBDA-A badges that it caries. Moreover, the maximum temperature rating for continuous full load delivery is 50°C, as the ATX spec dictates.
All important protection features are provided, including over temperature protection (OTP) which is essential to any power supply. If the fan breaks or the operating temperature gets too high, OTP will save the day.
The cooling duties are handled by a 135mm FDB fan which is used in the majority of Corsair's high-end units. Finally, the dimensions of the HX750 are on the large side because of the 18cm length. Someone can find now 750W and 850W models with less than 15cm depth.
Power Specifications
Rail
3.3V
5V
12V
5VSB
-12V
Max. Power
Amps
25
25
62.5
3
0.8
Watts
150
750
15
9.6
Total Max. Power (W)
750
The minor rails are too strong for today's needs, while the +12V rail can deliver up to 62.5 Amperes if needed. Finally, the 5VSB has 15W capacity, which is sufficient.
Cables & Connectors
Modular Cables
Description
Cable Count
Connector Count (Total)
Gauge
In Cable Capacitors
ATX connector 20+4 pin (600mm)
1
1
16-20AWG

✓

4+4 pin EPS12V (650mm)
2
2
18AWG

✓

6+2 pin PCIe (680mm+100mm)
2
4
16-18AWG

✓

SATA (500mm+115mm+115mm+115mm)
2
8
18AWG

✗

SATA (500mm+110mm+110mm+110mm)
2
8
18AWG

✗

4-pin Molex (550mm+100mm+100mm+100mm)
1
4
18AWG

✗

FDD Adapter (+100mm)
1
1
20AWG

✗

AC Power Cord (1420mm) – C13 coupler
1
1
16AWG

–
The HX750 uses Corsair's Type-4 cables which utilize extra filtering capacitors to help in achieving great ripple suppression. The problem with those added caps is that they make the cables bulkier so it is more difficult to work with them, during the cable management process.
We are satisfied by the two EPS and the four PCIe connectors, however some users might expected six PCIe, since this is a high-end 750W unit. The number of SATA connectors is impressive though, while the four 4-pin Molex will be enough for most usage scenarios.
The cable length is satisfactory but the distance between the peripheral connectors is too short, at 10cm only. Normally it should be 15cm at least.