Antec is set to expand its portfolio of PSUs with new Signature series Platinum and Titanium models. These new power supplies will be Antec's flagship models, available in 1000W and 1300W variants and with both Titanium and Platinum efficiency.
According to TechPowerUp, the Signature series PSUs are equipped to deliver the best performance at all times. Features include modular cables, a Zero RPM mode where the 135mm fan only starts spinning at a given temperature, and OC Link, allowing the use of two power supplies "in tandem". The Signature series models include a 1000W model and 1300W model, both rated with 80 Plus Platinum efficiency, and a 1000W model rated with 80 Plus Titanium efficiency.
Featuring 100% top-grade Japanese capacitors, these power supplies use Antec's PhaseWave design which offers a "full-bridge LLC design with a synchronous rectification based on a DC-DC topology". Additionally, they are also compliant with the latest PSU guideline ATX12V 2.4, and is equipped with a 28 (18+10) pin MBU socket for future MBU connectors.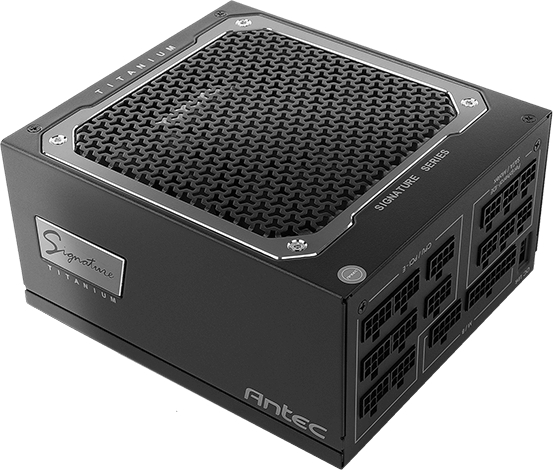 These PSUs are equipped with an extensive set of protections, which Antec calls CircuitShield. The protections included in this set are OCP (Over Current Protection), OVP (Over Voltage Protection), UVP (Under Voltage Protection), SCP (Short Circuit Protection), OPP (Over Power Protection), OTP (Over Temperature Protection), SIP (Surge and Inrush Protection), NLO (No-Load Operation).
All new Antec Signature series PSUs will be available in the US at beginning of May with a 10-year warranty, starting at $229.99 for the 1000W Platinum, $269.99 for the 1300W Platinum, and $279.99 for the 1000W Titanium. You can learn more about the 1000W Platinum model HERE, the 1300W Platinum model HERE, and the 1000W Titanium model HERE.
KitGuru says: Are you thinking about upgrading your PSU? Would you consider any of these Antec PSU solutions?