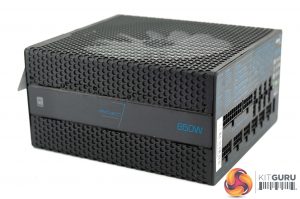 The Aerocool Project 7 P7 650W is a rather unusual design, with the power supply basically encased underneath a mesh style metal surround. I think its rather attractive, but another KItGuru team member wasn't so keen on the design. Its clearly down to personal taste.
It is quite subdued in design meaning it will fit inside most builds without clashing. The only negative would be the blue text which might not look so great inside a black and red system build.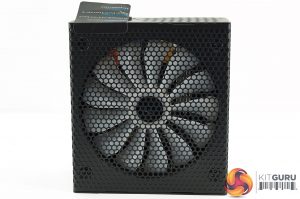 A large white fan can be seen underneath the protective cover. We will take a closer look at the fan when we open the unit shortly.
One side of the power supply has a power switch and connector, alongside a vent to help with air flow. There is a sticker to remove which details the unit's passive mode, a common thing now in higher spec units.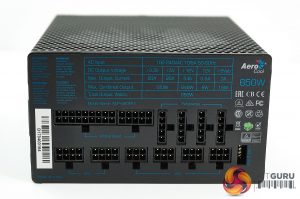 The modular bay is home to the technical specifications sticker – situated above (its not embossed, its just a thick sticker adhered to the metal). It would be impossible to plug in cables in the wrong connectors, as they are all different sizes and widths.
Aerocool Project 7 P7 650W


DC Output

+3.3V

+5V

+12V

-12V

+5Vsb

Max Output

20A

20A

54A

0.5A

3A

Total Power
120W
648W
6W
15W
650 Watts
This 650W power supply can deliver 54A via the +12V rail. The minors rails are strong too. No problems here.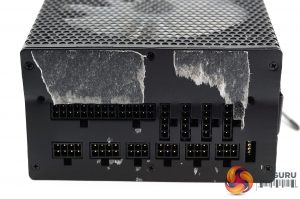 Opening the supply unfortunately requires the removal of the modular bay sticker as there are screws underneath – this completely destroys it and leaves ugly looking residue as you can see above. This won't affect the end user as opening the chassis will invalidate the warranty (so its not something you should ever do), however it was a real shame to see the power supply in this state.