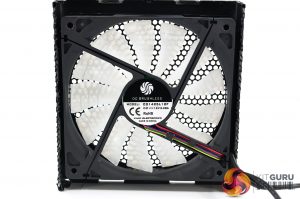 The YIJIN fan is fluid dynamic bearing with model number CD1425L12F and rated 12V 0.28A. There is very little information on this particular fan, but we were told it has been restricted to keep noise levels as low as possible.

Below - a High Resolution Gallery of the internal layout of the Aerocool Project 7 P7 650W
If you dont see the gallery below, turn off your ad blocker.

As we expected the OEM partner for Aerocool is Andyson. On the primary side we have a half bridge topology and an LLC resonant converter. The secondary side uses a synchronous design with a pair of DC-DC converters to produce the minor rails. We managed to check that the PFC controller is a Champion CM6502S.
The first part of the EMI filtering stage comprises two Y caps and an X cap. This filter continues onto the main PCB with two X caps, two Y caps and a pair of CM chokes, alongside an MOV. Andyson have incorporated an NTC thermistor to offer inrush protection. Andyson are using both polymer and electrolytic caps for the filtering of the rails. They are utilising high grade Nippon Chemi Con, Nichicon and FPCAP caps.
Chemi Con electrolytic caps are adopted on the modular board to deliver additional ripple filtering. The soldering on the main PCB is very good and Aerocool have attached a thermal pad to the outer case to offer additional cooling for the +12 FETs.
On the primary stage we were pleased to see two 105c rated Nippon Chemi Con capacitors rated 420V 330uF each, for a total combined output of 660uF.