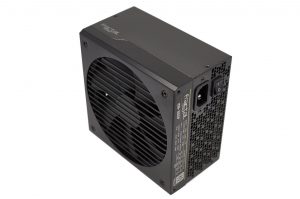 The Fractal Ion+ 660P is a clean looking power supply with a neutral colour scheme set to appeal to system builders. That said, with more and more cases coming with PSU shrouds, this is likely less of a problem.

The chassis measures 150mm x 150mm x 86 mm and weighs 1.61kg.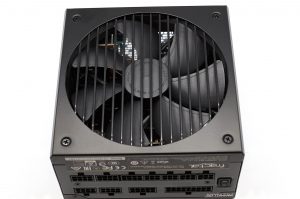 Beneath the metal grille lies a large 140mm fan. Fractal say this is a FDB fan (Fluid Dynamic Bearing) – these are generally lower noise fans with good long life and reliability. We will take a closer look at it when we open the unit.
One side of the unit has a vented panel to help with airflow, as well as a power on/off switch and a power connector.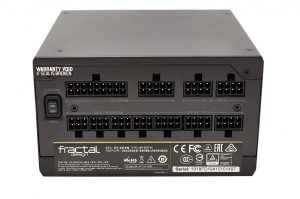 The other side of the power supply is home to the modular bay, all clearly labelled. There is also a switch here to toggle the semi passive fan mode.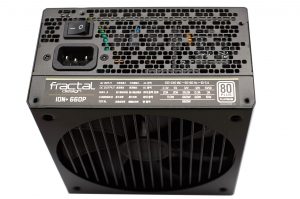 Fractal Design Ion+ Platinum 660P PSU

DC Output

+3.3V

+5V

+12V

-12V

+5Vsb

Max Output

20A

20A

55A

0.3A

3A

Total Power
110W
660W
3.6W
15W
660W
The single +12V rail is able to deliver 55 Amps for 660W of the total load. This is plenty for a single GPU system in 2019. Interesting to see that Fractal have placed the power characteristic sticker on the rear – this can be seen from the outside of the system build when the power supply is installed. Good or bad? Its certainly intentional and the first time we have seen a company do this.