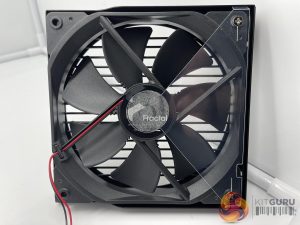 Fractal are using a very large 140mm long life sleeve bearing fan, which is counter balanced to reduce axial tension on the bearing. This design uses an aerodynamic stator with embedded wiring to reduce turbulence. If you are paying attention you will see notched blade edges to eliminate fan hum.

The fans in each of the units are different – as you can see by the chart above.
We can see the partner of choice for this unit is High Power, the same partner Fractal used for the well received ION Platinum range back in 2019.
We can see the design incorporates high grade Nichicon Japanese 105C rated capacitors on the primary stage to help ensure reliability and durability. These are rated 330uF 400V for a total of 660uF. We see a lot of 105C rated Taiwanese electrolytic and solid state TEAPO caps on the secondary stage.
The design adopts a low loss, zero voltage soft switching with 12V Synchronous Rectification with improved efficiency, low RDS on and low conduction loss. A high efficiency step down DC to DC circuit provides stiff voltage regulation with low ripple and noise.
The unit has over voltage, over voltage, over power, short circuit, over current and over temperature protection.
Be sure to check out our sponsors store EKWB here