The Fractal ION Gold 850W power supply has shown itself to be a reliable unit in my last week of testing. The High Power partnership has proven quite a successful one for Fractal in the last couple of years.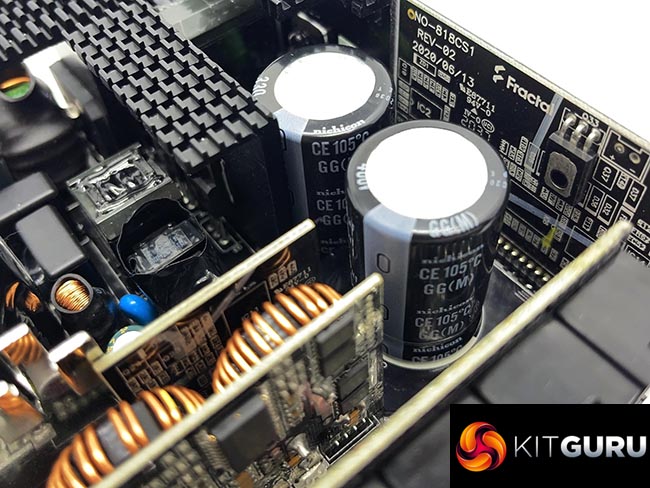 On a technical level, the design of the power supply is robust. There are no major issues to report. Load regulation is solid and the unit handled our intensive cross load test without any concerns. It also was able to deliver almost 930 watts before shutting off safely.

The unit is nicely put together and the inclusion of 105c Japanese Nichicon polymer capacitors in the primary stage was pleasing to see. I was a little disappointed to note that they had opted for lower grade 105c Taiwanese TEAPO electrolytic and solid state capacitors in the secondary stage – but at least they decided against 85c rated caps.
The unit delivers excellent ripple noise suppression, with the +3.3V and +5V rails peaking at 10mV and 15mV respectively. The +12V rail peaked at 25mW under full load conditions, all well within industry rated tolerances.
Power supplies have been in high demand in recent months, and thankfully we are beginning to see more stock filter through the channels. While this unit we reviewed today is not yet available in the United Kingdom, Fractal told us the retail price will be set at £94.99 inc VAT. This makes it around £25 less than the modular, 80+ Gold rated Corsair RM850 available at Overclockers UK HERE. In fact when we look at the market positioning with other competing 850W units (HERE), the unit seems very competitively priced indeed.
Fractal are offering a 7 year warranty with this unit and while that is not class leading, I personally feel 7 years is long enough to cover at least 2 or 3 potential future system builds. If you can find it on sale in the UK for £95, I really do feel it is an excellent choice.
Discuss on our Facebook page HERE.
Pros:
Competitively priced.
Technically very capable.
Fully Modular.
105c rated Japanese caps on primary stage.
Nicely finished.
Cons:
Cheaper Taiwanese caps used on secondary side.
KitGuru says: For £95, the Fractal ION Gold 850W is a fantastic offering. It is technically very capable and proved very reliable in our intensive stress testing over the last week.