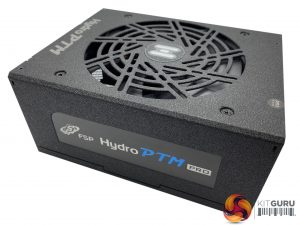 The FSP Hydro PTM Pro 1200W has a nicely textured outer chassis which gives a lot of grip in the hand. This textured finished is very resilient to damage as well. The unit measures 150 x 190 x 86mm (LxWxH).

FSP are focusing a lot on their 'conformal coating' which they say protects their power supply and internal components from dust, humidity, stains and 'harsh environments'. They say this power supply will work perfectly even in 95% relative humidity.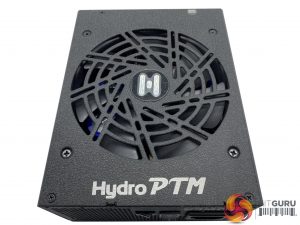 A large fan is positioned behind some grill holes – cut directly into the outer chassis. We will get a closer look at the fan when we open the unit shortly.
One side of the power supply is home to the power connector and an ECO button with the slogan 'Power never ends'. This amuses me as it is right next to the power off switch. With the ECO button on the fan will not operate until the load is over 30%.
The FSP Hydro PTM Pro 1200W is able to deliver a whopping 100 amp via the +12V rail. Both minor rails are capable of 20A.