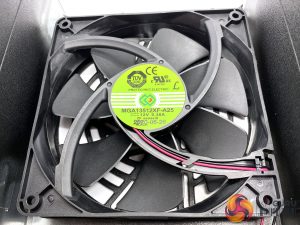 FPS are using a 'Protechnic Electric' 135mm FDB (Fluid Dynamic Bearing) fan inside this unit. Model 'MGA13512XF-A25' – 12V 0.38A. We have seen this fan in some units back in 2016. It's a really good fan however, and a proper FDB one too. MTBF is rated at 100,000 hours.

If you cannot see the gallery below, then enable us in your ad blocker. These can sometimes throw up a false positive.
This single rail DC-DC design is using high rated Japanese capacitors throughout the design. Due to the high levels of efficiency there are only a few heatsinks in specific locations to aid with cooling. FSP are not using a partial plastic shroud between the fan and components to direct the airflow.
The primary stage capacitors are 105c rated and 450V 560uF for a monstrous combined 1120uF output. It offers OCP, OVP, SCP, OPP, UVP and OTP protections. Like some server PSU designs, FSP are using copper bars between the mainboard and the daughter cards to increase conversion efficiency.
Soldering quality is very good across the main board and daughtercards and they are using a dissipation system transferring heat through a thermal pad on the bottom of the PSU – using the metal chassis as a cooler.