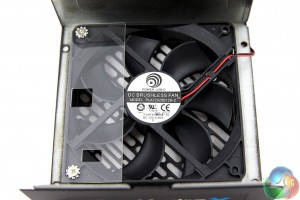 FSP are using a 120mm Power Logic fan model number PLA12025B12H-2. This is a high grade double ball bearing fan.

The overall build is very clean and soldering quality is high throughout. The filtering stage is comprised of 4x Y caps, 1x X cap, 1x MOV and 2 CM chokes. The topology on the primary side is a Half Bridge with LLC Resonant Converter and the secondary side is Synchronous Rectification with DC-DC Converters.
Two small heatsinks deal with keeping the single bridge rectifier and primary FET's cool.
Minor rails are regulated by two voltage regulators which are incorporated onto the same PCB.
FSP are using a high grade Japanese, Nichicon branded 105c Capacitor in the primary stage – rated 420v 470uF. I did notice FSP are also using lower grade polymer capacitors by Teapo which isn't such a big deal in this case, as polymer caps don't contain liquid material and are less likely to fail.