The FSP Hydro X 650 is a solid performing unit set to target a wide audience of enthusiast user. We have not received a UK price yet, but FSP told me before launch that the price in Europe will be 99.99 Euros – this works out at around £80-£85.
I rate the FSP Hydro X 650 supply highly, it is a modern, well thought out design which delivers excellent load regulation and low noise levels to suit a variety of system builds. Ripple suppression may fall short of market leaders in 2016, but all rails are still well within industry rated parameters.
It is also reassuring to see that FSP have opted to use high grade Japanese 105c rated Nichicon capacitors in the primary stage, sure to deliver stability and long life.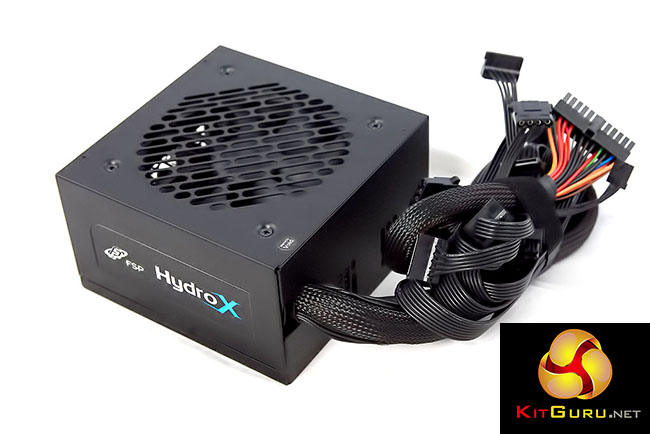 The lack of modular cabling is somewhat vexing. I appreciate the more expensive FSP Hydro G series is the pure modular design, but this year I would expect FSP to have tried to opt for a semi modular design. Enthusiast users really don't want to be dealing with a bunch of cables they perhaps will never need, I know I wouldn't if I was building a new system myself.
All in all, the FSP Hydro X 650 is a welcome addition to the market and offers an alternative to UK market leaders Seasonic, Corsair, be quiet! and Superflower. Hopefully FSP can release the Hydro X at competitive price points in Europe and the UK because right now their higher grade, fully modular Hydro G 750W looks to be only £15-20 more expensive than the FSP Hydro X 650 reviewed today (HERE).
Pros:
technically very solid.
quiet in use.
quality cables.
good looking supply.
Cons:
poor packaging.
non modular design.
needs to be a little less expensive.
Kitguru says: The FSP Hydro X 650 Power Supply delivers quality power while emitting very little noise, even under load. Recommended, as long as you don't mind dealing with the non modular design.