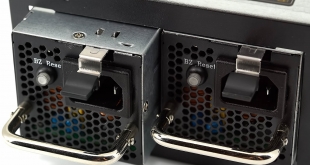 Today we take a look at the latest redundant power supply from OEM manufacturer FSP. This 500 watt unit is ideal for placement in servers or workstations within small business environments. The Twins 500W power supply actually incorporates two 520 watt supplies inside an outer ATX sized shell.
When the power supply is operating normally, each of the units shares the load, with the fall back option that if one fails then the other can take the full load – without any down time. The redundant. hot swappable concept is interesting and one we don't often get the chance to investigate.
The FSP Twins 500W unit is a 'server grade' supply and it has achieved 80 Plus Gold efficiency. A more powerful 700 watt model is due for release very soon. It does not have a front end bracket giving it compatibility with PS2 chassis.
FSP Twins overview:
ATX PS2 redundant size, no front end bracket needed, ideal for mail, web and home server
Digital-controlled power supply design can be monitored by "FSP Guardian " software
Hot swappable modules design and no worry about server/PC power off when one of modules failure
Complete protection: over current protection, short circuit protection, over voltage protection, fan failure protection
Alarm guard design by smart power supply status LED indicator
80 PLUS® 230V Internal Gold Certification
Complies with ATX 12V and EPS 12V standards
Flat ribbon cables, ideal solution for applications with space constraint issue
Review photography handled in house at KitGuru with a Leica S series medium format camera and S series prime lens.