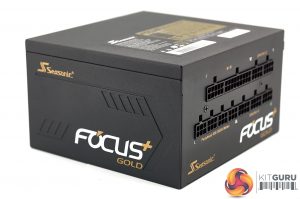 The Seasonic Focus Plus 850W power supply is painted matte black and measures only 140mm deep. Regular readers will notice that the outer chassis is very different in design than other PRIME units we have reviewed in the last year. Build quality is at a similar level to the higher cost units in the Seasonic range – which is very reassuring to see. Paintwork is quite deep and pretty resistant to scratching as well.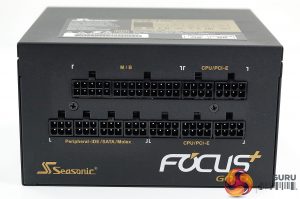 The modular bay is cleanly laid out and labelled for ease of install. No chance of mixing up Peripheral and PCI-E connectors as they are different pin configurations (CPU-PCI/E is 4+4 and Peripheral is 3+3).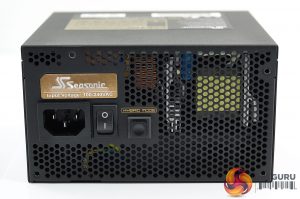 The other side of the chassis is home to the power cable connector, power switch and Hybrid mode switch which offers semi fanless mode when enabled. The rest of the panel is honeycomb vented to help with air flow.
The fan guard is a straight metal grill with Seasonic branding in the middle. Seasonic are using a large 120mm fan, and we will get a closer look at this when we open the chassis later in the review.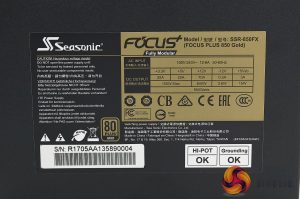 The power supply has a 12V output up to 70A, which is around 98.8% of the units total capacity. Each of the minor rails (3.3V and 5V) have a capacity of 20A with a combined rail output of 100 Watts. This is a fairly standardised set of figures from Seasonic based on all of the 850 Watt units I have reviewed from them in recent years.