While many companies are still releasing Bronze rated power supplies, Seasonic PRIME is focused on higher grade Titanium, Platinum, and now Gold rated units.
As we had expected, the Seasonic PRIME 1000W Gold power supply delivers very high quality power and technically there is very little to fault. The quality of the build is exemplary, and the chassis between all three series is basically identical, with only minor cosmetic changes to differentiate. Seasonic offer a full 12 year warranty with all these power supplies, so you can rest assured you are supported down the line in event of any issues developing.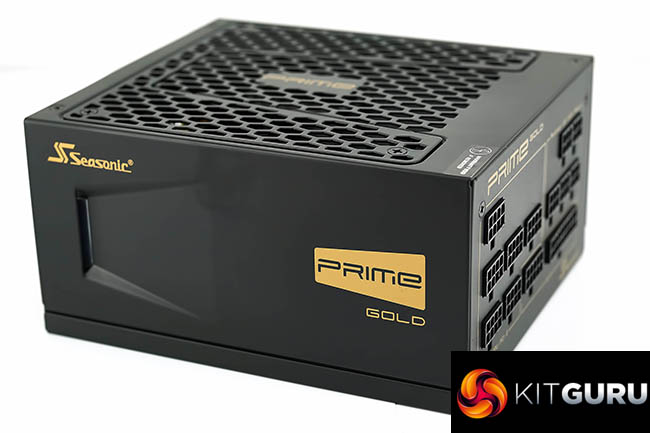 Aesthetically the differences are subtle. The Titanium units are the most flamboyant with bright silver accents and an N shaped highlight grill panel around the fan section. The Platinum units lose the highlighted N shaped grill, with Seasonic opting for black. The Gold units reviewed today look identical to the Platinum models, but have gold colouring on the lettering and logos.
Technically, the design is bulletproof. Load regulation is stellar and the power supply was able to deliver over 1200 watts before shutting down safely. Ripple suppression falls a little short of the Titanium and Platinum units and efficiency is obviously reduced to tie in with the less stringent 80 Plus Gold certification.
The pure modular design is certainly going to be welcomed by many and the quality of the cables is perfectly fine – although we do feel that many users may prefer either all sleeved, or all flat cables, rather than 50/50.

The Seasonic PRIME 1000W Gold power supply is available from Overclockers UK for £199.99 inc vat HERE. If you want a slightly better power supply at the same capacity, with higher levels of efficiency, then we recommend you take a look at the PRIME 1000W Platinum unit- its only £20 more HERE.
If it was my money I would actually opt for the Seasonic PRIME Titanium 850W supply which can deliver over 1000 watts while outclassing both these Gold and Platinum units significantly in all areas. Its £229.99 inc vat HERE.
Discuss on our Facebook page, over HERE.
Pros:
Great build quality.
technically solid design.
generally quite quiet.
12 year warranty.
pure modular.
Cons:
mixture of sleeved and flat cables.
For only £20 more you can buy the Platinum PRIME 1000W supply.
KitGuru says: Another killer power supply from Seasonic. The PRIME 1000W Gold hits a sweet spot just under £200. It is able to deliver over 1200 watts before shut down, so its very over specified. Another £20 will get you the superior PRIME Platinum version however.