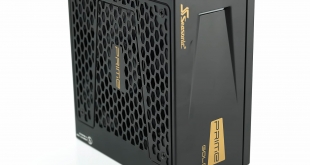 Over the last month we have reviewed the full range of PRIME Platinum power supplies and today we take our first look at the new 1000 watt GOLD unit within the PRIME range. This is the first of the new 1000 watt power supplies from Seasonic to break in under the £200 price point while still offering a pure modular layout with the high levels of build quality we expect from Seasonic.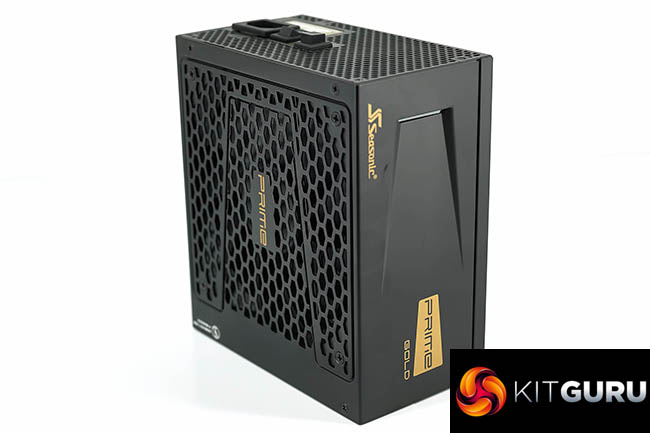 Seasonic have scored higher consistently than any other power supply manufacturer in KitGuru reviews over the last 5 years. The PRIME Gold range sits below both Titanium and Platinum ranges which we have reviewed in recent months. Seasonic assured us that their GOLD PRIME range, while cheaper than the others- will still incorporate Japanese capacitors.
The Seasonic PRIME Platinum 1000W is £219.95 inc vat (HERE). The Seasonic PRIME Gold 1000W we are reviewing today is £20 cheaper, coming in at £199.99 inc vat (HERE).
PRIME Gold Specifications:
– Model name: SSR-1000GD
– 80 PLUS®: Gold
– Form Factor: Intel ATX 12 V
– Dimensions: 170mm (L) x 150mm (W) x 86mm (H) +/-1 mm
– Fan Size: 135 mm
– Fan Control: Premium Hybrid Fan Control
– Fan Bearing: Fluid Dynamic Bearing
– Life Expectancy: 70,000 hours at 40 °C, 15 % – 65 % RH
– Modularity: Fully Modular
– Cable type: Flat black cables
– Operating Temperature: 0 – 50 °C
– MTBF @ 25 °C, excl. fan: 150,000 hours
– AC Input: Full Range
– Protection: OPP, OVP, UVP, OCP, OTP, SCP
– Safety and EMC: cTUVus, TUV, CB, CCC, BSMI, EAC
– Environmental Compliance: Energy Star, RoHS, WEEE, ErP Lot 6, REACH
Review photography handled in house at KitGuru with a Leica S series medium format camera and S series prime lens. Please do not use any of the images within this review without express permission.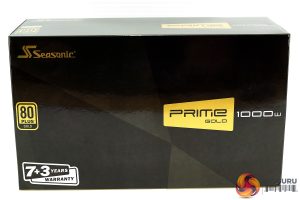 Seasonic have slightly changed their box artwork to reflect the 80 Plus GOLD standard. It is still the difficult to photograph due to the 'shiny' finish, but it highlights the new efficiency standard along with a 7+3 year warranty term. This 10 year warranty is actually now 12 years however (HERE), so Seasonic could do with updating their box artwork.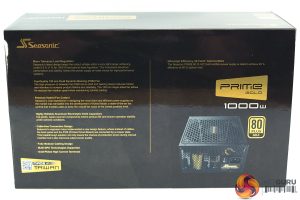 The rear of the box highlights some basic specifications alongside a high resolution image of the power supply itself.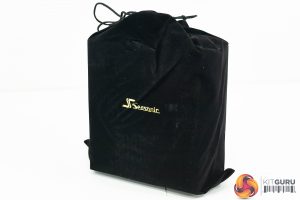 The power supply ships inside a soft felt bag, which is protected inside two thick pieces of Styrofoam.
The bundle is extensive. You get a modular cable bag, resealable plastic wallet, regional specific power connector, two kinds of cable ties, a case badge, branded sticker, an installation guide, mounting screws and user manual.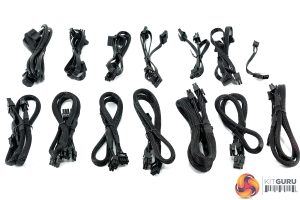 The Seasonic power supply is a pure modular design. The cables are a mixture of sleeved (ATX, CPU and PCIe) and flat ribbon style (peripherals), for ease of routing.
Connectors
– 1 x 20+4-Pin ATX12V/EPS12V
– 2 x 4+4-Pin ATX12V/EPS12V
– 8 x 6+2-Pin-PCIe
– 12 x SATA
– 5 x 4-Pin-Molex
– 1 x Floppy
No difference in the cable configuration between Platinum and Gold 1000W PRIME units. There are a total of eight 6+2 Pin PCIe connectors to support very high end Crossfire and SLi systems. Seasonic also supply dual 4+4 Pin ATX12V/EPS12V connectors to deliver power to two high end processors.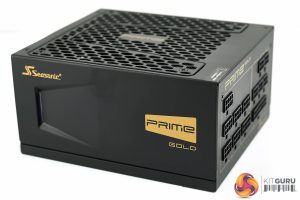 The Seasonic PRIME 1000W GOLD supply is almost identical to the Platinum version we reviewed last month. It looks like the 'tanned' cousin, just back from the Bahamas on vacation. All the labelling is gold, while the Platinum version was a ghostly silver/chrome.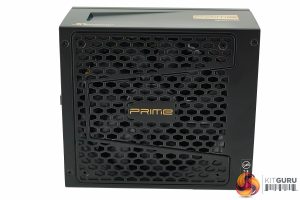 The Prime logo on this GOLD rated power supply is different than the other ranges, again with a gold coloured brand name showing. There is no coloured 'N shaped grill' attached either, with Seasonic opting for a plain black appearance.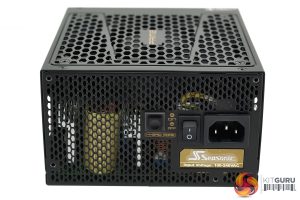 One side of the unit is home to a big cooling vent, with a power connector and switch at the side.
There is also a switch for Hybrid mode – allowing the fan to be disabled completely when the unit drops to a specific temperature threshold. Seasonic claim the Hybrid Fanless mode works up to:
Approximately 50 % (±5 %) of system load at 25 °C.
Approximately 30 % (±5 %) of system load at 40 °C.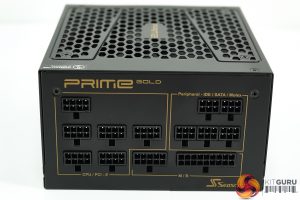 One side of the PRIME Gold unit is home to all the modular cables. The main M/B connectors are indicated along the bottom of the panel and are clearly labelled. The Peripheral/SATA/Molex connectors are visible in a bank of two and three along the top right side. On the other side are all the CPU and PCI-e connectors in a row of 1, 3 and 2 from top to bottom (6 in total).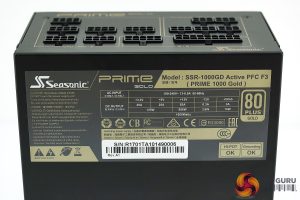 Above we can see the specifications of the power supply. The Model number is SSR-1000GD Active PFC F3
Seasonic PRIME 1000W Gold Power Supply


DC Output

+3.3V

+5V

+12V

-12V

+5Vsb

Max Output

25A

25A

83A

0.3A

3A

Total Power
125W
996W
3.6W
15W
1000 Watts
This 1000W  power supply can deliver 83A on the +12V rail. Plenty of power on hand for a powerful SLI and Crossfire configuration.
This is identical to the output configuration of the 1000W PRIME Platinum unit.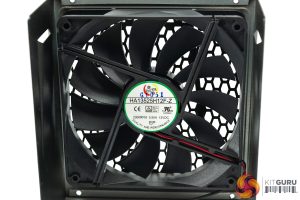 Seasonic are using a Hong Hua 135mm fan, Model number HA13525H12F-Z – the same fan fitted into the PRIME 1000W Platinum power supply. This is a Fluid Dynamic Bearing Fan selected for low noise characteristics. Regular readers may recall that the Seasonic Snow Silent 750W unit shipped with a smaller 120mm fan from the same company so its a good move that Seasonic are adopting larger fans. Larger fans of similar quality are able to push more air at the same speeds, likely often spinning slower to reduce noise emissions. This fan is rated at around 150,000 hours at 25c.
Below - a High Resolution Gallery of the internal layout of the Seasonic PRIME 1000W Gold
The overall build quality is very high, as we would expect from Seasonic. Soldering quality is stellar and there are several little heatsinks in key positions to help deal with the heat. Due to the high efficiency rating of this particular unit there really is no need to over populate the internals with an array of heatsinks.
Seasonic are using high grade 105c rated Japanese capacitors in both primary and secondary stages. The two primary capacitors are rated 400v 560uF and 400v 470uF, to give a total of 1030uF.
When we look back at our review of the more expensive PRIME Platinum 1000W supply the two primary capacitors are rated 400v 450uF, along with a bigger 400v 560uF model from the same family. This gives a total of 1010uF.
Yes, it would appear the less expensive PRIME Gold 1000W unit has a slightly higher uF output, when compared to the Platinum model.
It is interesting to note that the 850 watt Titanium PRIME model (reviewed in August 2016 HERE) has actually a greater uF output than either 1000W Platinum or GOLD models. The Titanium 850W model used a 650uF and a 450uF capacitor in the primary stage for a total output of 1100uF.
All things considered, Seasonic do tend to greatly over specify their power supplies. We reviewed a Super Flower 1000W gold unit recently and it was equipped with two 470uF capacitors for a total of 940uF. Very few 1000W power supplies we have reviewed in recent months ship with a total of 1000uF in the primary stage.
Correctly testing power supplies is a complex procedure and KitGuru have configured a test bench which can deliver up to a 2,000 watt DC load.
We test ambient temperatures at 35c in our environment to greater reflect warmer internal chassis conditions.
We use combinations of the following hardware:
• SunMoon SM-268
• CSI3710A Programmable DC load (+3.3V and +5V outputs)
• CSI3711A Programmable DC load (+12V1, +12V2, +12V3, and +12V4)
• Extech Power Analyzer
• Extech MultiMaster MM570 digital multimeter
• SkyTronic DSL 2 Digital Sound Level Meter (6-130dBa)
• Digital oscilloscope (20M S/s with 12 Bit ADC)
• Variable Autotransformer, 1.4 KVA
DC Output Load Regulation

+3.3V

+5V

+12V

+5VSB

-12V

A

V

A

V

A

V

A

V

A
V

100W

0.90

3.35

0.90

5.05

7.35

12.07

0.50

0.20

-12.04

200W

1.60

3.35

1.64

5.05

15.13

12.07

1.00

0.20

-12.04

500W

3.20

3.35

3.25

5.04

38.60

12.05

1.50

0.20

-12.03

750W

4.03

3.34

4.16

5.04

58.53

12.03

2.00

5.01

0.30

-12.02

1000W

5.45

3.34

5.51

5.03

78.13

12.00

2.50

0.30

-12.02
The load regulation of this power supply is stellar, with all rails holding close to reference levels (within 1%).
Seasonic PRIME 1000W Gold
Maximum Load
1218W
We managed to get another 218W from the power supply before the protection circuitry kicked in. The supply was undamaged and it was ready to fire up again when we were a little more sensible with the load.
Next we want to try Cross Loading. This basically means loads which are not balanced. If a PC for instance needs 500W on the +12V outputs but something like 30W via the combined 3.3V and +5V outputs then the voltage regulation can fluctuate badly.
Cross Load Testing
+3.3V
+5V
+12V
-12V
+5VSB
A
V
A
V
A
V
A
V
A
V
885W
2.0
3.35
2.0
5.04
72.0
11.98
0.2
-12.03
0.50
5.01
240W
20.0
3.34
24.0
5.03
2.0
12.06
0.2
-12.02
0.50
5.01
The Seasonic supply handled the Cross load tests without any concerns.
We then used an oscilloscope to measure AC ripple and noise present on the DC outputs. We set the oscilloscope time base to check for AC ripple at both high and low ends of the spectrum. ATX12V V2.2 specification for DC output ripple and noise is defined in the ATX 12V power supply design guide.
ATX12V Ver 2.2 Noise/Ripple Tolerance

Output

Ripple (mV p-p)

+3.3V

50

+5V

50

+12V1

120

+12V2

120

-12V

120

+5VSB

50
Obviously when measuring AC noise and ripple on the DC outputs the cleaner (less recorded) means we have a better end result. We measured this AC signal amplitude to see how closely the unit complied with the ATX standard.
AC Ripple (mV p-p)
DC Load
+3.3V
+5V
+12V
5VSB
100W
5
5
5
5
250W
5
5
15
5
500W
5
5
15
10
750W
10
5
20
10
1000W
10
10
30
10
Ripple suppression from this unit is impressive, hitting 30mV from the +12v output at full load. Both +3.3V and +5V held well within industry rated tolerance parameters with 10mV respectively under full load conditions.
Efficiency (%)

100W

87.2

250W

90.3

500W

92.4

750W

90.7

1000W

89.3
The efficiency results are excellent, peaking at 92.5% at close to 50%. This drops to 89.3% efficiency at full load. These are solid results for a 80 Plus Gold certified unit.
We take the issue of noise very seriously at KitGuru and this is why we have built a special home brew system as a reference point when we test noise levels of various components. Why do this? Well this means we can eliminate secondary noise pollution in the test room and concentrate on components we are testing. It also brings us slightly closer to industry standards, such as DIN 45635.
Today to test the Power Supply we have taken it into our acoustics room environment and have set our SkyTronic DSL 2 Digital Sound Level Meter (6-130dBa) one meter away from the unit. We have no other fans running so we can effectively measure just the noise from the unit itself.
As this can be a little confusing for people, here are various dBa ratings in with real world situations to help describe the various levels.
KitGuru noise guide
10dBA – Normal Breathing/Rustling Leaves
20-25dBA – Whisper
30dBA – High Quality Computer fan
40dBA – A Bubbling Brook, or a Refridgerator
50dBA – Normal Conversation
60dBA – Laughter
70dBA – Vacuum Cleaner or Hairdryer
80dBA – City Traffic or a Garbage Disposal
90dBA – Motorcycle or Lawnmower
100dBA – MP3 Player at maximum output
110dBA – Orchestra
120dBA – Front row rock concert/Jet Engine
130dBA – Threshold of Pain
140dBA – Military Jet takeoff/Gunshot (close range)
160dBA – Instant Perforation of eardrum
Noise (dBA)

100W

<28.0

250W

<28.0

500W

31.3

750W

34.8

1000W
37.4
The fan does not make much noise until the last 200 watts of power delivery. At full load its fairly active, but its hardly likely an end user will be running this supply at 1000 watt conditions continuously (100%). At 800 watt load, the fan is spinning moderately and will likely be masked by several case fans in a system build.
Temperature (c)

Intake

Exhaust

100W

35

40

250W

35

46

500W

38

50

750W

43

58

1000W

46

63
The high efficiency helps ensure that temperatures inside the unit are never concerning. At full load, the power supply held at close to 63c in our environment.
| | |
| --- | --- |
| Maximum load | Efficiency |
| 1218W | 88.6 |
Pushing the PSU above its rated limits generates an efficiency level of around 88.6%. This is not a viable 'real world' situation, but its interesting nonetheless.
While many companies are still releasing Bronze rated power supplies, Seasonic PRIME is focused on higher grade Titanium, Platinum, and now Gold rated units.
As we had expected, the Seasonic PRIME 1000W Gold power supply delivers very high quality power and technically there is very little to fault. The quality of the build is exemplary, and the chassis between all three series is basically identical, with only minor cosmetic changes to differentiate. Seasonic offer a full 12 year warranty with all these power supplies, so you can rest assured you are supported down the line in event of any issues developing.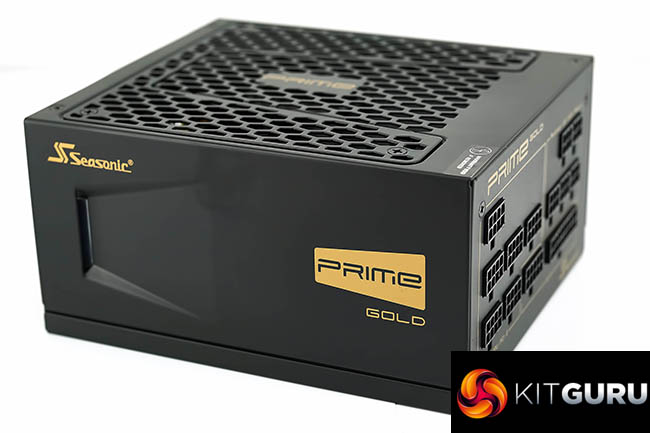 Aesthetically the differences are subtle. The Titanium units are the most flamboyant with bright silver accents and an N shaped highlight grill panel around the fan section. The Platinum units lose the highlighted N shaped grill, with Seasonic opting for black. The Gold units reviewed today look identical to the Platinum models, but have gold colouring on the lettering and logos.
Technically, the design is bulletproof. Load regulation is stellar and the power supply was able to deliver over 1200 watts before shutting down safely. Ripple suppression falls a little short of the Titanium and Platinum units and efficiency is obviously reduced to tie in with the less stringent 80 Plus Gold certification.
The pure modular design is certainly going to be welcomed by many and the quality of the cables is perfectly fine – although we do feel that many users may prefer either all sleeved, or all flat cables, rather than 50/50.

The Seasonic PRIME 1000W Gold power supply is available from Overclockers UK for £199.99 inc vat HERE. If you want a slightly better power supply at the same capacity, with higher levels of efficiency, then we recommend you take a look at the PRIME 1000W Platinum unit- its only £20 more HERE.
If it was my money I would actually opt for the Seasonic PRIME Titanium 850W supply which can deliver over 1000 watts while outclassing both these Gold and Platinum units significantly in all areas. Its £229.99 inc vat HERE.
Discuss on our Facebook page, over HERE.
Pros:
Great build quality.
technically solid design.
generally quite quiet.
12 year warranty.
pure modular.
Cons:
mixture of sleeved and flat cables.
For only £20 more you can buy the Platinum PRIME 1000W supply.
KitGuru says: Another killer power supply from Seasonic. The PRIME 1000W Gold hits a sweet spot just under £200. It is able to deliver over 1200 watts before shut down, so its very over specified. Another £20 will get you the superior PRIME Platinum version however.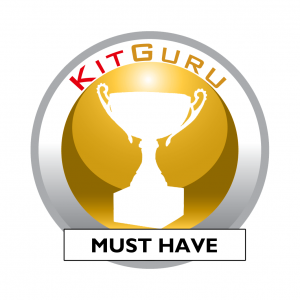 Be sure to check out our sponsors store EKWB here