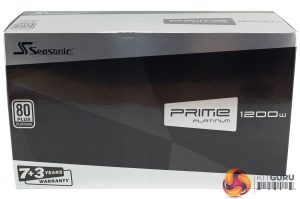 Shiny, shiny. Seasonic PRIME box artwork is very bright and rather tricky to photograph properly!

The front of the box shows the product name and wattage capacity along with the 80 Plus Platinum certification and 10 year warranty. But, as we said before this stated 10 year warranty is actually now 12 years (HERE).
Seasonic could do with updating their box artwork. Not sure where I will be in 12 years, but it certainly gives peace of mind that the company are so confident in the design of these units.
The inner box is just plain black, but quite reflective. The power supply itself is protected inside a soft felt bag which is wedged between thick slabs of foam for shipping protection.
Seasonic fully load this box with a wealth of extras. You get a modular cable bag, resealable plastic wallet, regional specific power connector, two kinds of cable ties, a case badge, branded sticker, an installation guide, mounting screws and user manual.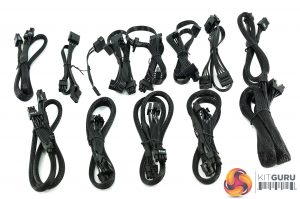 The Seasonic power supply is a pure modular design. The cables are a mixture of sleeved (ATX, CPU and PCIe) and flat ribbon style (peripherals), for ease of routing.
Connectors
Connector
Number of Connectors
Cable Lengths
Main Power (20/24 pins)
1
1 x 610 mm
CPU (4/8 pins)
2
2 x 650 mm
PCIe (6/8 Pins)
8
4x 675 + 75 mm
SATA
12
3 x 450 + 120 + 120 + 120 mm
1 x 350 +120 mm
Peripheral
5
1 x 450 + 120 + 120 mm
1 x 350 +120 mm
Floppy
1
1 x 101 mm
As would be expected from a 1200+ watt power supply, there are plenty of cables in the box to fully support a wealth of system configurations. There are a total of eight 6+2 Pin PCIe connectors to support very high end Crossfire and SLi systems. Seasonic also supply dual 4+4 Pin ATX12V/EPS12V connectors to deliver power to two high end processors.