The Seasonic PRIME 1200W Platinum is another fantastic power supply in their latest range of high capacity units. It is just as good as the 1000 watt model that we reviewed last week and will target the high end audience building a powerful gaming system.
It is true most gaming systems won't need a 1200 watt power supply, but ideally you want to be running between 40%-60% load to achieve the maximum efficiency levels. It is also worth pointing out that running a 600 watt power supply at 100% load will put a lot of strain on the capacitors and cause the fan to work very hard whereas you will be hitting that sweet spot on a PRIME 1200W close to maximum efficiency with much lower noise levels.

As we said last week, while efficiency is obviously down over the Titanium PRIME units that we reviewed last year, there is little to fault elsewhere. Seasonic haven't skimped on the quality of the build, opting for high grade 105c rated Japanese components throughout. The fact they raised their warranty terms from 10 years to 12 years recently shows the faith they are putting into their products.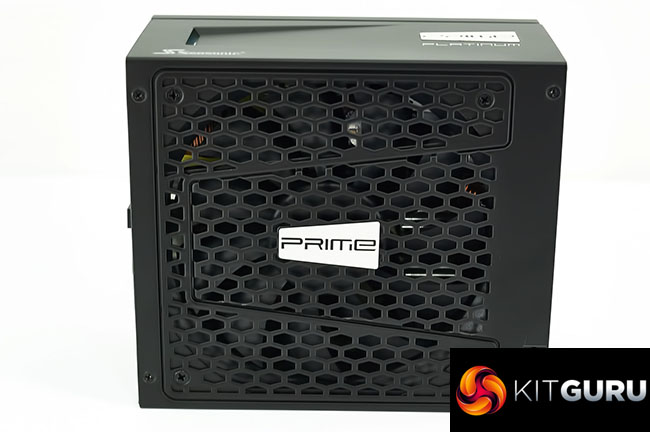 I spent quite a lot of time last year reviewing the PRIME Titanium grade units, so I do find the Platinum models a little less aesthetically pleasing. The Silver 'n' shaped panel on the Titanium units really looks great, as it sets a fantastic contrast against the black paintwork. Seasonic are actually using the same chassis, but have replaced the silver sections with simple black grills.
Internally, Seasonic deliver in spades. Ripple suppression is top drawer, fan noise is very low and the power delivery is top drawer. We were able to hold 1,300 watts solid for hours without any issue. Over specifying power supplies has been a trademark of Seasonic for many years now and it hasn't changed. We did notice that the Titanium grade 850 Watt unit had almost the same primary stage capacitor delivery as this 1200 watt Platinum unit, so there is no doubt that extra levels of attention are going into the more expensive Titanium units. Seasonic don't con the end user, you get what you pay for.
The pure modular design will be welcomed by a large audience, and there are plenty of high grade cables to support a wide array of sophisticated system builds, including high draw SLI and Crossfire gaming rigs.
The Seasonic PRIME 1200W Platinum power supply is available from Overclockers UK for £244.99 inc vat HERE.
if you don't need all this power, then you can pick up the 1000W Platinum at Overclockers UK for £219.95 HERE. These are expensive power supplies to however they are noticeably cheaper than the Titanium PRIME counterparts.
If money is no object then we also do recommend the Seasonic PRIME Titanium 850W. It has huge power reserves and ultimate efficiency levels, but it is expensive at £229.99 inc vat HERE.
Discuss on our Facebook page, over HERE.
Pros:
Superb Load regulation.
High build quality.
105C Japanese capacitors used throughout.
delivered 1345 watts.
High quality cabling.
Cons:
Expensive, although you get what you pay for.
We miss the silver/chrome accented panels showcased on the Titanium models.
KitGuru says: The 1200W Seasonic PRIME Titanium power supply is technically fantastic and able to power any system on the market today. It is over specified and able to deliver more than 1340 watts before shutting down safely. No expense is spared internally and the class leading 12 year warranty is certainly reassuring.