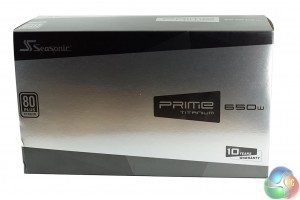 Seasonic are using super high gloss, reflective, box designs for their PRIME series. A nightmare to photograph, and much better looking in the flesh.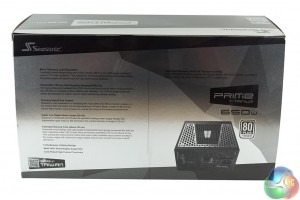 Some details of the unit are exposed on the back of the box.
The bundle includes a lot of little extras to enhance the experience. All the modular cables are stored in a cardboard box. Seasonic include a user manual, a case badge, sticker, mounting screws and plastic and branded felt cable ties.
The power supply is protected inside a felt bag. There is also a regional specific power cable included.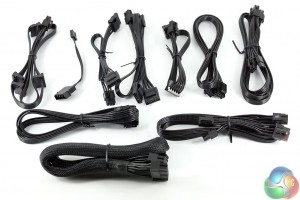 Seasonic have sleeved the main motherboard cable. All the other cables are ribbon style, flat – ideal for saving space and improving airflow when routing cables. They also include a regional specific power cable.
The cables are all very high grade, which is reassuring to see.
Both Prime 650 and 750 watt units are equipped with 4 PCI-E 6+2 power connectors – catering for the SLI and Crossfire audience. The 750 watt unit has 4 more SATA connectors, increasing from 6 on the 650W to 10 on the 750W. The 850W unit has 6x PCI-E 6+2 power connectors.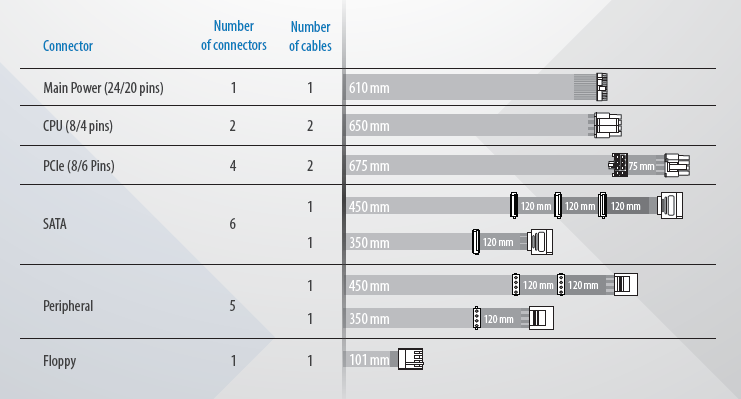 Above, a diagram of the cable breakdown and lengths.