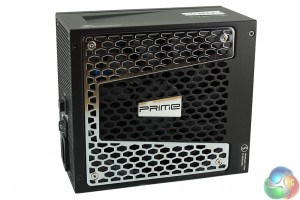 The Seasonic Prime power supplies are fantastic looking power supplies. Regular readers of KitGuru will see the finish is exactly the same throughout the range. You weren't expecting one of them to be pink, right?

The colour scheme is actually really important today, because more and more enthusiast users are colour coordinating their system so they match. Black and chrome/silver works with any scheme.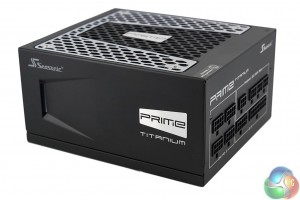 The quality of the paintwork is no different either. Its top notch. I like the overall appearance of the vents on the sides too. The fan is not that visible behind the chrome surround, but we will take a closer look inside, soon.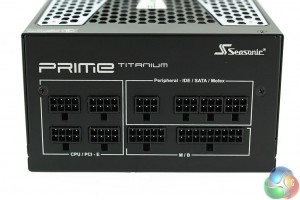 One side of the Prime Titanium power supply is home to the modular cabling connectors. The main M/B connectors are indicated along the bottom of the panel – clearly labelled. The Peripheral/SATA/Molex connectors are visible in a bank of two and three along the top right side. On the other side are all the CPU and PCI-e connectors in a row of 2 and 2 from top to bottom (4 in total). The 850W model has 8 in total.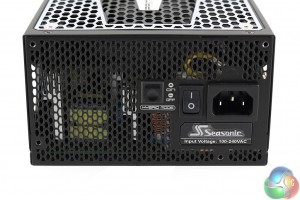 The other side of the PRIME is vented to help ensure there is plenty of airflow movement over the components.
There is also a switch for Hybrid mode – allowing the fan to be disabled completely when the unit drops to a specific temperature threshold. Seasonic claim the Hybrid Fanless mode works up to:
Approximately 50 % (±5 %) of system load at 25 °C.
Approximately 30 % (±5 %) of system load at 40 °C.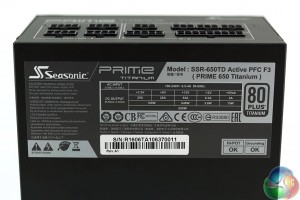 Above we can see the specifications of the power supply.
Seasonic Prime 650W Titanium Power Supply


DC Output

+3.3V

+5V

+12V

-12V

+5Vsb

Max Output

20A

20A

54A

0.3A

3A

Total Power
100W
648W
3.6W
15W
650W
This 650W Prime can deliver 54A to the +12V rail. This is plenty of power to support an SLI or Crossfire configuration.