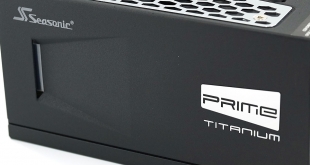 Today we take a look at one of the latest power supplies from Seasonic – their new Prime Ultra Titanium, in 1000 watt capacity. We have other units in our labs under test as we speak, but first, we look at the flagship model in the range.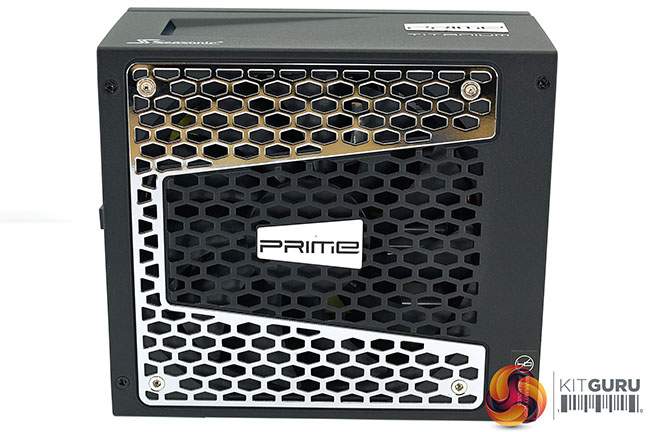 Seasonic remain the Number 1 in our power supply tests – having won more awards than any other manufacturer in the last 7 years. These new 'Ultra' units incorporate 105c Japanese components, Fluid Dynamic Bearing fans and 180 degree SATA connectors for ease of cable connectivity during the build phase.

SSR-1000TR
Technical Specifications
80PLUS®
Titanium
Cybenetics Efficiency Level
TBA
Cybenetics Noise Level
TBA
Form Factor
Intel ATX 12 V
Dimensions
170 mm (W) x 150 mm (L) x 86 mm (H)
Fan Information
Fan Size
135 mm
Fan Control
Premium Hybrid Fan Control
Fan Bearing
Fluid Dynamic Bearing
Life Expectancy
50,000 hours at 40 °C, 15 % – 65 % RH
Cable Information
Modularity
Fully Modular
Cable type
Flat black cables
Electrical Features
Operating Temperature
0 – 50 °C (derating from 100 % to 80 % from 40 °C to 50 °C)
MTBF @ 25 °C, excl. fan
150,000 hours
AC Input
Full Range
Protection
OPP, OVP, UVP, OCP, OTP, SCP
Safety and Environmental
Safety and EMC
cTUVus, TUV, CB, CCC, BSMI, EAC, CE
Environmental Compliance
Energy Star, RoHS, WEEE, ErP Lot 6, REACH
Warranty
12 Years
Review photography handled in house at KitGuru with a Leica S series medium format camera and S series prime lens. Please do not use any of the images within this review without express permission.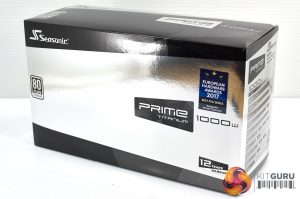 Its shiny … very shiny. Its also an absolute nightmare to photograph properly. Still the box is certainly eye catching. The EHA awards logo (which KitGuru is a part of incidentally) gets highlighted top right on the front of the box. Good for us.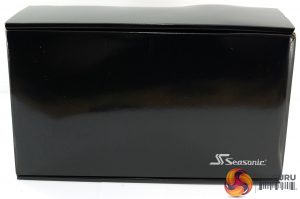 The main box inside is black with simple 'Seasonic' branding in the corner.
The bundle is extensive – there is a user manual, cable ties, screws, case stickers / badge and a power supply tester that switches on the power supply when plugged into the ATX. The manual is fine, although I have noticed that other manufacturers recently do put a little more technical data into their booklets, so perhaps Seasonic should look into this as a possible area for improvement in the future.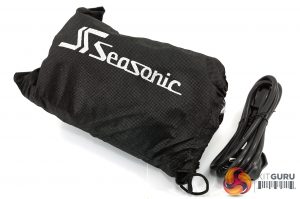 A regional specific power supply cable is also included, alongside the modular cables – inside a felt bag.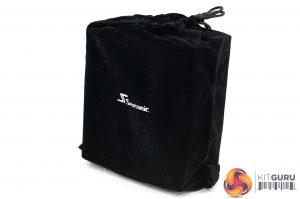 The power supply itself is protected inside a felt bag, sandwiched between foam.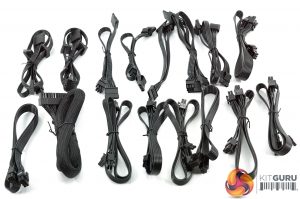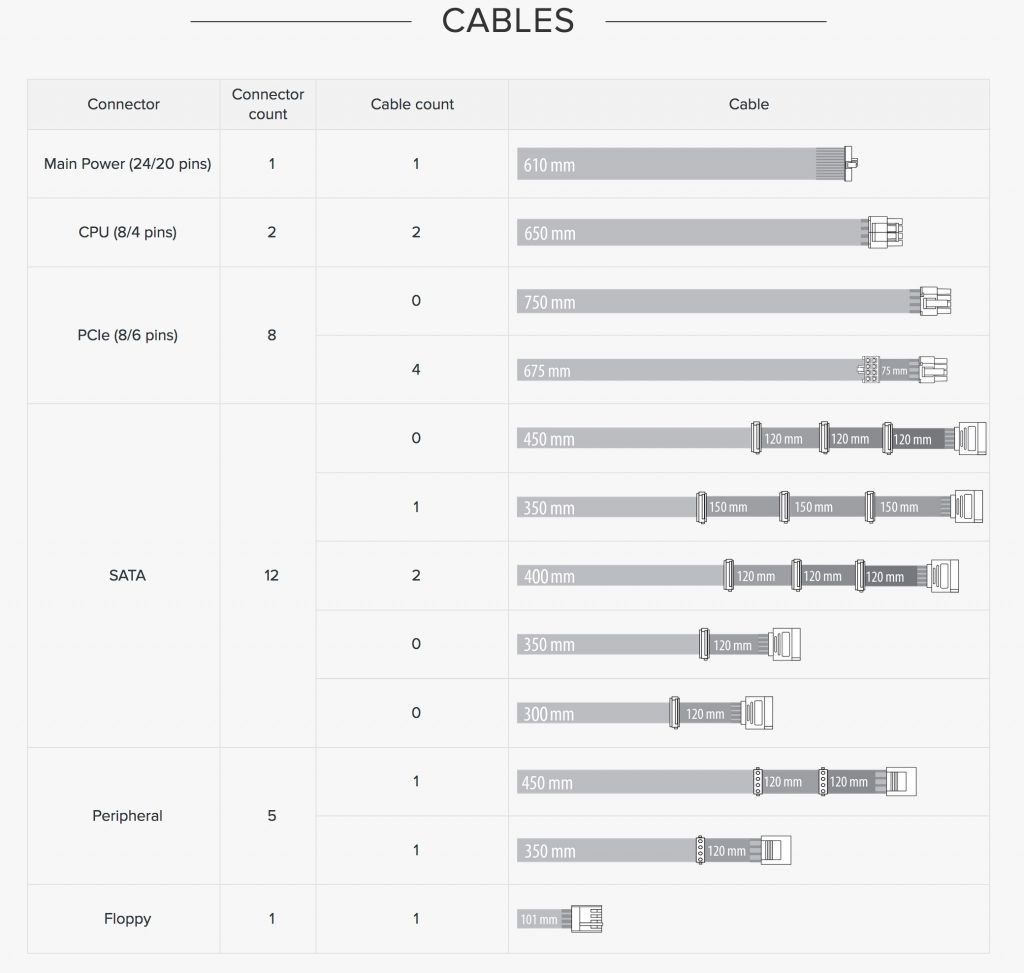 All of the cables (apart from the main ATX cable) are ribbon style thin – easy for routing. Ideally I would have liked the CPU power cables to be a little longer – for those people with huge cases.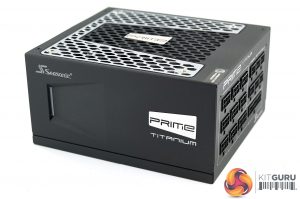 The Seasonic Prime Ultra Titanium 1000W power supply is finished in simple black paint, with silver accenting. This colour neutral scheme will appeal to anyone building a coloured system. Finishing is very high, as we would expect from Seasonic.
The top down view is pretty. The PRIME branding is shown in the middle, along with silver accenting on the grill. The inner part of the grill is black.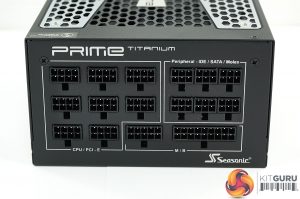 One side of the power supply is home to the fully packed modular bay which is cleanly split into sections and labelled for ease of install.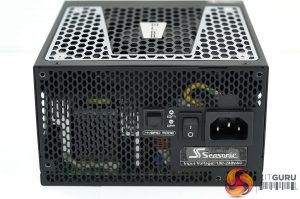 The other side of the power supply is home to the power connector, switch and Hybrid mode switch. The rest is honeycomb vented to help ensure there is plenty of air flow.
This Hybrid mode allows the fan to be disabled completely when the unit drops to a specific temperature threshold. Seasonic claim the Hybrid Fanless mode works up to:
Approximately 50 % (±5 %) of system load at 25 °C.
Approximately 30 % (±5 %) of system load at 40 °C.
Below we can see the specifications of the power supply. The Model number is SSR-1000TR.
Seasonic PRIME ULTRA Titanium 1000W Power Supply (SSR 1000TR)


DC Output

+3.3V

+5V

+12V

-12V

+5Vsb

Max Output

25A

25A

83A

0.3A

3A

Total Power
125W
996W
3.6W
15W
1000 Watts
This 1000W  power supply can deliver 83A on the +12V rail. Plenty of power on hand for a powerful SLI and Crossfire configuration.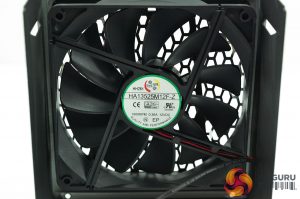 Seasonic are using a Hong Hua Fluid Dynamic Bearing (FDB) fan (Model HA13525M12F-Z). It is rated at 1,800 rpm, 0.36A and 12VDC.
If you have problems seeing the gallery above you may need to whitelist us in your ad blocking software as it can interfere with our display code.
The overall build quality is very high, as we would expect from Seasonic. Soldering quality is stellar and there are several little heatsinks in key positions, to help deal with heat. Due to the high efficiency rating of this particular unit there really is no need to over populate the internals with an array of heatsinks.
We can see four Y Caps, one X cap, two coils and a TVS diode.
Seasonic are using high grade 105c rated Japanese capacitors in both primary and secondary stages – always reassuring to see, if expected at this price point. The two primary capacitors are rated 400v 450uF, along with a bigger 400v 820uF model from the same family. This gives a total of 1270uF. Seasonic are using capacitors in this unit from Nippon Chemi Con, Nichicon and Rubycon. All the good Japanese brands.
Seasonic do tend to greatly over specify their power supplies. We reviewed a Super Flower 1000W gold unit late in 2017 and it was equipped with two 470uF capacitors for a total of 940uF. Very few 1000W power supplies we have reviewed in recent months ship with a total of 1000uF in the primary stage, never mind 1270uF!
Correctly testing power supplies is a complex procedure and KitGuru have configured a test bench which can deliver up to a 2,000 watt DC load.
We test ambient temperatures at 35c in our environment to greater reflect warmer internal chassis conditions.
We use combinations of the following hardware:
• SunMoon SM-268
• CSI3710A Programmable DC load (+3.3V and +5V outputs)
• CSI3711A Programmable DC load (+12V1, +12V2, +12V3, and +12V4)
• Extech Power Analyzer
• Extech MultiMaster MM570 digital multimeter
• SkyTronic DSL 2 Digital Sound Level Meter (6-130dBa)
• Digital oscilloscope (20M S/s with 12 Bit ADC)
• Variable Autotransformer, 1.4 KVA
DC Output Load Regulation

+3.3V

+5V

+12V

+5VSB

-12V

A

V

A

V

A

V

A

V

A
V

100W

0.88

3.33

0.90

5.02

7.35

12.19

0.50

0.20

-12.03

200W

1.60

3.33

1.65

5.02

15.10

12.19

1.00

0.20

-12.03

500W

3.20

3.33

3.25

5.01

38.60

12.19

1.50

0.20

-12.02

750W

4.05

3.32

4.15

5.01

58.50

12.19

2.00

5.00

0.30

-12.01

1000W

5.45

3.32

5.50

5.01

78.09

12.18

2.50

0.30

-12.01
The load regulation of this power supply is absolutely magnificent, with all rails holding close to reference levels (within .3%).
Seasonic PRIME 1000W Titanium
Maximum Load
1304W
We managed to get another 304W from the power supply before the protection circuitry kicked in! The supply was undamaged and it was ready to fire up again when we were a little more sensible with the load. Those caps are massively overspec'd.
Next we want to try Cross Loading. This basically means loads which are not balanced. If a PC for instance needs 500W on the +12V outputs but something like 30W via the combined 3.3V and +5V outputs then the voltage regulation can fluctuate badly.
Cross Load Testing
+3.3V
+5V
+12V
-12V
+5VSB
A
V
A
V
A
V
A
V
A
V
885W
2.0
3.33
2.0
5.02
72.0
12.18
0.2
-12.02
0.50
5.01
240W
20.0
3.32
24.0
5.01
2.0
12.20
0.2
-12.03
0.50
5.00
The Seasonic supply handled the Cross load tests without any concerns. Close to class leading results.
We then used an oscilloscope to measure AC ripple and noise present on the DC outputs. We set the oscilloscope time base to check for AC ripple at both high and low ends of the spectrum. ATX12V V2.2 specification for DC output ripple and noise is defined in the ATX 12V power supply design guide.
ATX12V Ver 2.2 Noise/Ripple Tolerance

Output

Ripple (mV p-p)

+3.3V

50

+5V

50

+12V1

120

+12V2

120

-12V

120

+5VSB

50
Obviously when measuring AC noise and ripple on the DC outputs the cleaner (less recorded) means we have a better end result. We measured this AC signal amplitude to see how closely the unit complied with the ATX standard.
AC Ripple (mV p-p)
DC Load
+3.3V
+5V
+12V
5VSB
100W
5
5
5
5
250W
5
5
5
5
500W
5
5
10
5
750W
10
5
10
5
1000W
10
10
15
5
Ripple suppression from this unit is great peaking at 10mV on both +3.3V and +5V rails. The +12V rail peaks at 15mV, another great result.
Efficiency (%)

100W

92.14

250W

94.52

500W

96.11

750W

95.32

1000W

94.23
The efficiency results are excellent, peaking at 96% at close to 50%. This drops to 94.2% efficiency at full load. Great results all round from this unit.
We take the issue of noise very seriously at KitGuru and this is why we have built a special home brew system as a reference point when we test noise levels of various components. Why do this? Well this means we can eliminate secondary noise pollution in the test room and concentrate on components we are testing. It also brings us slightly closer to industry standards, such as DIN 45635.
Today to test the Power Supply we have taken it into our acoustics room environment and have set our SkyTronic DSL 2 Digital Sound Level Meter (6-130dBa) one meter away from the unit. We have no other fans running so we can effectively measure just the noise from the unit itself.
As this can be a little confusing for people, here are various dBa ratings in with real world situations to help describe the various levels.
KitGuru noise guide
10dBA – Normal Breathing/Rustling Leaves
20-25dBA – Whisper
30dBA – High Quality Computer fan
40dBA – A Bubbling Brook, or a Refridgerator
50dBA – Normal Conversation
60dBA – Laughter
70dBA – Vacuum Cleaner or Hairdryer
80dBA – City Traffic or a Garbage Disposal
90dBA – Motorcycle or Lawnmower
100dBA – MP3 Player at maximum output
110dBA – Orchestra
120dBA – Front row rock concert/Jet Engine
130dBA – Threshold of Pain
140dBA – Military Jet takeoff/Gunshot (close range)
160dBA – Instant Perforation of eardrum
Noise (dBA)

100W

<28.0

250W

<28.0

500W

29.5

750W

32.7

1000W
33.9
Under most load conditions the fan will make little, if any noise. Under higher load situations the fan will be heard, but it never spins fast enough to become intrusive, or a problem. If you run with the Hybrid mode enabled, the fan didn't spin up at all under a 400 watt load – during our tests anyway.
Temperature (c)

Intake

Exhaust

100W

35

39

250W

35

43

500W

38

49

750W

43

56

1000W

46

61
With the high efficiency of this unit, the temperatures are well maintained throughout the full range of the thermal curve.
| | |
| --- | --- |
| Maximum load | Efficiency |
| 1304W | 92.8 |
Pushing the PSU above its rated limits generates an efficiency level of around 92.8%. This is not a viable 'real world' situation, but its interesting nonetheless.
The Seasonic Prime Ultra Titanium 1000W is another stellar unit from the market leader. First impressions are positive – the box artwork is eye catching, the bundle is comprehensive and the build quality is at the highest level.
Load regulation is class leading and as we would expect with a Seasonic design they have massively over specified the capacitors. We managed to get just over 300 watts more from the supply before it safely shut down.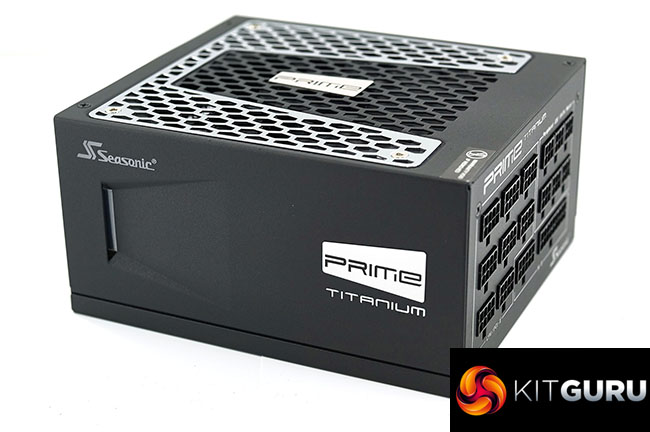 Ripple suppression and efficiency are both first rate, and technically the unit delivers the goods without any notable issues I could mention.
The modular cabling is great, although I have noticed some other manufacturers in recent months are making their CPU cable length longer to suit bigger physical builds. Something for Seasonic to look into perhaps in future revisions.
It is welcome to see Seasonic including some individual PCIe cables with this unit. This will be very welcomed by a specific enthusiast audience.
Seasonic offer a 12 year, market leading warranty with this unit, so you have peace of mind for a very long time indeed.

Right now we have no UK confirmed pricing. I know OCUK are starting to filter in units as we speak with the Prime Ultra Titanium 650W available at £179.99 inc vat HERE. No sign of the 1000W or 850W models, but we will update this page when possible.
Discuss on our Facebook page, over HERE.
Pros:
great build quality.
noise suppression is top drawer.
12 year warranty.
massively over specified for 1000 watts.
105c Japanese capacitors.
quiet.
plenty of accessories included.
Cons:
A longer CPU cable would help in really big system builds.
KitGuru says: The Seasonic Prime Ultra Titanium is one of the finest power supplies on the market. If you have the funds and need something this powerful, it should definitely be making your final shortlist.