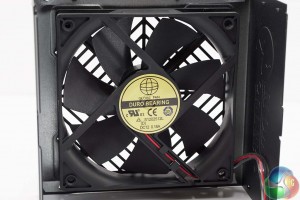 Super Flower have opted for a Globe Fan with 'Duro Bearing', model number S1202512L rated DC 12 0.18A.

This design uses an LLC resonant convertor in the primary stage. There are several rows of black coloured heatsinks to aid with heat dissipation which shouldn't be too high considering the rated efficiency of this platform.
The Super Flower design is quite clean although I did notice some less than stellar PCB soldering, including some hand made solder joints. The primary capacitor is Japanese branded Nippon Chemi Con (SMQ series) – rated 400v 560uF. It is one of the lower 85c rated caps however, not 105c. Secondary stage capacitors are also 85c rated.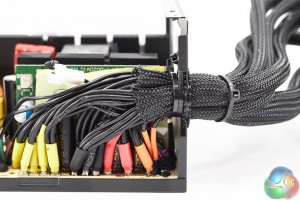 The cables are firmly tied into place and are sleeved to ensure that fraying against the metal chassis won't be a concern long term.